Established in 1781 by the Spanish government to control the sale of playing cards in the American colonies, the purpose was to administer the importation of playing cards from Spain. Packs had secret markings to facilitate the detection of fraud, and a hierarchy of uniformed officials controlled operations. At some point this was superseded by Peruvian laws when it became a state monopoly garnering revenues for the national treasury.
In October 1888 the Republic of Peru Congress passed Law no.26 establishing taxes on playing cards, whether imported or locally produced, according to the quality of the cards:
imported 'ordinary' cards, 2 centavos per pack;

imported semi-fine and children's packs, 4 centavos per pack;

imported high quality packs (including English & French packs), 8 centavos per pack.

Packs manufactured in Peru, 2 centavos per pack. The law does not state how the payment of the taxes was controlled.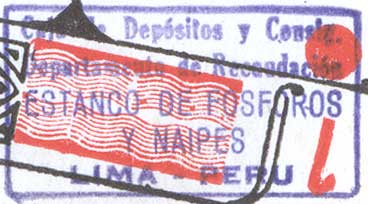 The Estanco de Naipes appears to have been preceded by the Government's Caja de Depósitos y Consignas, Departamento de Recaudación, Estanco de Fósforos y Naipes - but further details are not currently available.
In Law no.4936 (Item 'G', Jan. 1924) The Estanco de los Naipes was created.
Whilst local playing card production in Perú was sparse, foreign manufacturers supplied playing cards specially for the Estanco de Naipes del Perú. The logo of the Estanco de Naipes usually appears on the reverse of the cards, whilst special text appears overprinted on the box, ace of spades or joker:
In Law no.16754 (Nov. 1967) the Estanco de los Naipes was abolished and a duty on imported playing cards imposed according to their quality:
Playing cards made from cardboard, 5.00 soles per pack;
Plastic playing cards, 50.00 soles per pack.
Home produced playing cards continued to be taxed according to established national laws.
Member since February 01, 1996
View Articles
Curator and editor of the World of Playing Cards since 1996.