Swiss Regional Costumes Playing Cards, c.1890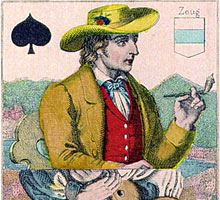 Regional Costumes Playing Cards with scenic Aces, made by Müller, c.1890. The local costumes are different at each end. Müller's recent investments in updated machinery were paying off and the company was now able to commence the export of playing cards to foreign markets.
Packs with conventional courts and scenic aces were already being produced by card makers in Belgium, Austria, Holland and France for the new trend in tourism. The Aces would depict geographical or historical scenes and picturesque views. This Swiss Regional Costume pack also features colourful regional dress and canton shields and can be seen as an early form of tourist souvenir which evolved into the souvenir packs we see today.