Published September 30, 2013
Updated March 14, 2022
Jungle Thrills & Safari
Jungle Thrills illustrated by Racey Helps and published by Pepys Games, 1955.
Jungle Thrills card game was illustrated by Racey Helps and published by Pepys Games in 1955. Seven different animals are pictured: lions, tigers, elephants, monkeys, hippos, giraffes and zebras. Not quite politically correct today, the idea is to "bag" as much game as you can whilst on safari. The Hunter is an advantageous bonus card. The game was repackaged in 1956 as 'Safari' with new rules in which the Hunters count as bad penalty cards and the object is to collect sets of three similar animals, but otherwise the pack is the same. See the Box►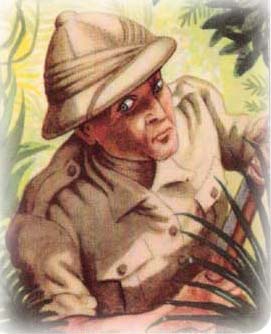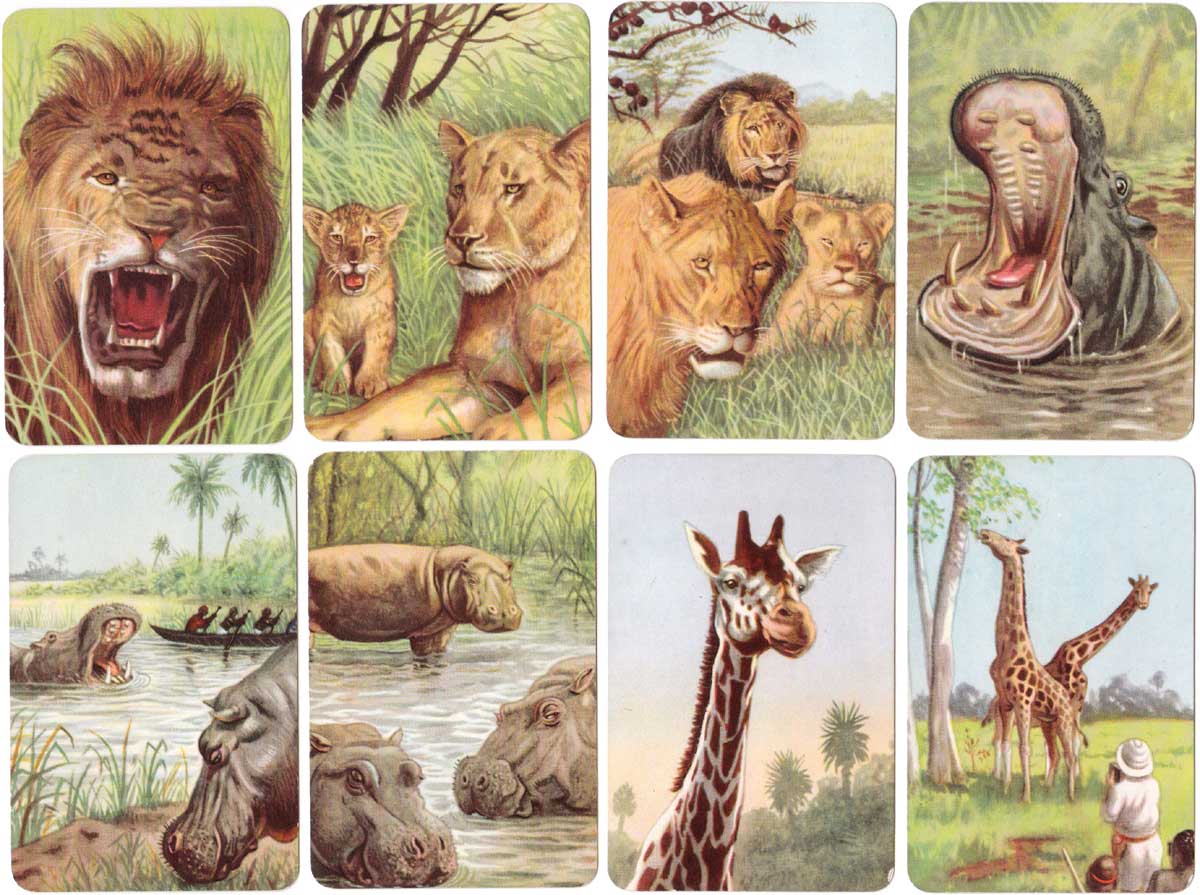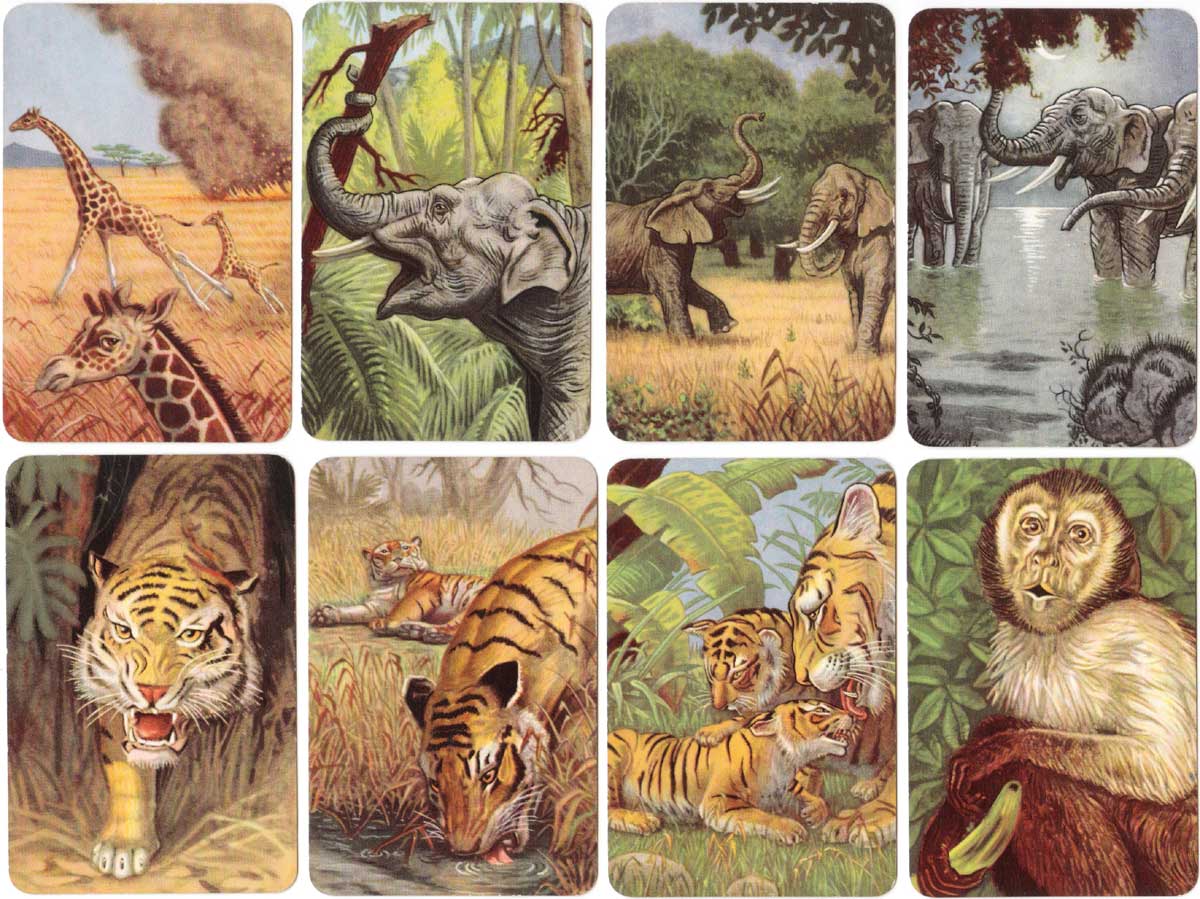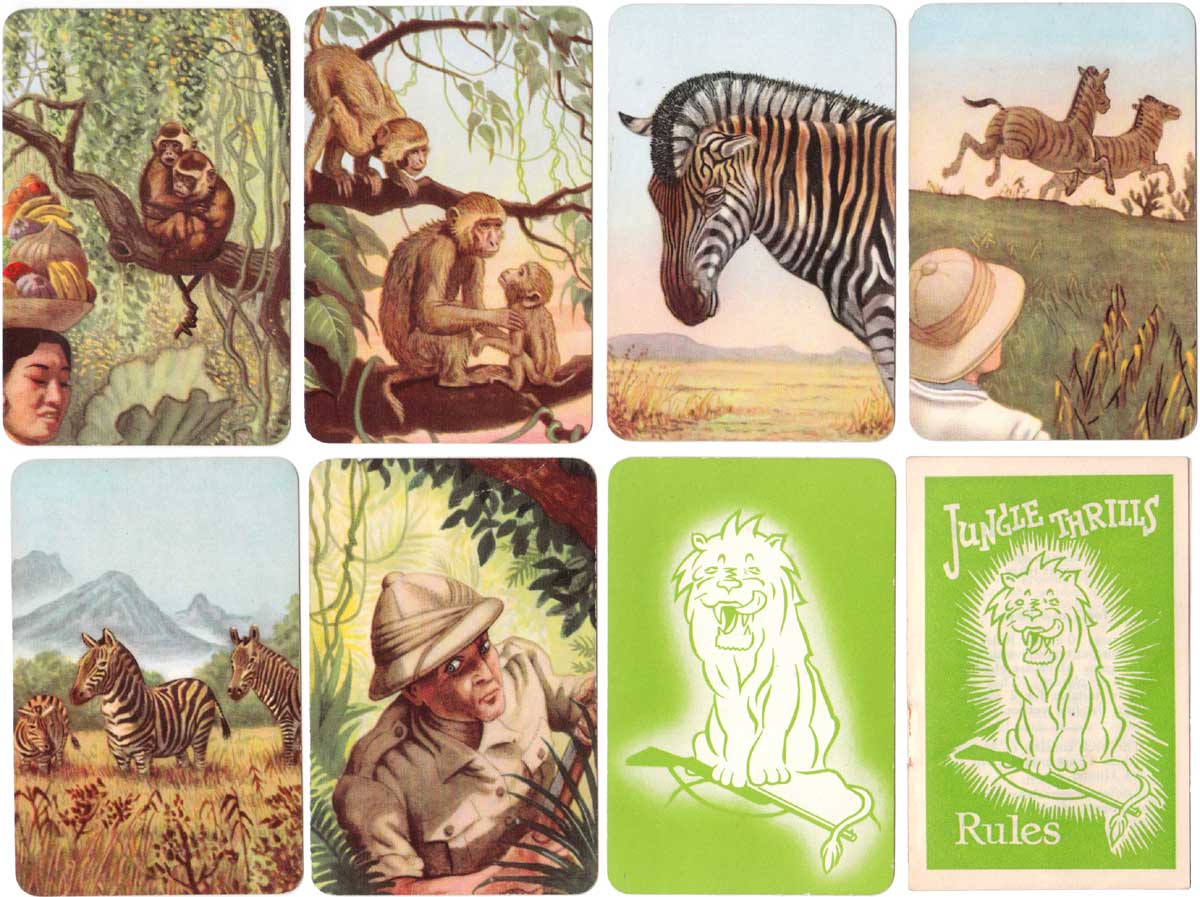 'Safari'
The game was repackaged in 1956 as 'Safari' promoted by the new book 'Leopard in my Lap' written by Michaela Denis, with photographs by Armand Denis, about safari adventures in Papua and Australia, and with new rules in which the Hunters are bad penalty cards to be avoided. Otherwise the pack is exactly the same.

Member since January 30, 2009
View Articles
Rex's main interest was in card games, because, he said, they were cheap and easy to get hold of in his early days of collecting. He is well known for his extensive knowledge of Pepys games and his book is on the bookshelves of many.
His other interest was non-standard playing cards. He also had collections of sheet music, music CDs, models of London buses, London Transport timetables and maps and other objects that intrigued him.
Rex had a chequered career at school. He was expelled twice, on one occasion for smoking! Despite this he trained as a radio engineer and worked for the BBC in the World Service.
Later he moved into sales and worked for a firm that made all kinds of packaging, a job he enjoyed until his retirement. He became an expert on boxes and would always investigate those that held his cards. He could always recognize a box made for Pepys, which were the same as those of Alf Cooke's Universal Playing Card Company, who printed the card games. This interest changed into an ability to make and mend boxes, which he did with great dexterity. He loved this kind of handicraft work.
His dexterity of hand and eye soon led to his making card games of his own design. He spent hours and hours carefully cutting them out and colouring them by hand.