Published April 15, 2015
•
Updated March 11, 2023
Strip Tease
'Strip Tease' card game featuring characters involved in the performance and subsequent prosecution of an imaginary strip tease
Strip Tease is an amusing card game for adults featuring characters involved in the performance and subsequent prosecution of an imaginary strip tease show, published and registered by Raphael Industries Ltd of 33 Lower Regent St, London, in 1937. The deck contains four suits: Striptease, Theatre, Court and Prudie.
The game can be played in one of two variations depending upon the number of players. The following is a simplified synopsis of the general rules.
In the standard game, played by four players in two teams of pairs who sit opposite each other as in Bridge or Whist, one team "prosecutes" and the other "defends", with both teams trying to take tricks in order to win the "case" and either convict or reveal the stripper! In the second variation, playable by three or more players, the game is again played like whist with some unique twists, but the object is to avoid winning tricks which contain "Strip Tease", the Theatre Manager or Producer cards, on penalty of being awarded penalty points known as months imprisonment. At the end of the game the player with the least penalty points (shortest prison sentence) wins.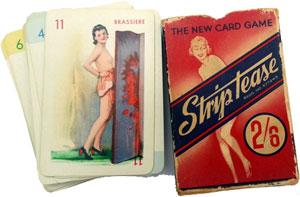 Some of the characters are: Spoil-Sport, Miss Prim, Sour-Puss, Informer, Wowser, Snark as well as Police Officers, Lawyers and a Judge. The strip tease scenes are slightly risqué!
Strip Tease was registered at Stationers Hall in 1937 to Raphael Industries. They probably had it printed by De la Rue. An unopened Strip Tease box is sealed in cellophane and has a gold seal type sticker on the end. This seal is identical to the one that was used by De la Rue.
Member since September 01, 2014
I have been fascinated by playing cards ever since I can remember, and still have several of the card games I had as a child. And although I had accumulated quite a number of packs of various sorts over the years, it wasn't until I was in my 50s that I began collecting in earnest. My tastes are quite varied, and my collection of 800 or so decks includes:- children's games, standard and non-standard playing cards, adult games, fortune telling and oracle cards, tarot cards, and even cigarette cards.