Published March 29, 2014
Updated January 30, 2022
Waddy Productions
Waddy Productions Ltd was a member of the giant Amalgamated Press group and only published card games for a short period in the 1930s.
Waddy Productions Ltd
Waddy Productions Ltd was a member of the giant Amalgamated Press group and only published card games for a short period in the 1930s. Amalgamated, now a part of the International Publishing Company, was huge at the time and its proud boast was to be the "largest publishing house in the Empire". The group owned all the stages in the production of books and newspapers right from forests in Canada through ships to transport the raw materials to Europe, wharfs in Britain, paper mills and printers to produce the final product.
In the late 1950s it was closely associated with the Mirror Group and was eventually, in 1959, bought by them to form the IPC group. The main printing works in the 1920s was at Gravesend but a brand new printing works was opened in 1930 at Watford and it is possible that the Waddy card games were produced there.
There were two types of Waddy card games. The best games were a rather better produced and more expensive range made with good quality black line playing card board in red "lid and bottom" boxes printed in gold. One of these early games was published in a second edition. This was "Sexton Blake" and the second edition came in a colourful tuck box also with a rules leaflet and again on proper black line board. Mysteriously the box top flap has "Made in Greece" printed on it. I have absolutely no idea as to why this pack should have been made there.
The cheaper range of games, all Snap or Quartet type games, was published in two editions the first of which came in strangely over-sized boxes and printed on a fairly cheap card, all with green backs, and with a rules sheet enclosed. The second editions were in similar "over-sized" boxes but in a cheaper board, all with red backs, with less colour print on both boxes and cards. The cards themselves were printed on a really cheap board which would have been more at home on a cornflake box. The rules for the games were now printed on the back of the box. Unfortunately, not helped by being over-sized, the boxes are very often badly damaged or missing.
As far as I can determine, all the games were available at the same time, which was in the mid to late 1930s. The rules sheets, where they were included in the first editions of the cheaper range, list all the other games. The red box range was all packaged in glassine wrappers with a Waddy gold seal and a red covered rules book was included. Neither of the cheaper ranges was wrapped. All the games had the typical Waddy "Sun's rays" back design, sometimes with a relevant central motif added.
1st Edition Boxes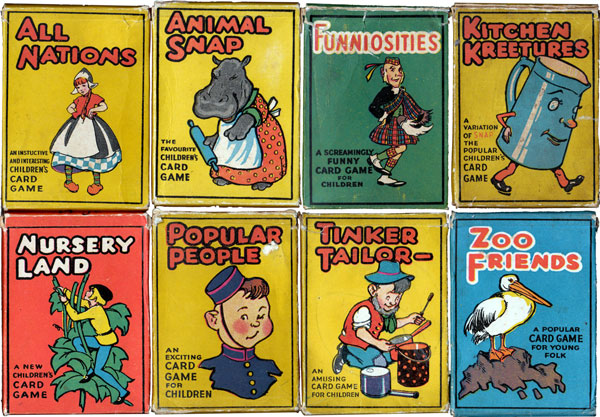 2nd Edition Boxes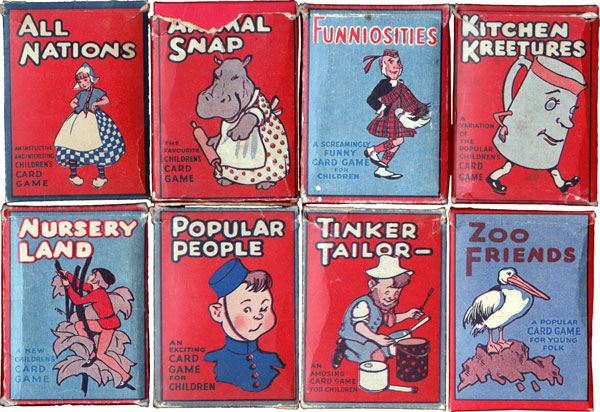 Waddy Productions moved from 27a Farringdon Street, London EC4 to Astor House, Aldwych, London WC2 in late 1938 (just prior to Christmas), where a new showroom was installed and new games unveiled and advertised during the Christmas period and into 1939. Not all games were card games; other titles include "Flutter", "Stak-a-Stik", "Tap-dancing Dinah" and the Waddy range of wooden toys, toy books, painting and cut-out books, childrens fancy dress and play suits (cowboy, pirate, policeman, nurse, Dutch costumes, etc).
All Nations 2 tuck box editions
Animal Snap 2 tuck box editions
Colomino red box edition. Colour matching domino game
Fleet Street red box edition. Collect a sequence of 7 cards to win
Funniosities 2 tuck box editions
Kitchen Kreetures 2 tuck box editions
Main Line red box edition. Small cards for laying railway-like dominoes
Nursery Land 2 tuck box editions
Popular People 2 tuck box editions
Sexton Blake 1 red box & 1 tuck box editions. Whist-like game
Spelling Bee red box edition. Spell words and gain your opponents cards
The Dogs red box edition. Greyhound racing game
Tinker Tailor 2 tuck box editions
Zoo Friends 2 tuck box editions
---
SEXTON BLAKE
Sexton Blake was the 1920s counterpart of Sherlock Holmes. He lived in Baker Street and was looked after by a housekeeper; in his case Mrs Bardell. His assistant (they all seem to have assistants don't they) was a lad called Edward Clark who was known as Tinker and he also had a pet bloodhound called Pedro. They drove around from case to case in a white Rolls Royce nicknamed "The Grey Panther". The characters depicted on the cards all capture the spirit of the 1930s!
The character was actually created in the late 19th century by the author Harry Blyth, writing as Hal Meredith, and first appeared in a boy's weekly magazine called "The Halfpenny Marvel". The first Sexton Blake film was "The Clue of the Wax Vesta" in 1914. Subsequently films were made in the 1920's and 1930's, which was his most popular period, and on into the 1940's and 1950's. The last film was made in 1962, but the Sexton Blake role was taken by Ann Baxter, so that may not count! There was also a TV series produced with children in mind in 1967-68 and 1968-69, although, obviously, this had nothing to do with the card game.

Two editions of the Waddy game were issued. The first in the red "lid and bottom" range with yellow backed cards, the second was in a coloured tuck box with blue backed cards. The card faces were the same in both editions.
Other Games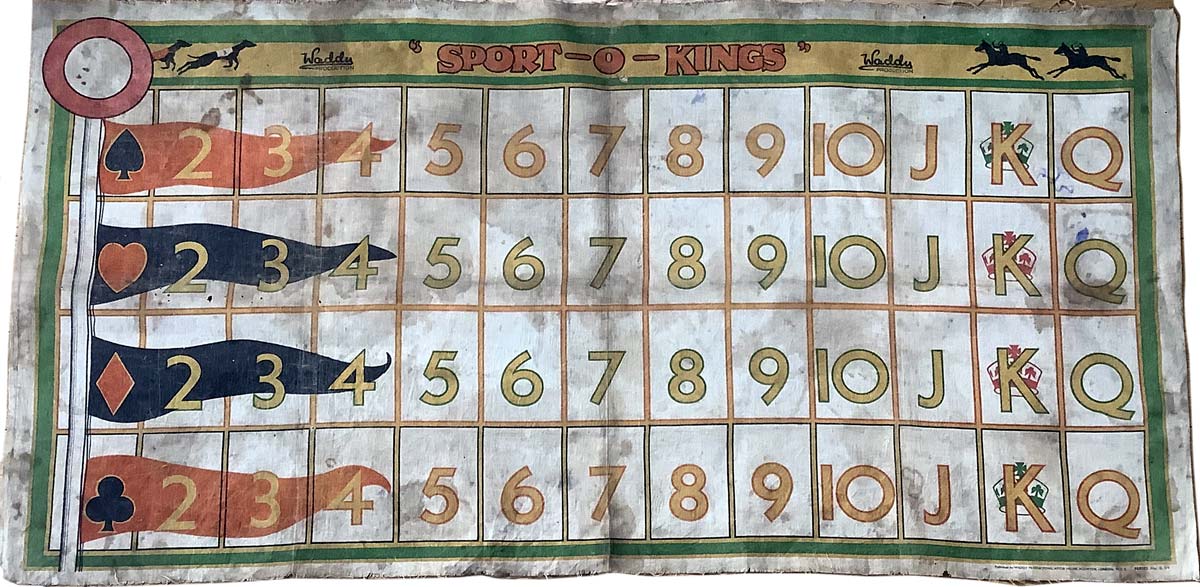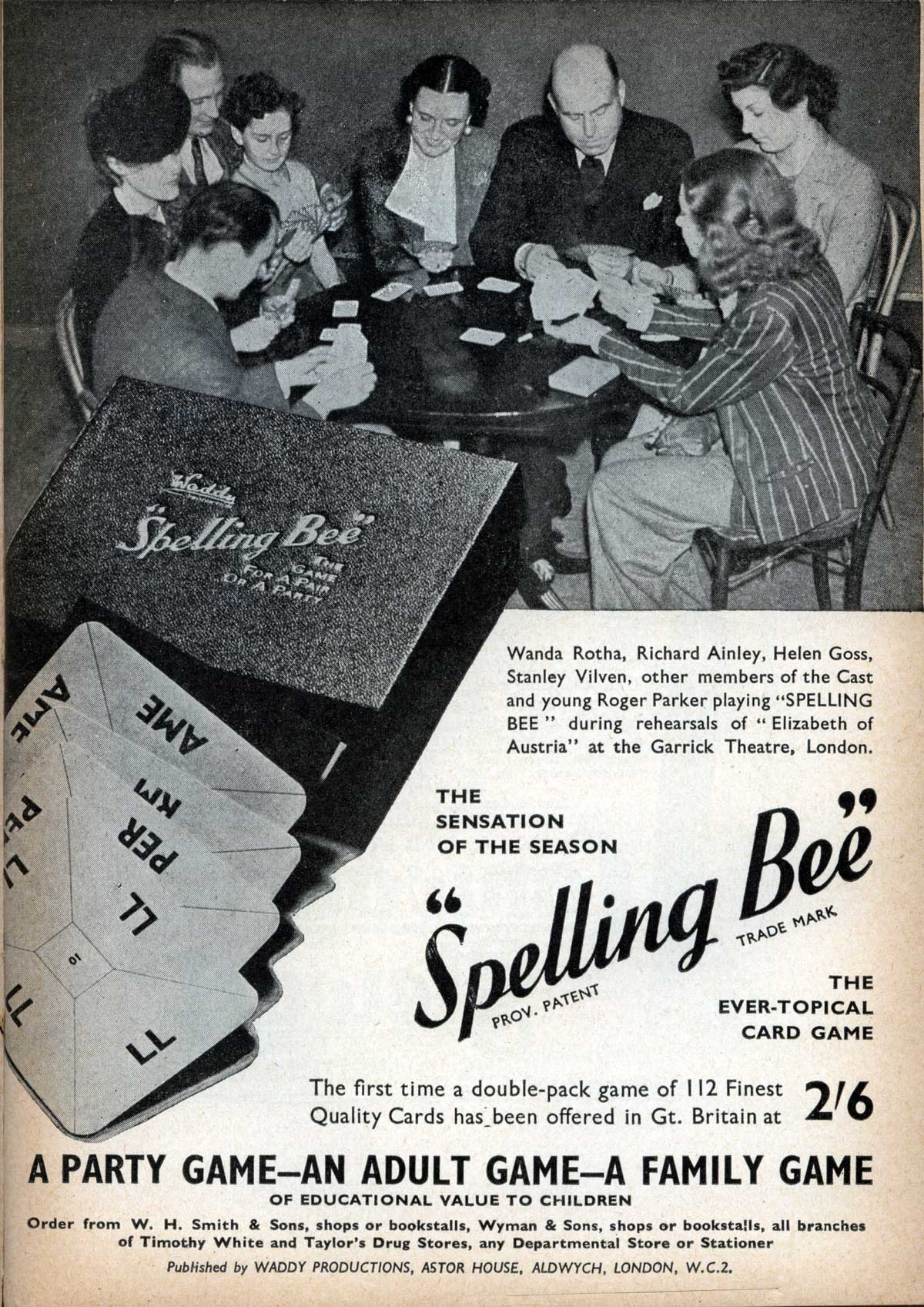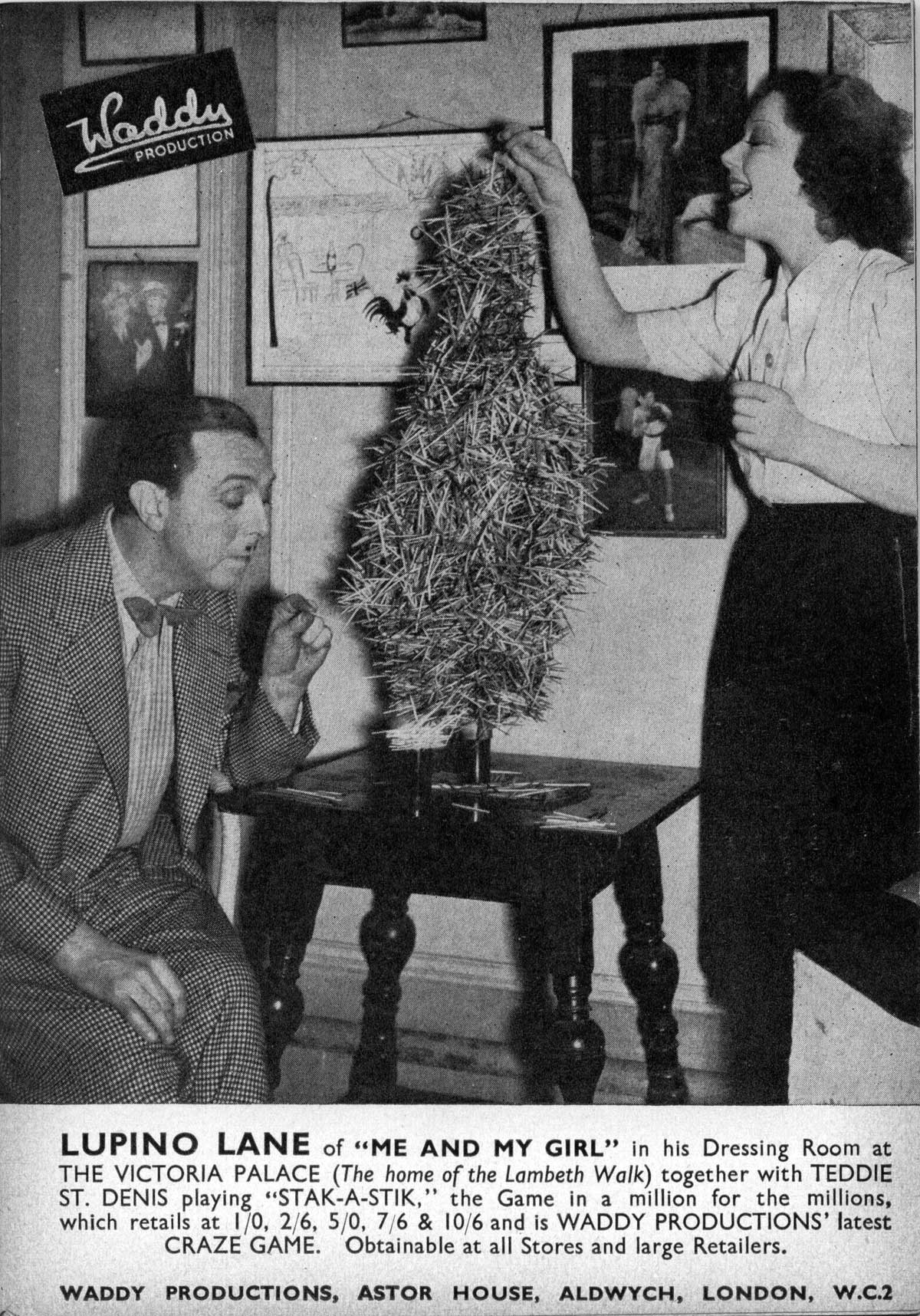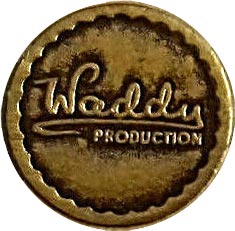 Member since January 30, 2009
View Articles
Rex's main interest was in card games, because, he said, they were cheap and easy to get hold of in his early days of collecting. He is well known for his extensive knowledge of Pepys games and his book is on the bookshelves of many.
His other interest was non-standard playing cards. He also had collections of sheet music, music CDs, models of London buses, London Transport timetables and maps and other objects that intrigued him.
Rex had a chequered career at school. He was expelled twice, on one occasion for smoking! Despite this he trained as a radio engineer and worked for the BBC in the World Service.
Later he moved into sales and worked for a firm that made all kinds of packaging, a job he enjoyed until his retirement. He became an expert on boxes and would always investigate those that held his cards. He could always recognize a box made for Pepys, which were the same as those of Alf Cooke's Universal Playing Card Company, who printed the card games. This interest changed into an ability to make and mend boxes, which he did with great dexterity. He loved this kind of handicraft work.
His dexterity of hand and eye soon led to his making card games of his own design. He spent hours and hours carefully cutting them out and colouring them by hand.