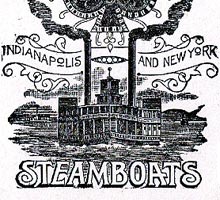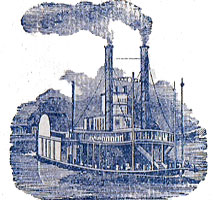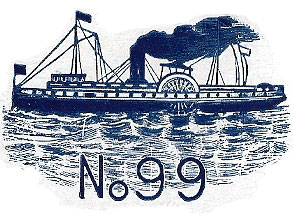 Owing to the romantic appeal of gambling on the Mississippi river, from the 1870s onwards many American playing card manufacturers added "Steamboats" to their range, differentiated by a number, such as 99 or 999. There do not appear to have been any copyright restrictions or patent laws covering the use of the name "Steamboats" as various manufacturers had this brand in their range. This is not the case with other brands such as "Bicycle" or "Bee". "Steamboats" tended to be the cheaper end of the range, often but not always produced in a rudimentary quality. The theme of steamboats navigating up and down the Mississippi also extended to the cotton plantations alongside the river and to African American people employed therein who were sometimes depicted on the special Joker card. Times have changed and these cards are now documentary evidence of a past era of history.


As an indication of just how widespread the the "Steamboats" brand was, other manufacturers produced their own versions. In some instances, the term "Steamboats" was used to mean lowest quality, whether they were labelled as such or not. See also: Lawrence & Cohen; Samuel Hart & Co; John J. Levy; Victor Mauger; Globe Playing Card Co (c.1880); Perfection P.C. Co (c.1885-90); Andrew Dougherty (1888 and c.1910); Card Fabrique Co; American Playing Card Co (c.1887); Excelsior Card Co (c.1895); Chicago-American Card Co (c.1895); Shakespearian P.C.C. (N.Y.C.C. c.1895); North American Card Co (1897); Crescent Playing Card Co (c,1900); Dorrity Card Manufacturing Co (c.1903); New Chicago P.C. Co (c.1903); Bay State Card Co (c.1900 and c.1905); N.Y. Consolidated Card Co (c.1890 and c.1910); St Louis Playing Card Co (alias Kalamazoo P.C., c.1905); Standard Playing Card Manufacturing Co (c.1890 and c.1900); Universal Playing Card Co (alias Kalamazoo P.C., c.1911); American Bank Note Co; Russell P.C.C.; the Canadian P.C.C. (1914) and Montreal Litho, making a total of well over 30 different versions. About three years ago, U.S.P.C. discontinued the brand. However, a private vendor obtained a special arrangement with U.S.P.C. whereby the brand is available at www.dananddave.com.
St. Louis Southwestern Railway Lines, the Cotton Belt Route, 1903
As a final souvenir from that bygone era, this deck also relates to the cotton plantations that were located in the States through which the steamboats travelled on their voyages up and down the Mississippi River.

Conclusion
It was the romantic mystique surrounding the gambling that regularly took place on the Steamboats and the folklore that built up around legendary Mississippi gamblers that card makers exploited in this very popular brand of playing cards. The evocation of the life in the steamboat era provides a melancholy reminiscence of that bygone age.
---