Published February 26, 2013
•
Updated June 03, 2022
Steamboats No.66
Steamboats #66 playing cards manufactured by the Kalamazoo Paper Box & Card Co., c.1903.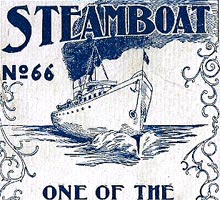 The Kalamazoo Paper Box & Card Co. commenced producing playing cards in 1903. Their first brands included Steamboats, Strollers and Success. The Steamboats deck was probably their least expensive, as was the case with most manufacturers who published a "Steamboat" brand. By 1906 the playing card manufacturing business had grown to such an extent that the company renamed itself Kalamazoo Playing Card Co., and was thereafter devoted exclusively to the manufacture of playing cards, having dropped the paper boxes.
The Kalamazoo Playing Card Company merged with the Russell Playing Card Company in around 1913 or 1914 which in turn merged with USPC in 1929.
---