Published September 25, 2017
•
Updated January 05, 2023
Lapin Brothers
Reprint of Lapin's Historical Belarusian playing cards.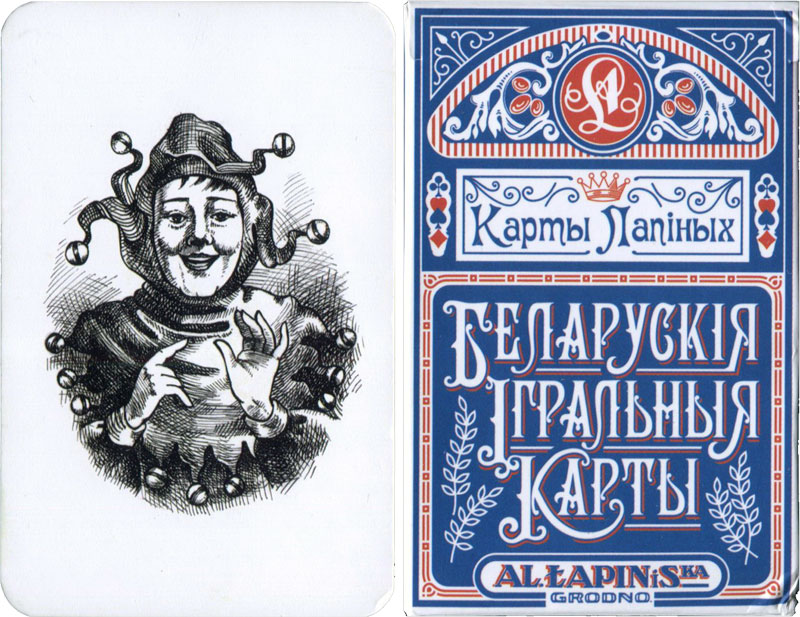 Belarusian Lapin's playing cards
Grodno (or Hrodna) is a city famous for its printing traditions. In early 1770s Antoni Tyzenhaus, who was its warden, took possession of a publishing house considered as one of the best letter foundries in the former Polish-Lithuanian Commonwealth territory.
In the mid-19th century there began to appear enterprises with an uncommon name - typolithographies, whose main business was to print lithographs. In 1879 the members of a wealthy lower middle class family, the Lapins, founded the first private typolithography. The owner's name was Solomon Lapin. The establishment mainly printed cigarette labels, coloured advertisements and others.
In 1923 brothers Alexander and Abraham Lapin expanded their business and began to produce playing cards, which allowed them to rename their business as "First State Playing Card Factory". The cards were of high quality and were used for playing such games as skat, bridge, poker and whist. The factory printed folk, Venitian and Rhenish cards. A unique deck depicting real kings was designed there as well, in which the kings represent real historical characters of Polish and Belarusian heritage - John Sobieski, Casimir III the Great, Sigismund II Augustus and Stephen Bathory.
In the autumn of 1939 the Lapin brothers' factory was nationalized and its owners died in Grodno's ghetto. The typography was repurposed for agitational materials instead. Until the early 1950s the factory in Grodno was the only colour printing enterprise in Soviet Belarus. It existed until 1993.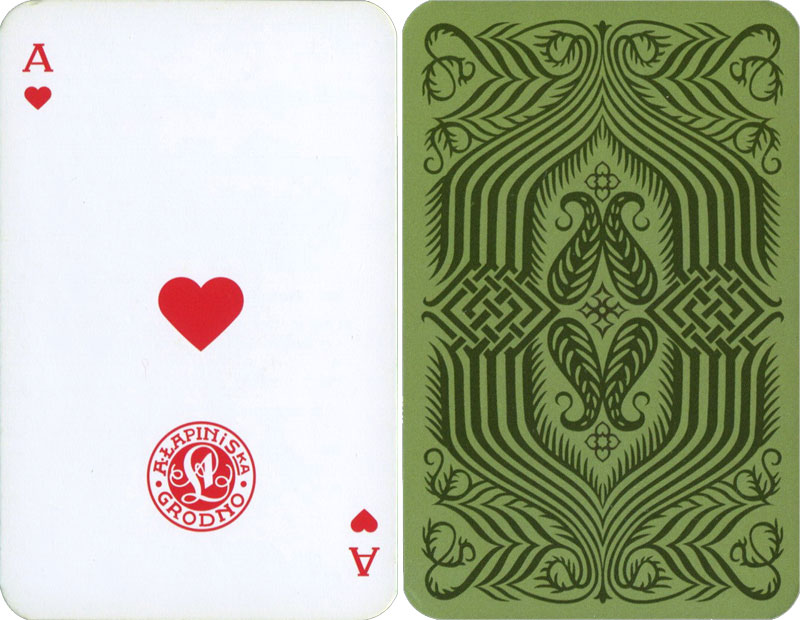 In 2017 the Yankouski family together with "A4" creative group took up the restoration of the Lapins' playing cards. They were drawn by hand and restored based on the original deck fragments. On the pack one can see design features borrowed directly from the Lapins' factory production: the logo, vignette and lettering.
The deck "with kings" shown here is unique because it was originally designed and printed only in Grodno.
Member since January 05, 2014