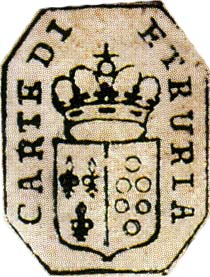 Minchiate Etruria
This antique "Minchiate Etruria" deck by Pietro Alligo was originally published in Florence in 1725, printed from copper plate etchings and hand coloured with water colours. Minchiate is a late-medieval card game employing a specially extended pack of 97 cards, related to tarot but including 12 zodiac signs, 4 virtues (faith, hope, charity, prudence) and 4 elements (fire, water, air, earth). The trump cards are untitled but are numbered with roman numerals in a scroll.
The game, like other Tarot games, is a trick taking game in which points are scored by capturing certain cards and sets of cards. However, the deck has also been popular with card readers who see it as a variant of the esoteric tarot because of the allegorical and symbolical content. The Cavaliers are man/beast creatures. The Valets (or Pages) are male for clubs and swords, and female for cups and coins. Further features include the replacement of the Papess, Empress and Pope by the Western Emperor, the Eastern Emperor and the addition of the Grand Duke. Some scholars believe that these cards may have served as teaching aids, because several trump allegories (Virtues, Elements, Zodiac signs) belong to categories upon which classical learning was based at that time.
Member since February 01, 1996
View Articles
Curator and editor of the World of Playing Cards since 1996. He is a former committee member of the IPCS and was graphics editor of The Playing-Card journal for many years. He has lived at various times in Chile, England and Wales and is currently living in Extremadura, Spain. Simon's first limited edition pack of playing cards was a replica of a seventeenth century traditional English pack, which he produced from woodblocks and stencils.