Published December 08, 2013
Updated March 08, 2022
Czech Hussite Deck
Czech "Hussite" Pack engraved by Karel Hoffmann and first printed by Jan Ritter in 1895.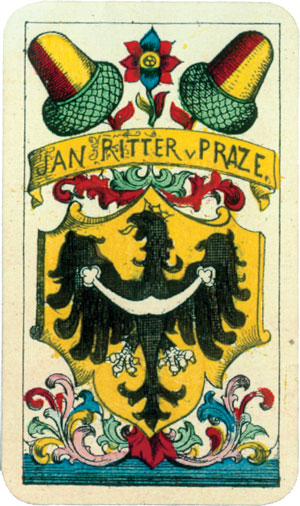 Czech "Hussite" Deck
During the 19th century Czech language, culture and National Identity were revived, as distinct from the dominant German culture of the Austro-hungarian Empire of which the Czech lands were a part. As a result, the Czech language has been restored as an official language in the Czech lands and is now used by the vast majority of Czechs. The name "Hussite" comes from the followers of Jan Hus (1373-1415), a church reformer and early creator of Czech as a literary language.
1st Edition, 1895
The "Hussite" Pack was engraved by Karel Hoffmann and first printed by Jan Ritter in 1895. Although German suit symbols are used, Czech historical persons are depicted on the court cards, including Jan Zizka (blinded in one eye and whose death is depicted on the Eight of Leaves), Ottokar II, Prokop the Bald, George 'Jiri' of Podebrad and Wenceslas (Vaclav) IV. The Daus (Two) of Acorns shows the arms of Silesia; Hearts shows the arms of Bohemia; Leaves the arms of Tabor. Other cards show wine making and local people.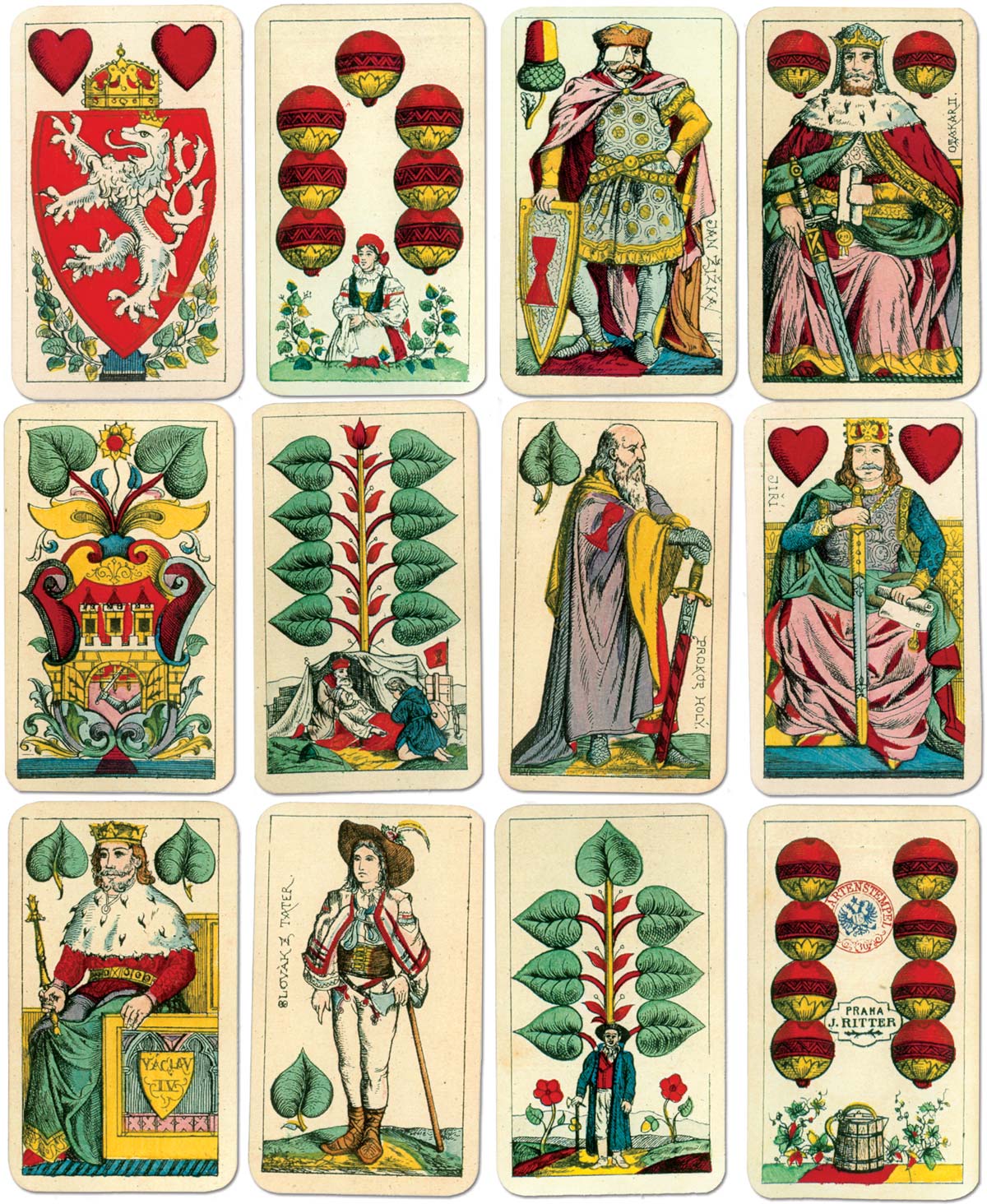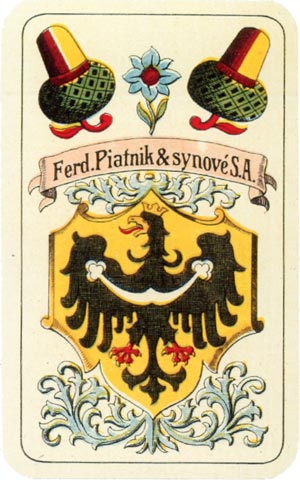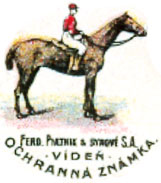 2nd Edition, 1927
In 1899 Ritter sold his playing card business to Piatnik. A condition of the deal was that card production would continue in Prague. In 1927 a new factory was built in Prague named Ferd. Piatnik & Synové S.A. and it was probably then that a second edition of the "Hussite" Pack was printed.
In the Piatnik edition the cards have been redrawn but generally follow the same designs of the earlier pack. The Daus (Two) of Leaves in this edition features the arms of Slovakia and the Daus of Bells the arms of Monrovia. The Seven of Hearts shows the Petrin Tower, a smaller version of the Eiffel Tower in Paris, which still stands today.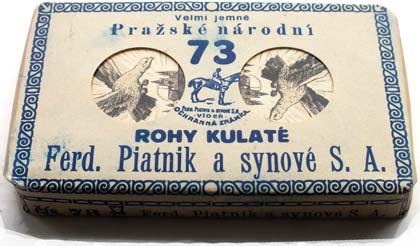 The Spodek of Acorns depicts a Silesian ('Slezan'). Jaroslav Sternberg (Svrsek of Hearts) was a mythical figure said to have defeated the invading Mongol hoardes at the Battle of Olmonouc.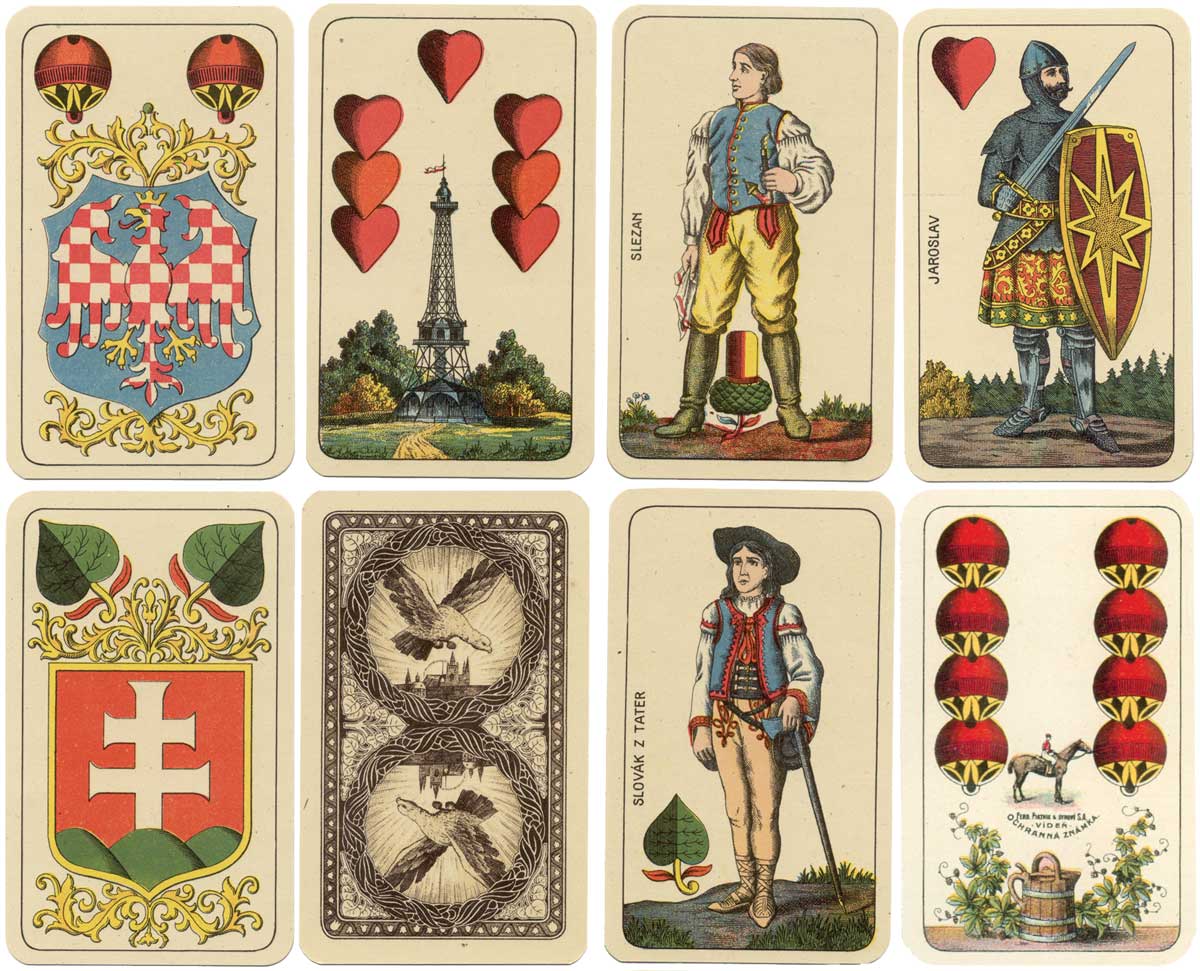 ---
Member since February 01, 1996
View Articles
Curator and editor of the World of Playing Cards since 1996. He is a former committee member of the IPCS and was graphics editor of The Playing-Card journal for many years. He has lived at various times in Chile, England and Wales and is currently living in Extremadura, Spain. Simon's first limited edition pack of playing cards was a replica of a seventeenth century traditional English pack, which he produced from woodblocks and stencils.