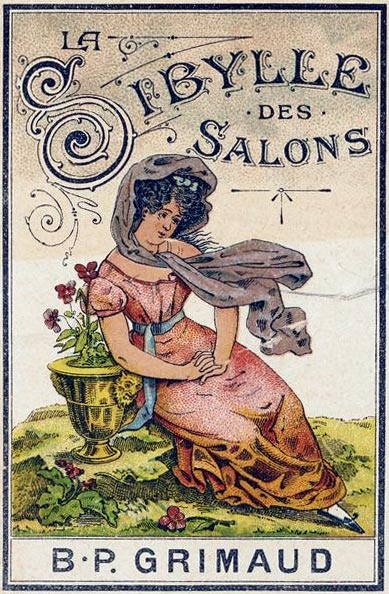 La Sibylle des Salons was originally published by H. Pussey in the 1840s as 52 hand coloured lithographs accompanied by a 24 page booklet titled "Art de Tirer Les Cartes" in a decorated slip case. Fortune-telling had entered the ladies' sitting room. The Bibliothèque Nationale de France (online catalogue) states that it is commonly accepted that these cards, signed 'Mansion', pseudonym of André Léon Larue, are in fact due to his pupil, Jean-Jacques Grandville . The set was reproduced later that century by Grimaud, c.1890.
The Grimaud edition contains 52 cards + a blank card in a paper wrapper. There was more than one edition at this time and colouring varies. The 52 illustrated cards are numbered 1-52 in the upper right corner, and in the upper left there are French standard playing card insets so that whist can also be played. At the bottom of each card is a cartomantic prediction. The subjects are all the usual fortune-telling repertoire: sucess, flattery, a lawyer, a dark young man, an old woman, delay, death, and so on. There have been several more recent facsimiles of this deck by Grimaud and France Cartes.
La Sibylle des Salons facsimile published by J M Simon / France Cartes, 1979.
Published as "The Parlour Sibyl". See the Box►
---
Further References
Bibliothèque Nationale de France: La Sibylle des Salons 1890►
Ursus Books & Gallery: La Sibylle des Salons►