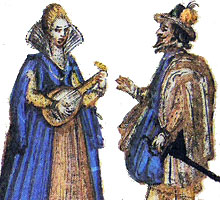 Engraved Playing Cards, Germany, 1617
by an anonymous artist with the initials I.M.F.
Playing cards had been made as precious objects for wealthy clients since the late 14th century. They were made to look at, admire and to keep in curiosity cabinets, or perhaps to entertain ladies or educate children rather than to play with. These packs often depicted the upper ranks of social hierarchies, as well as trades and vocations, not without parody or satire. Sometimes these miniature art pieces inspired cruder, simpler versions made for play, printed from woodblocks by a commercial artist or woodcutter. Thus their existence had some influence on the everyday, more affordable playing cards which were also being produced.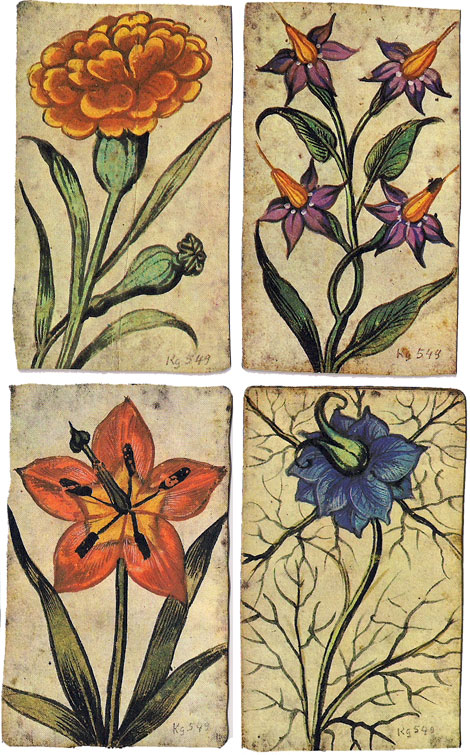 Expensive playing cards, gold edged and printed from copper plates, were available for those who could afford them. The demand for these copper-plate engraved cards must have been great because a fair number of examples have survived from the fifteenth and sixteenth centuries, usually preserved in curiosity cabinets. Although they were rather exclusive items, often they highlight artistic trends, styles and influences from other places, and were also inspiration to commercial workshops where cheaper cards were being produced. Thus it could be argued that the elite were able to influence the lower classes through their expensive playing cards! However, the argument can also be turned the other way, since some examples of fifteenth century woodcut cards can be seen to have influenced copper-plate engraved cards.
In the example we have here, the four Kings are mounted on thrones whilst the Upper and Lower Valets are standing, their suit signs being respectively high or low. The numeral cards have the suit signs at the top, embellished with ornamental scrolls, and small illustrations or vignettes at the bottom. These are all of interest on account of their artistic freedom and were, of course, the standard format for German-suited cards in those days.
However, perhaps the most striking aspect are the watercolour floral paintings on the reverse, which are botanically accurate representations and thus of educational value. It is not known whether they are by the same artist who painted the cards; possibly by someone who practised miniature painting.
---