Published October 03, 2011
•
Updated June 12, 2023
Greek Playing Cards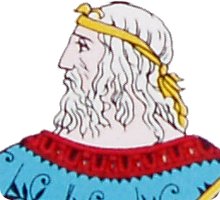 Ancient Greece was the birthplace and cradle of European civilisation.
Greek mythology has, of course, featured in the design of playing cards and "Ancient Civilisation" games in many parts of the world since at least the seventeenth century. Card playing is not as popular in Greece as it is elsewhere and the uptake has been slower than in other parts of Europe. Greek card players today use either the Anglo-American or French National pattern, but a number of tourist souvenir packs are produced featuring Greek Mythology, Ancient Lovers or photographs of Greece. Belgian or Genoese style cards have also been used. In the 1920s the manufacturers Paignioxartopoeion e Elpis of Corfu made a pack with Venetian format and Greek mythological figures on the court cards. This pack disappeared after the Italian invasion in 1939. Grafika Teknai Aspioti-Elka of Athens introduced a national French-suited pattern, also with classical figures on the court cards, which remained in production for many decades.


Greek Mythology
The myths of the early Greeks have given world literature some of its greatest inspiration, while the dramatists set the pattern on which drama has developed ever since.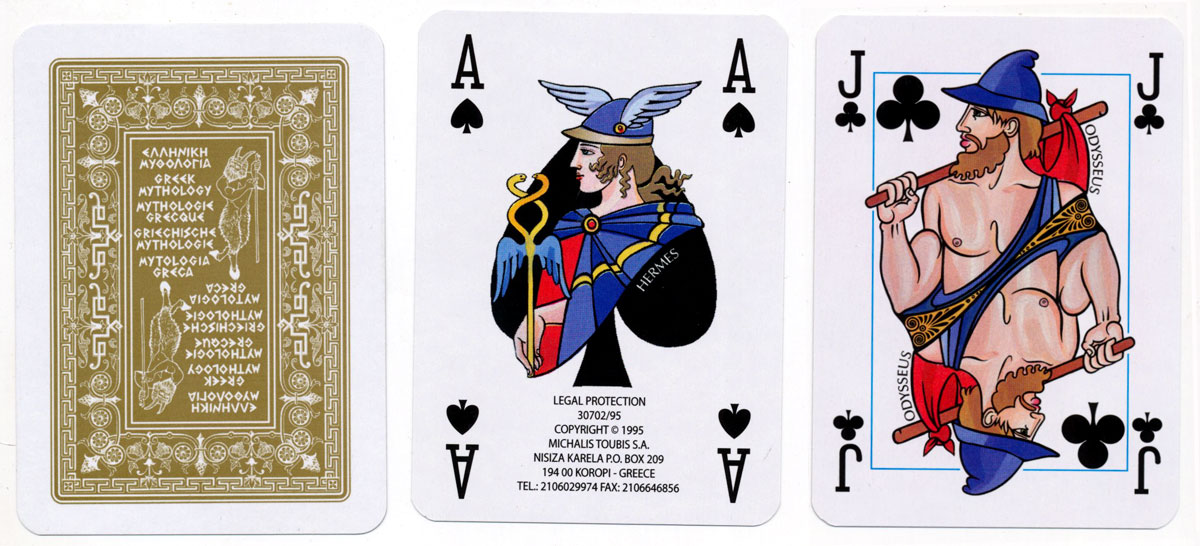 More Greek Mythology playing cards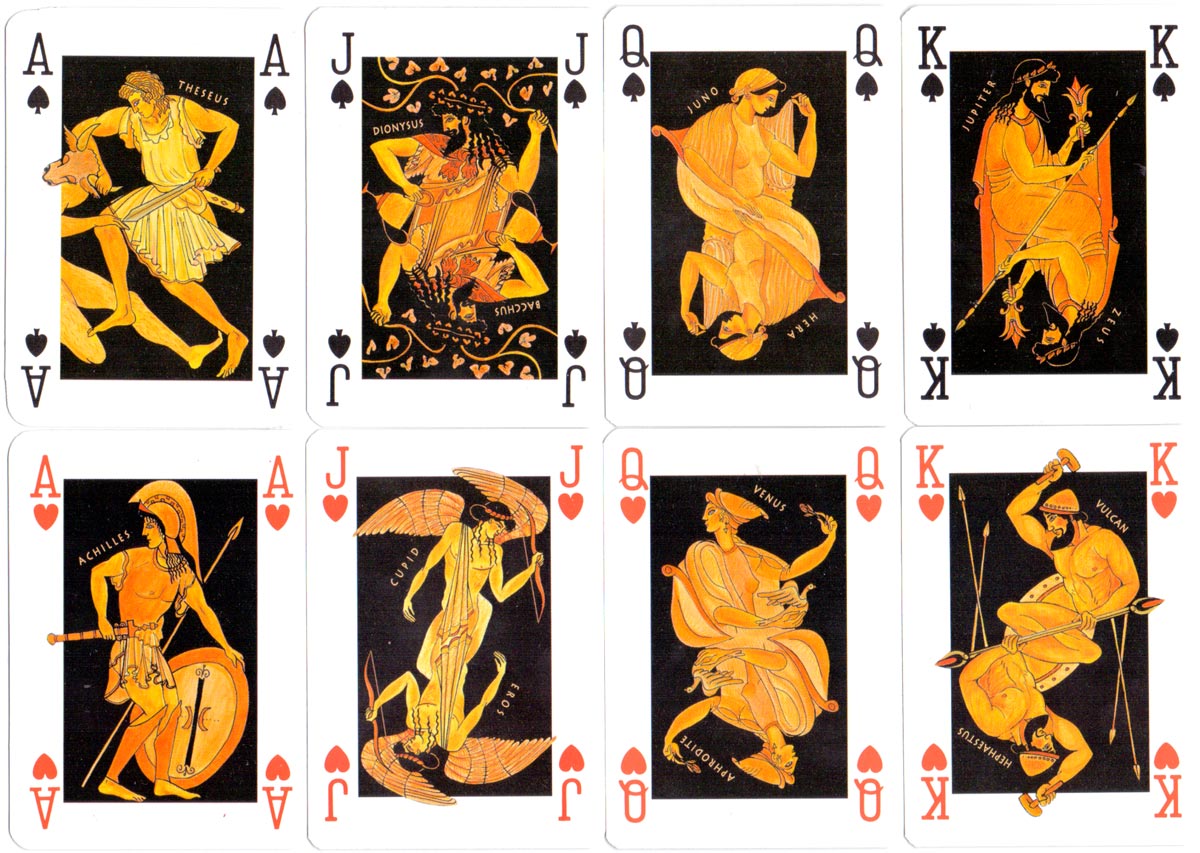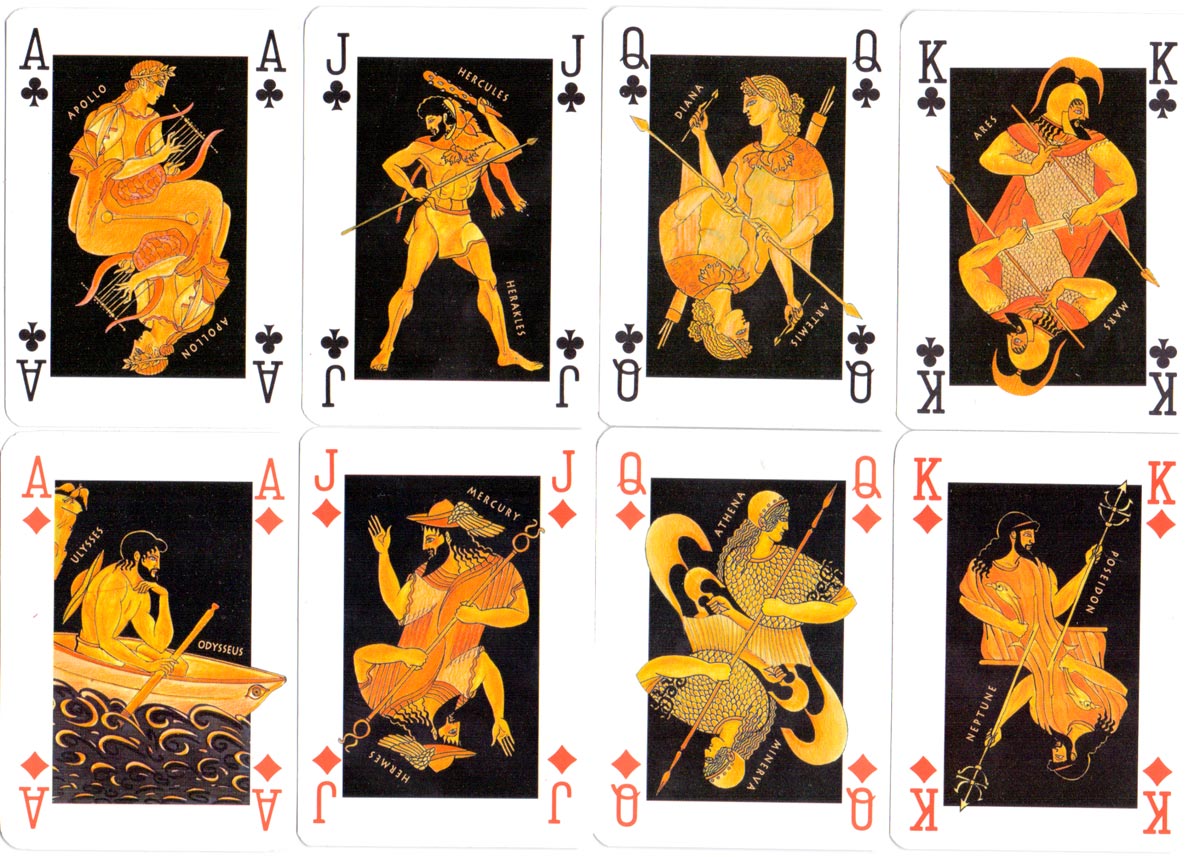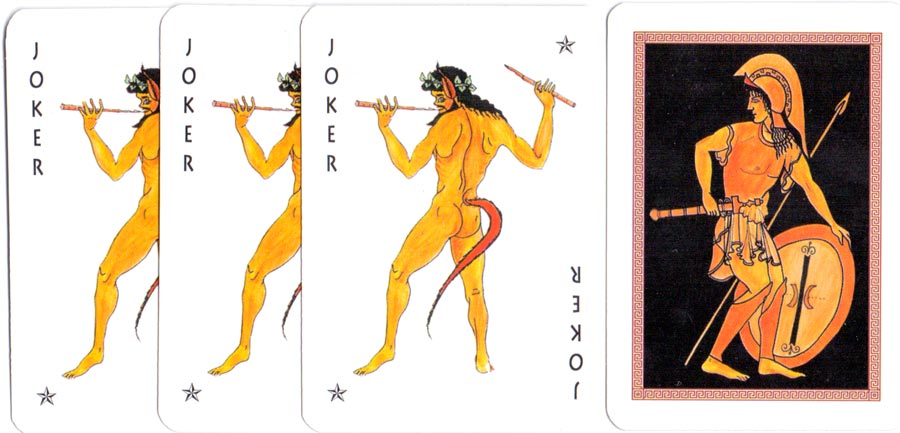 Souvenir of Greece
Greek Souvenir playing cards are produced in various styles, ranging from colour photos of Greek scenery to photos of artefacts in museums celebrating ancient Greek civilisation. Some editions of "Greek Playing Cards" are a standard English pattern with a cheerful colour photo of a Greek Island on the reverse, made by a local manufacturer such as Dama Pica Ltd. see example here►. Advertising decks for Greek shipping lines or other businesses are often produced by foreign manufacturers rather than national ones.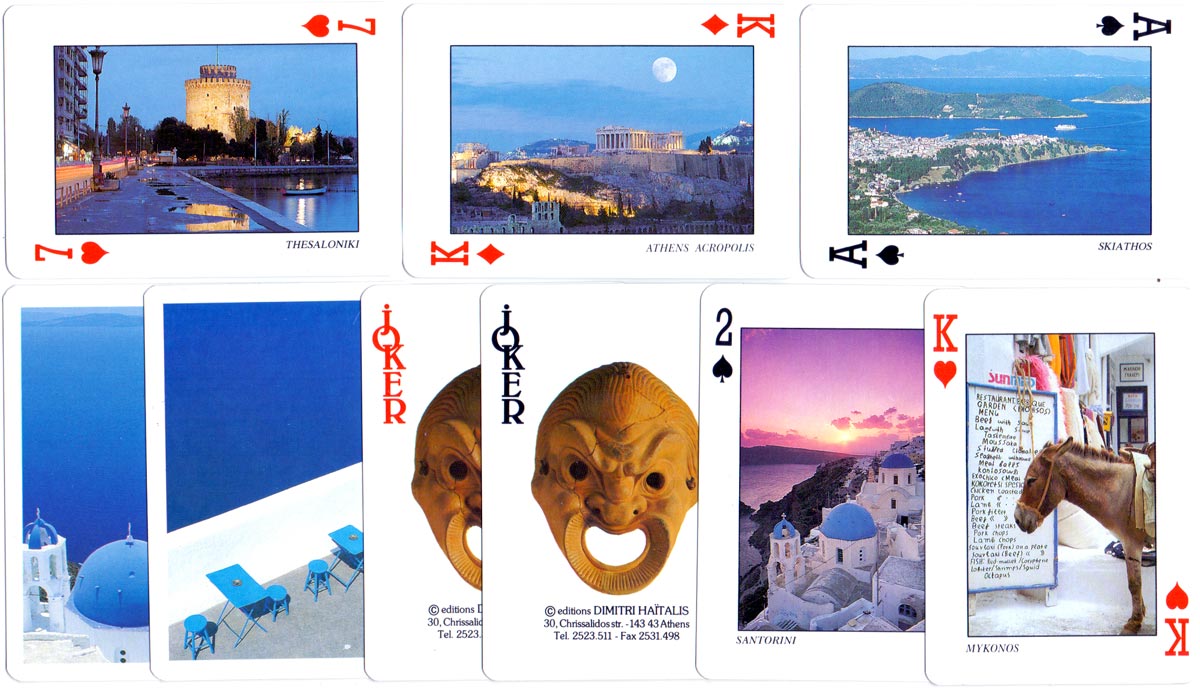 Eros
The ancient Greek works of art were closely related to the practical or religious purpose for which they were primarily designed. Classical Greek art is an art charged with meaning that appeals as much to the intelligence as to the sensibility. A large number of Greek painted vases have survived, and these often used the human figure as part of their ornamentation. The images are often striking in their accurate and vivid observation, taken from life. The human body was drawn at the peak of its youth and strength with explicit anatomical detail. Aphrodite was often venerated in vase painting, surrounded by Loves and Graces, beautiful nude young women and finely shaped youths.
Some Greek artists loved youthful bodies in slightly languid poses, often depicting the softness of flesh, engaged in carefree leisure. Other artists strove to depict idealised beauty as promoted in Platonic teachings. The many facets and phases of Greek art provide a rich source of imagery for Greek tourist souvenir playing cards.
Member since February 01, 1996
Founder and editor of the World of Playing Cards since 1996. He is a former committee member of the IPCS and was graphics editor of The Playing-Card journal for many years. He has lived at various times in Chile, England and Wales and is currently living in Extremadura, Spain. Simon's first limited edition pack of playing cards was a replica of a seventeenth century traditional English pack, which he produced from woodblocks and stencils.