Published July 03, 1996
Updated March 14, 2022
Polish playing cards

oland has been involved in playing card production since the 15th century. During the 16th century cards were being made in L'vov (Lemberg), Breslau, Posen, Olkusz and Cracow. In 1507 the German philosopher Thomas Murner published 'Logica Memorativa' in Cracow, in the form of a book illustrated by a series of pictorial playing cards with 16 suits.
Polish cards followed Austro-Hungarian and German models such as Trappola packs, tarots, and more recently imitated the 'Rhineland', 'Baronese', 'Berlin', 'Viennese', 'Lemberg' and 'Prussian' patterns, as well as the Anglo-American. 19th and 20th century Polish manufacturers include J.A. Willink (Warsaw), Pierwsza Gal. Fabr. Kart do Gry and Karpalit S.A. of L'vov, the Cracow Playing Card Factory (1926-1939) and the state-run Krakowskie Zaklady Wyrobów Papierowych (Cracow Factory for Paper Articles, 1947-1997) who became the market leaders in Poland.
From the start, KZWP had strong associations with the Cracow Art College leading to collaboration with designers such as Franciszek Bunsch, Anna Gaber, Maria Orowska-Gabry and more recently Radoslaw Radziejewski and Edyta Gdek. Over the decades KZWP has produced many attractive advertising and decorative non-standard cards. (Click on images to see more). In 1997 KZWP was privatised and re-named Krakowskie Zaklady Wyrobów Papierowych Trefl - Kraków Sp. z.o.o. The company continues to produce the full traditional range of playing cards, games, tarot cards, advertising playing cards and other paper products.
---

---
---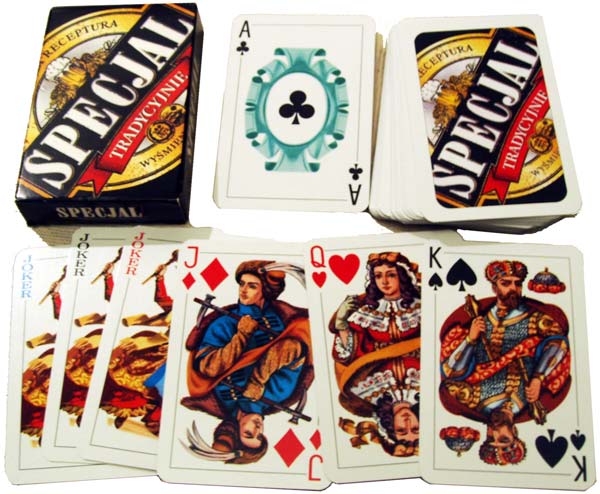 Member since February 01, 1996
View Articles
Curator and editor of the World of Playing Cards since 1996. He is a former committee member of the IPCS and was graphics editor of The Playing-Card journal for many years. He has lived at various times in Chile, England and Wales and is currently living in Extremadura, Spain. Simon's first limited edition pack of playing cards was a replica of a seventeenth century traditional English pack, which he produced from woodblocks and stencils.