Published July 08, 2015
Updated December 12, 2021
Ojibwa Native Indian Cards
Ojibwa Native Indian playing cards hand manufactured on birch bark in imitation of standard French / English cards, c.1875.
Ojibwa Native Indian Playing Cards
While the playing cards of native American Indians were usually painted on rectangles of rawhide in imitation of Mexican or Spanish cards, these Ojibwa Native Indian playing cards are hand manufactured on birch bark in imitation of standard French / English cards. The Ojibwa peoples are historically known for their crafting of birch bark canoes, their sacred birch bark scrolls and the use of cowrie shells for trading [wikipedia]. As they were encountering French, English, Dutch, Swedish and American trappers, colonists and pioneers, who were using standard 52-card 'Bridge' packs, they imitated these cards using birch bark.
The birch bark rectangles are not always evenly trimmed with square corners. The cards follow the normal convention of two red suits and two black, with the symbols possibly being printed from blocks. The Jacks, Queens and Kings appear to have been hand painted with a narrow implement and coloured with red and black pigments. The courts are single-ended but the numeral cards are reversible. Whilst this material could be used for play, these cards show no signs of wear. They may possibly have been made as a curio for sale to travellers, but there are no surviving details of their exact provenance except that they were obtained by George Heye no later than 1917 and are reckoned to date from around 1875 or before.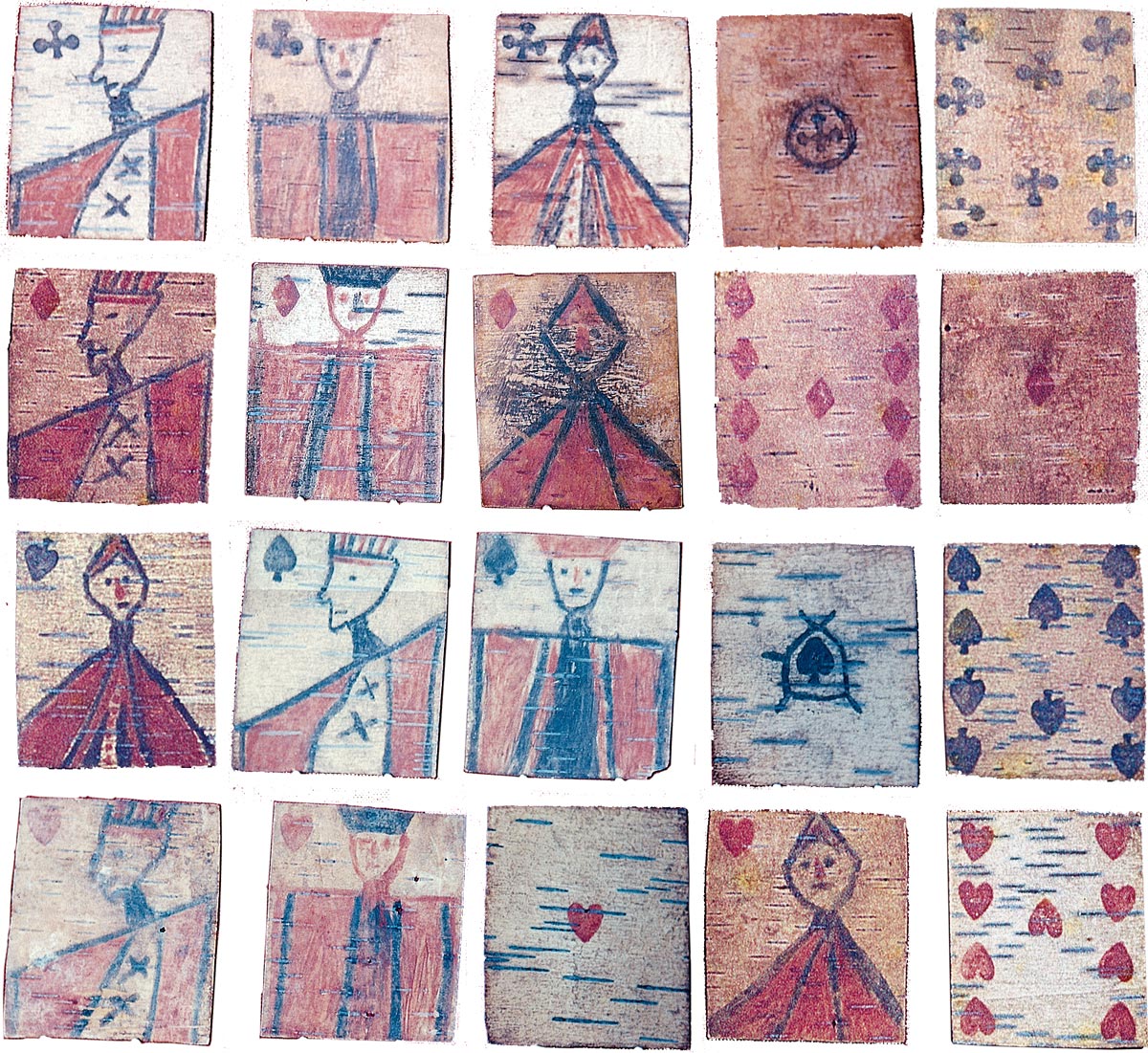 Member since February 01, 1996
View Articles
Curator and editor of the World of Playing Cards since 1996. He is a former committee member of the IPCS and was graphics editor of The Playing-Card journal for many years. He has lived at various times in Chile, England and Wales and is currently living in Extremadura, Spain. Simon's first limited edition pack of playing cards was a replica of a seventeenth century traditional English pack, which he produced from woodblocks and stencils.