Early English Playing Cards


HE EARLIEST ENGLISH playing cards are very scarce… few specimens have survived and little is known about the manufacturers. This page exhibits several early examples of traditional, standard English playing cards of which the best known are those of Hewson of the seventeenth century, and Blanchard from the eighteenth century.
Some more early English playing cards can be seen at: www.plainbacks.com►
An Exciting Find
Whilst renovating a house in Ross-on-Wye, and having removed the floorboards in the attic, workmen discovered 33 rather old playing cards: 9 court cards and 24 pip cards in varying states of wear and deterioration.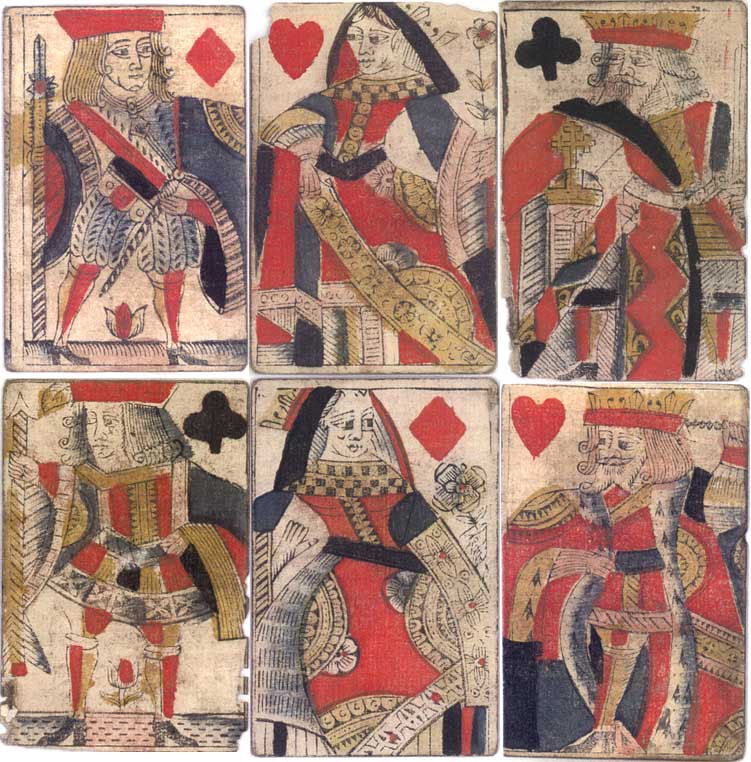 It is unusual to find so many cards under floorboards, and suggests that the cards may have been hidden there. One recalls edicts and laws forbidding card playing to servants and apprentices except during the Christmas holidays. The maker is unidentified, and there is no Ace of Spades or tax stamp, however there are clues which assist in dating the cards:
King of clubs: early style with Cross of Lorraine on an imperial orb
King of hearts: early style wielding an axe
King of diamonds: armed with a battle axe
Queen of hearts: a very long, thin stalk to the flower
During the 18th century the design of standard English playing cards tended to become set and stereotyped, so that these designs differed less noticeably from maker to maker. Wood blocks were supplied to card makers by a different trade and so a block-maker might have supplied various manufacturers with the same style of court designs. The designs tended to become more distorted, sometimes slightly grotesque, as the features and attributes were corrupted.

Between 1820 and 1840 designs began to be revised, and printing methods evolved, so that, once again, designs between manufacturers became more and more distinctive and competition stimulated innovation. However, it needs to be borne in mind that even as late as the 1870s packs of playing cards were assembled by hand, and that left-overs might have been used to complete another pack. Thus it is sometimes difficult to distinguish these mixed packs from more recent mixes of incomplete packs.
Finally, although De La Rue pioneered letterpress for the production of playing cards in the 1830s, a number of other manufacturers, such as Hunt/Bancks and Reynolds, continued wood-block and stencil use right up until the 1870s. The cutting work and the application of wood blocks had by this time become more refined.