Mayan Playing Cards from Guatemala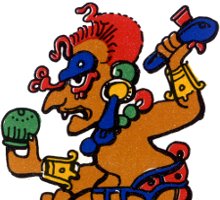 Mayan Mythology Playing Cards from Guatemala, printed by graphic design and printing firm Litografía José Arimany Hijos (founded 1952) and published by Promotora Continental.
The pack contains 52 cards + 2 jokers. Each card contains a colour illustration of Mayan art, along with the suit symbols and index numbers. The leaflet which accompanies the pack reads: "This edition of Mayan Playing Cards, containing illustrations of archaeology, art, folklore, history and mythology of the Mayans has been carefully designed so that the reproductions of the deities as well as of the archaeological ruins are as accurate as the originals taken from different manuscripts and archaeological ruins engraved in stone and worked in clay; in these designs you will find original art as it was molded many thousand years ago by Mayan artists."
The Mayan deities depicted on the cards include Chaac, Itzamna, An Puch and Tlaloc as well as their consorts, wives and the feathered snake Quetzalcotl. See also: Mexican Aztec Cards