Published June 30, 2011
•
Updated June 12, 2023
Guatemala
Playing Cards from Guatemala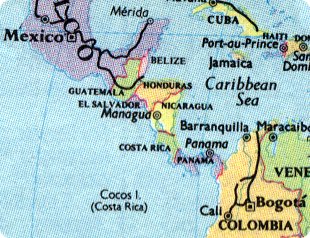 Playing Cards from Guatemala
After arriving in what was named the 'New World', the Spanish sent expeditions to Guatemala, beginning in 1519. Before long, Spanish contact resulted in an epidemic that devastated native populations. During the colonial period, Guatemala was an Audiencia and a Captaincy General (Capitanía General de Guatemala) of Spain, and a part of New Spain (Mexico). The region was not as rich in minerals (gold and silver) as Mexico and Peru, but its main products were sugarcane, cocoa, blue añil dye, red dye from cochineal insects, and precious woods used in artwork for churches and palaces in Spain. In 1583 one Alonso Martínez de Orteguilla was authorised to administer the manufacture and sale of playing cards in New Mexico (which included Mexico, Nicaragua, Guatemala and Honduras). Playing cards were supplied from Spain and France, as well as manufactured in Mexico under licence.

---
In recent years packs have been published in Guatemala by El Cuervo y Cia, Promotora Continental and 'Juegos El Borrego'.

---
The Mayans lived in Guatemala, Honduras, Belize, the southern part of Mexico and northern parts of El Salvador until European settlers arrived.

Member since February 01, 1996
Founder and editor of the World of Playing Cards since 1996. He is a former committee member of the IPCS and was graphics editor of The Playing-Card journal for many years. He has lived at various times in Chile, England and Wales and is currently living in Extremadura, Spain. Simon's first limited edition pack of playing cards was a replica of a seventeenth century traditional English pack, which he produced from woodblocks and stencils.