Published July 03, 1996
Updated February 23, 2022
Early Spanish/Portuguese type
Fragment of a sheet of archaic Spanish-suited 'Dragon' playing cards found during restoration of a house in Antwerp built between 1559 and 1574
Fragment of a sheet of archaic Spanish-suited 'Dragon' playing cards found during restoration of a house in Antwerp built between 1559 and 1574, a period during which the histories of Spain and the Netherlands were connected.
The history of the Spanish Netherlands covers the period from 1556 when, after the abdication of Emperor Charles V, they became the inheritance of his son, King Philip II of Spain, becoming known as the Spanish Netherlands. This period ran until 1715, when the remaining Southern Netherlands came under the authority of the Austrian emperor.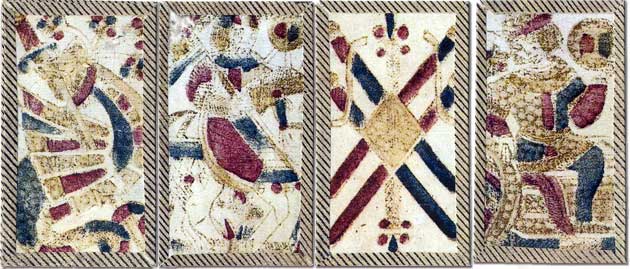 Further References
Wikipedia: History of the Spanish Netherlands►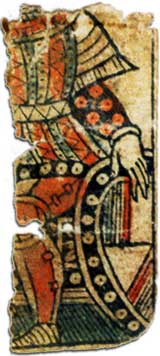 Member since February 01, 1996
View Articles
Curator and editor of the World of Playing Cards since 1996. He is a former committee member of the IPCS and was graphics editor of The Playing-Card journal for many years. He has lived at various times in Chile, England and Wales and is currently living in Extremadura, Spain. Simon's first limited edition pack of playing cards was a replica of a seventeenth century traditional English pack, which he produced from woodblocks and stencils.