Published August 11, 2013
Updated April 05, 2019
Malta
The so-called 'Dragon Cards', with winged monsters on the four Aces, are an enigmatic aspect of early playing card history.
Maltese 'Dragon Cards'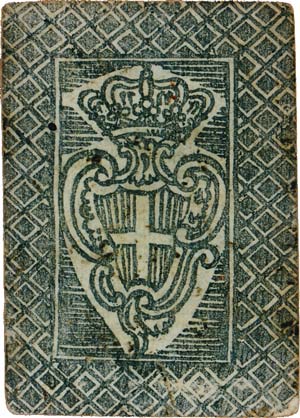 The so-called 'Dragon Cards', with winged monsters on the four Aces, are a colourful and somewhat enigmatic aspect of early playing card history. The earliest known examples are Spanish from about 1550 and the latest surviving descendents can be seen in Japanese mekuri cards today. At various times cards of this type have appeared in Italy, Portugal, Malta and elsewhere in Europe, and their influence has been noted in cards from Japan, Brazil, India and Indonesia. Cards of this type were also discovered in archaeological digs in Peru, having been taken there by Spaniards.
The inscriptions at the tops and bottoms of the cards shown here suggest an Italian model (rather than Spanish) and the cards closely resemble late seventeenth century Italian cards known as 'Infirrera' cards, after the name of the maker. Earlier examples of similar cards also found in Malta suggest that they were being printed and assembled in Malta since the seventeenth century. The Kings have Maltese crosses of the Order of St John on their breasts which is curious since any form of gambling was not permitted in the Order. However, the Four of Coins is stamped with the coat-of-arms of the grandmaster which could indicate his approval.
---
Member since February 01, 1996
View Articles
Curator and editor of the World of Playing Cards since 1996. He is a former committee member of the IPCS and was graphics editor of The Playing-Card journal for many years. He has lived at various times in Chile, England and Wales and is currently living in Extremadura, Spain. Simon's first limited edition pack of playing cards was a replica of a seventeenth century traditional English pack, which he produced from woodblocks and stencils.