Published December 08, 2016
Updated December 09, 2016
Carel de Wagenaer
Facsimile edition of cards first published by Carel de Wagenaer, Amsterdam in c.1698
Carel de Wagenaer was one of the earliest playing card manufacturers in The Netherlands, based in Amsterdam towards the end of the 17th century. He was probably of French origin. In 1697 Carel De Wagenaer's shop "In de Gekroonde Haan" (Crowned Cock) was situated in the Kalverstraat near the Osse sluice. He advertised 3 sorts of cards: large sized French, small sized Dutch and tea cards (patience). Following the earlier trend of depicting classical heroes on the court cards, and evolving the new trend for educational and political decks, in this example the rulers of Europe are matched to the hierarchy of the playing cards.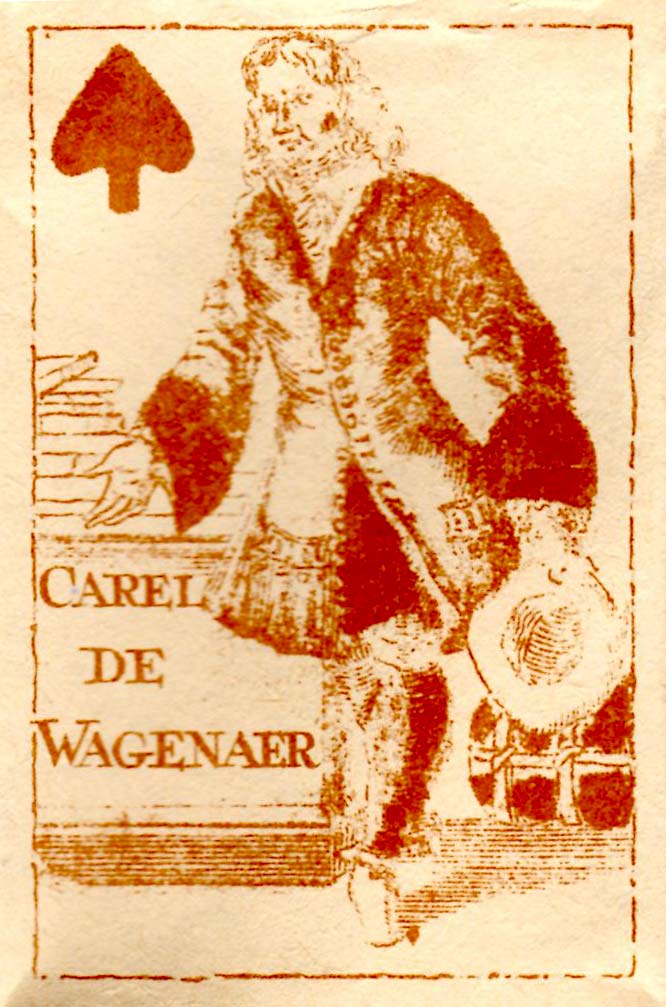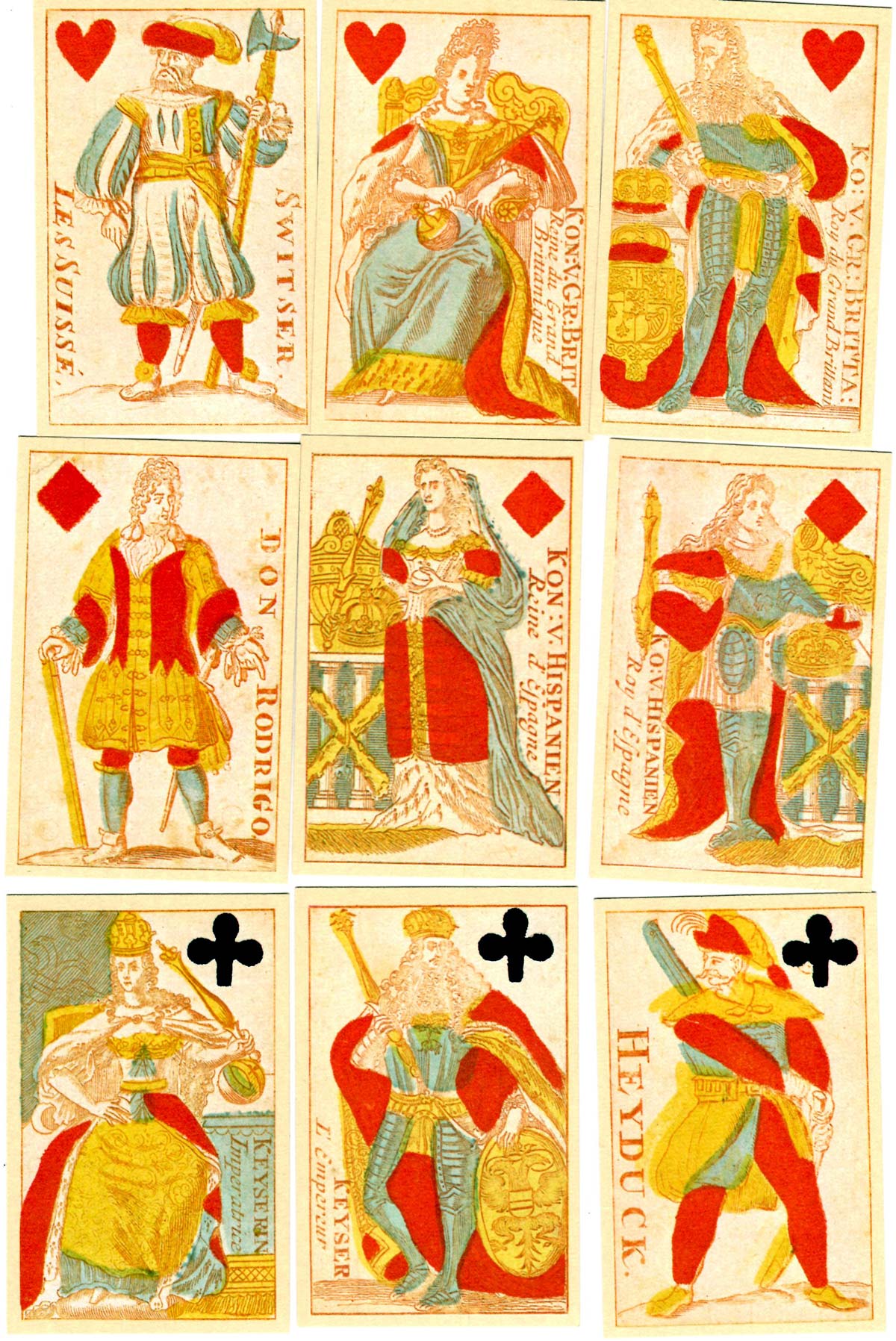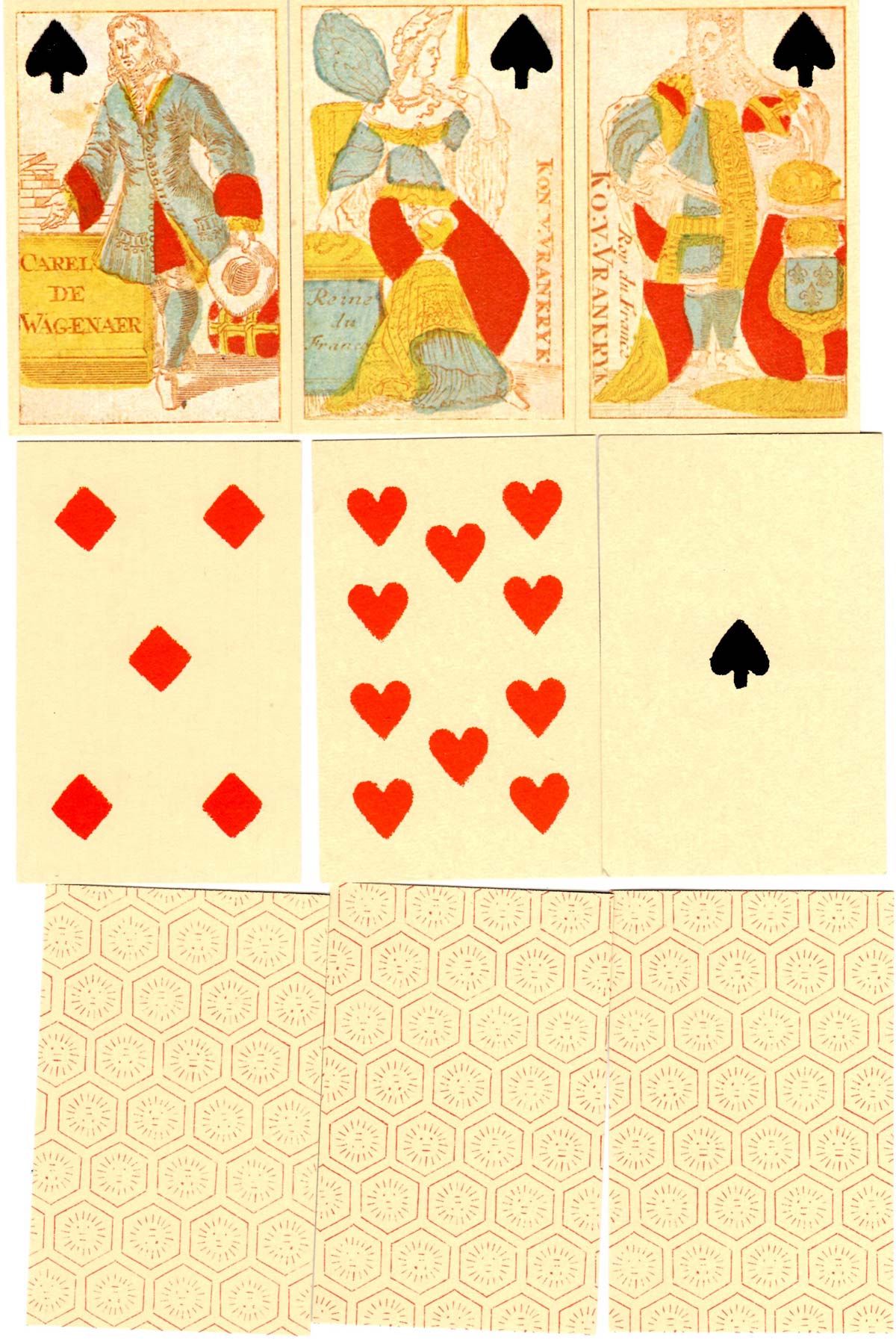 As an addendum to this article the following story was translated by Joop Muller:
In 1698 Antoni de Winter made an agreement with the manufacturer of playing cards Carel de Wagenaer regarding a partnership to publish certain kinds of playing cards. De Winter would engrave them and De Wagenaer would make-up the printed cards. On December 8 De Winter lodged a complaint at the notary Van Duynkerken who issued a warrant against De Wagenaer. The complaint was that De Winter had delivered 900 prints for 'tea cards' (patience cards) and later another 300. Together that would bring 8 grosses and 48 single decks, of which De Winter would receive half. Despite of all his efforts De Winter hadn't received more than 20 dozen and two single decks. In the warrant De Wagenaer was held responsible for the financial loss (a lot of decks could have been sold already) and De Winter also announced that he would retreat from the partnership and keep half of the common copper plates. De Wagenaer answered that he would deliver all when De Winter had paid him.
Member since February 01, 1996
View Articles
Curator and editor of the World of Playing Cards since 1996. He is a former committee member of the IPCS and was graphics editor of The Playing-Card journal for many years. He has lived at various times in Chile, England and Wales and is currently living in Extremadura, Spain. Simon's first limited edition pack of playing cards was a replica of a seventeenth century traditional English pack, which he produced from woodblocks and stencils.