Published July 03, 1996
•
Updated November 30, 2023
Naipes Comas
Naipes Comas 1797-1992
Naipes Comas was originally founded in 1797 by Pedro Comas Sumilla in Mataró, province of Barcelona. The company relocated to the city of Barcelona in 1810. From 1845 a succession of Pedro Comas' descendents continued running the business. These were: Sebastián Comas y Ricart [1845-1867] -> Cristina Montaner de Comas (Viuda de S. Comas y Ricart) [1867-1882] -> Hijos de Sebastián Comas y Ricart (Antonio y Sebastián Comas y Montaner) [1882-1892] -> Sucesores de Sebastián Comas y Ricart (Antonio Comas y Montaner, S. en C.) [1892-1911] -> Viuda de Antonio Comas (Josefa Ribó Gruchaga) [1911-1931] -> Hija de Antonio Comas (J. Comas) [1931-1954].
However, packs are known with just "Sebastian Comas" since the company name had become a successful brand in itself • see example by Sebastian Comas►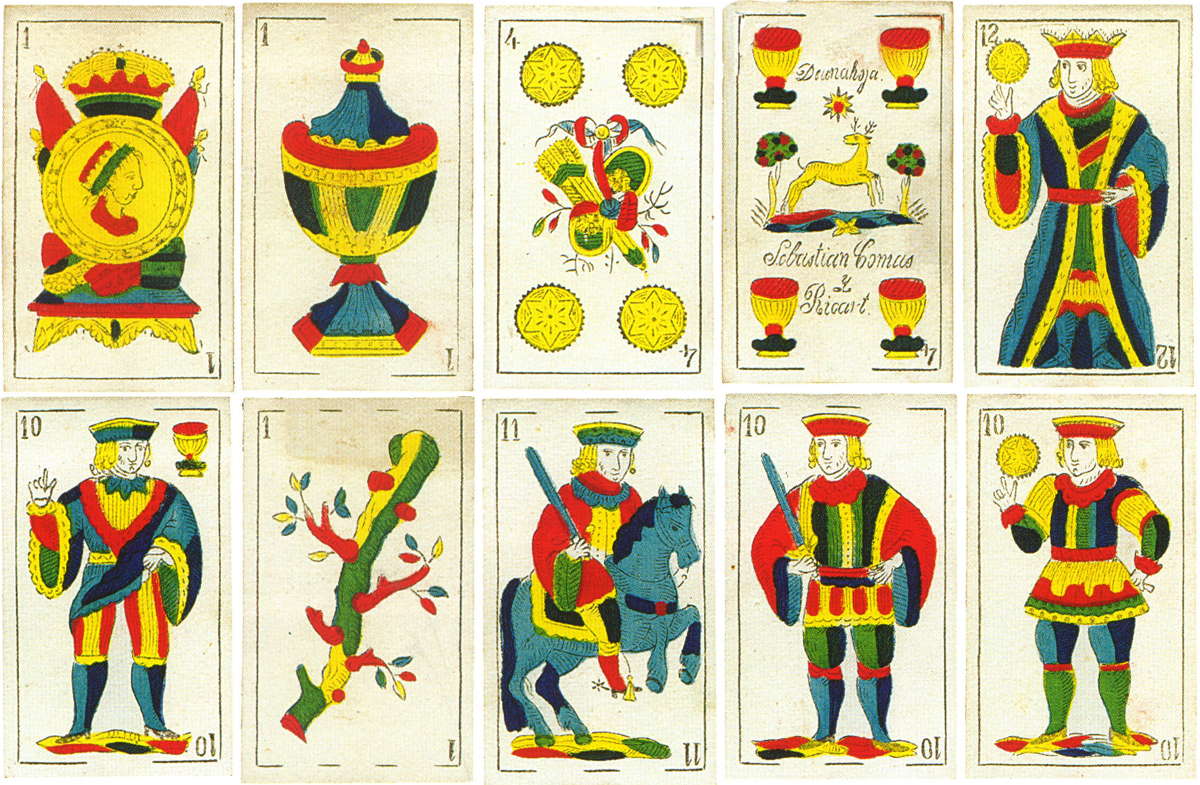 In 1850 Sebastián Comas travelled to Argentina and established business relations with importers Fló Hnos in Rosario. A lot of playing cards were exported to South America (especially Argentina) and the Spanish Catalan pattern was accepted over there. At the same time he achieved improvements in the quality of Bristol card which resulted in increasing orders both in the national and South American markets. After his premature death in 1867 the company continued to prosper under the management of his widow, Cristina Montaner de Comas and then by her two sons, Hijos de Sebastián Comas y Ricart. These two brothers (Antonio & Sebastián Comas) continued to consolidate and expand the family business and introduced an improved three-ply Bristol card.

In 1892 Antonio Comas y Montaner became the managing director. New brands were introduced (El Periquito, Escudo de Uruguay, El Carabao, El Conejo, La Golondrina, El Águila, El León, Los Dos Elefantes, El Gallo, El Ciervo etc) for the South American, Philippines and other foreign and domestic markets. In 1895 the playing card business of José Samsó y Cía was acquired, and in 1896 Cristobal Massó i Artigas was also taken over. During this period Naipes Comas reached its peak of success.

English and French style playing cards were introduced in the early 20th century, followed by 'Spanish Poker' packs with 52 cards, giving the company a more European outlook. The advent of the Spanish Civil War and the Second World War were difficult times for trading but the company survived.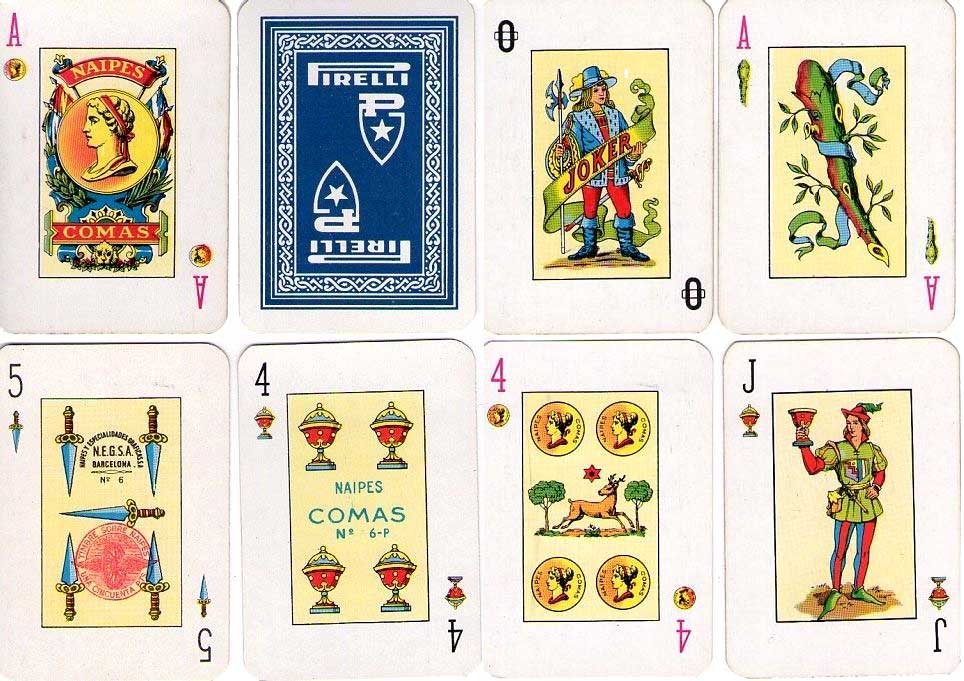 In 1954 the business became known as N.E.G.S.A. (Naipes y Especialidades Gráficas S.A.) and continued manufacturing playing cards from the factory at nº6 Cortinas Street in Barcelona until 1959, when it moved premises to Calle Sort Nº32 & 34, L'Hospitalet de Llobregat, within the Barcelona industrial belt. In 1962 Comas joined forces with a graphics company headed by Agustín Bastard Peris using the offset technique. On Sr Bastard's death the company was acquired by Talleres Gráficos Soler based in Esplugues, in the outskirts of Barcelona, who are the present manufacturers of 'Naipes Comas'. The range of products has been expanded even further and now includes children's games and tarot cards.

Member since February 01, 1996
Founder and editor of the World of Playing Cards since 1996. He is a former committee member of the IPCS and was graphics editor of The Playing-Card journal for many years. He has lived at various times in Chile, England and Wales and is currently living in Extremadura, Spain. Simon's first limited edition pack of playing cards was a replica of a seventeenth century traditional English pack, which he produced from woodblocks and stencils.