Published October 16, 2014
Updated March 14, 2022
Catalan Playing Cards
With a distinct history stretching back to the early middle ages, many Catalans think of themselves as a separate nation from the rest of Spain.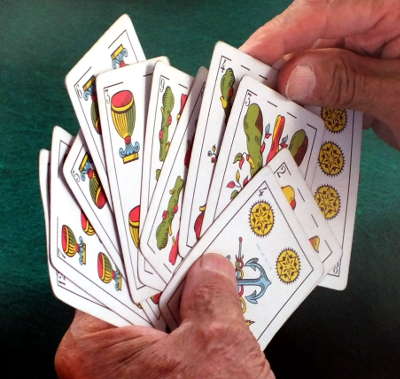 Catalan Playing Cards
With about 16% of the Spanish population and a distinct language and culture of its own, Catalonia is one of Spain's richest and most independent-minded regions. What is known today as the "Modern Spanish Catalan" playing card pattern (to avoid confusion with the French Catalan style) began to emerge with an identity of its own during the early 19th century and became fully developed by the end of the 19th century. It was primarily manufactured by makers in the Barcelona region (Sebastian Comas y Ricart, Wenceslao Guarro, Giráldez, Juan Roura, etc) but is now regarded as a standard pattern throughout Spain and beyond. Packs usually contain 40 or 48 cards.
The design was exported to many South American countries (in particular Argentina, Brazil and Uruguay) and is also produced today as far afield as India and China.
Non-Standard Catalan playing cards
With a distinct history stretching back to the early middle ages, many Catalans think of themselves as a separate nation from the rest of Spain. During the last hundred years or so several 'Catalan' decks of playing cards were produced celebrating this independent national identity. Invariably these are Spanish-suited but with non-standard suit symbols associated with Catalan culture. More recently these have been tending towards a re-affirmation of Catalan people's desire for independence (mainly the separatist Catalan Republican Left). A selection is shown below (click the 'plus' signs):
---
'Visca Catalunya' - 1935
'Visca Catalunya' playing cards, originally titled 'Visca La Sardana', designed by Lluís Vidal Molné (1907-1970) in 1935. Molné was particularly noted for his illustration work and these playing cards are inspired by traditional rural imagery.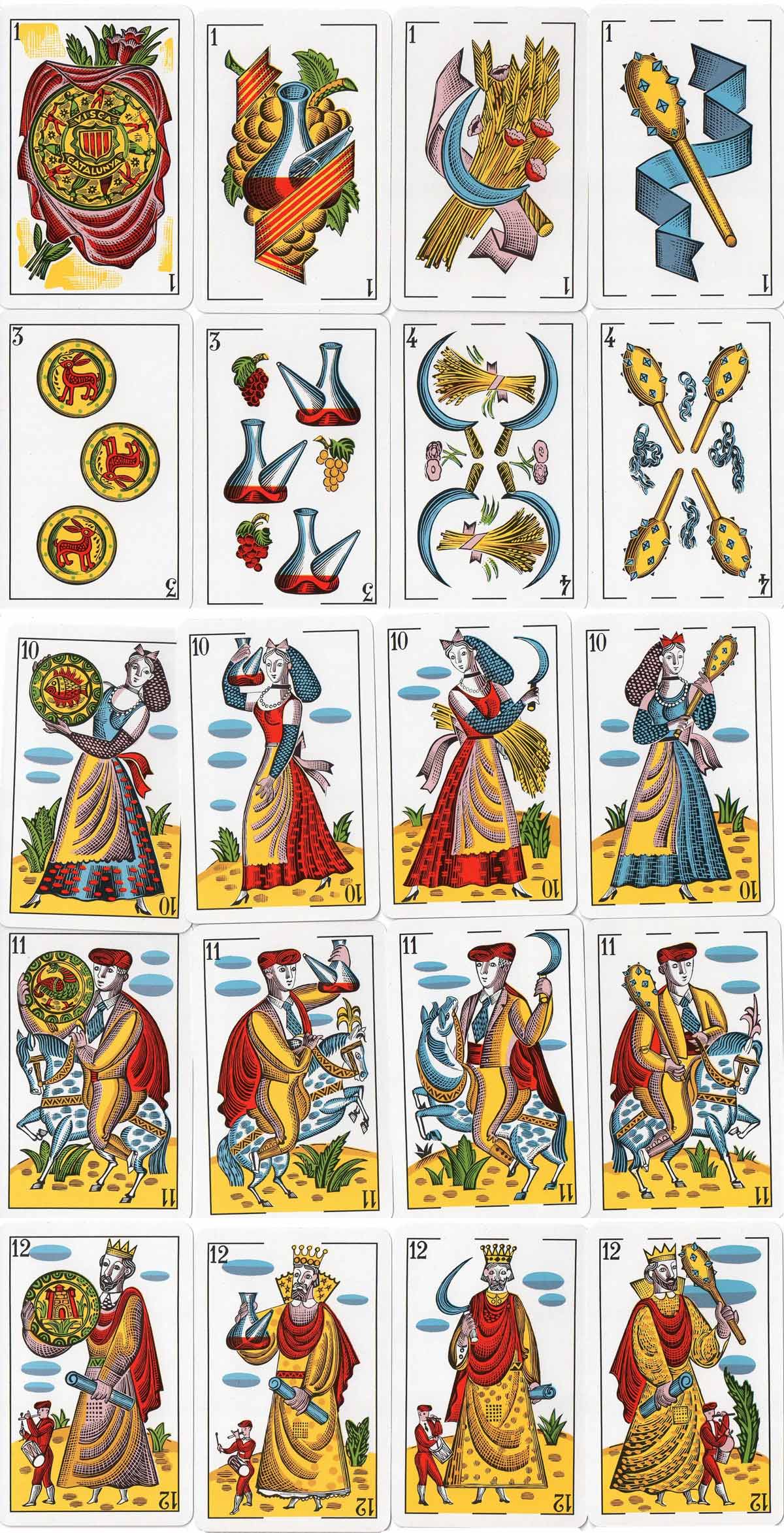 ---
'Baraja Catalana'
In 'Baraja Catalana' the four suit symbols are representative of the regional culture: barretinas (woolly hats or berets), castellers (towers), roses (Saint George) and mushrooms. Building human towers - "castells" - is a Catalan tradition originating in the 18th century which can be seen performed at local carnivals. Mushrooms are an important part in Catalan cuisine. The court cards show historical persons or attributes of the four suit symbols. The designs are slightly unusual in that there are no 'pintas', or border breaks, and no corner pips. Instead there are miniature outline maps of Catalunya in the corners.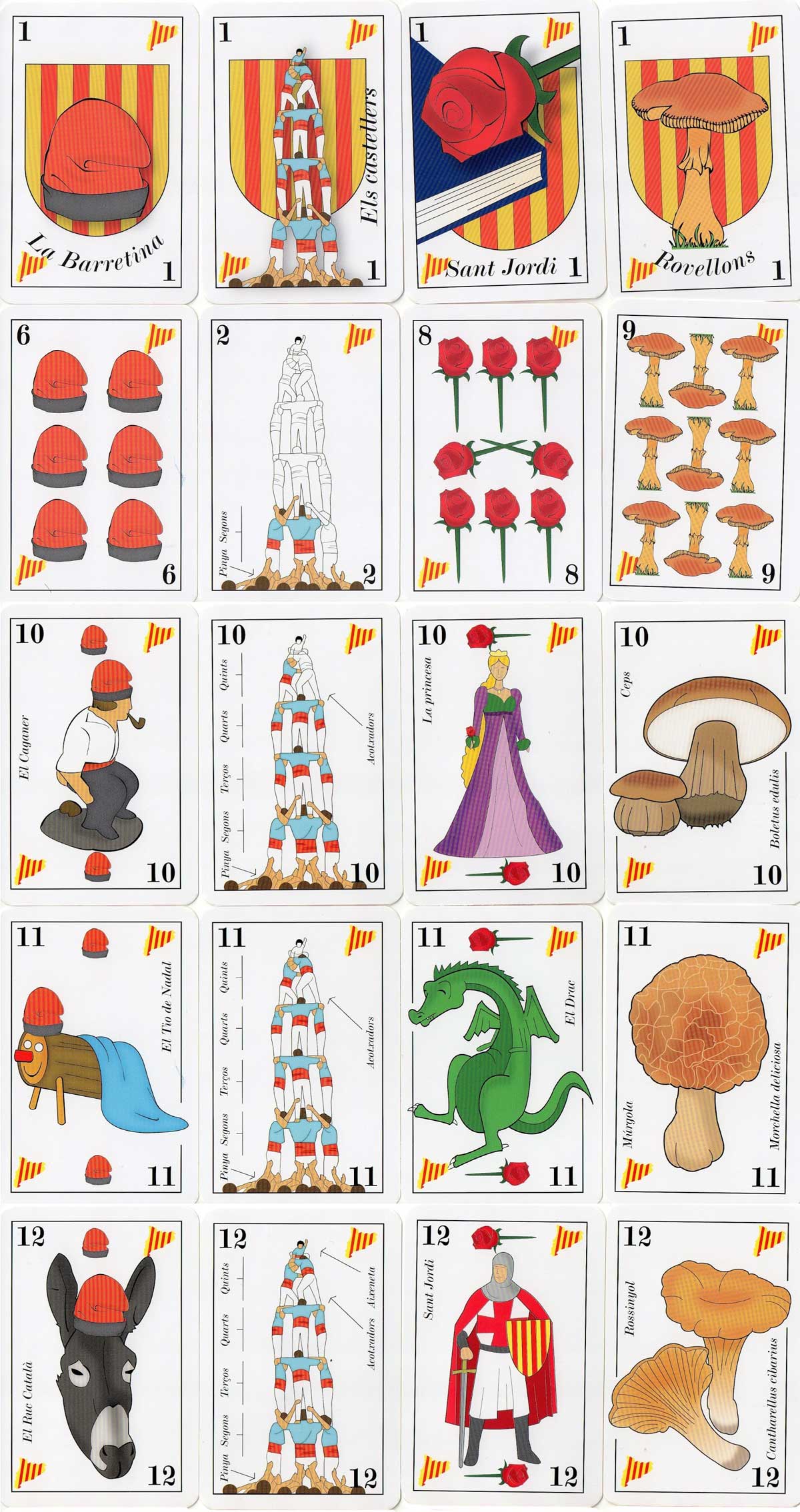 ---
'Cartes Catalanes' - 2006
Inspired by Catalan history and folk imagery, with court cards depicting historical figures and legendary heroes in a medieval style, this deck seeks to bring Catalan culture back to life. The suit signs are based on the Spanish-suited system but with non-standard symbols.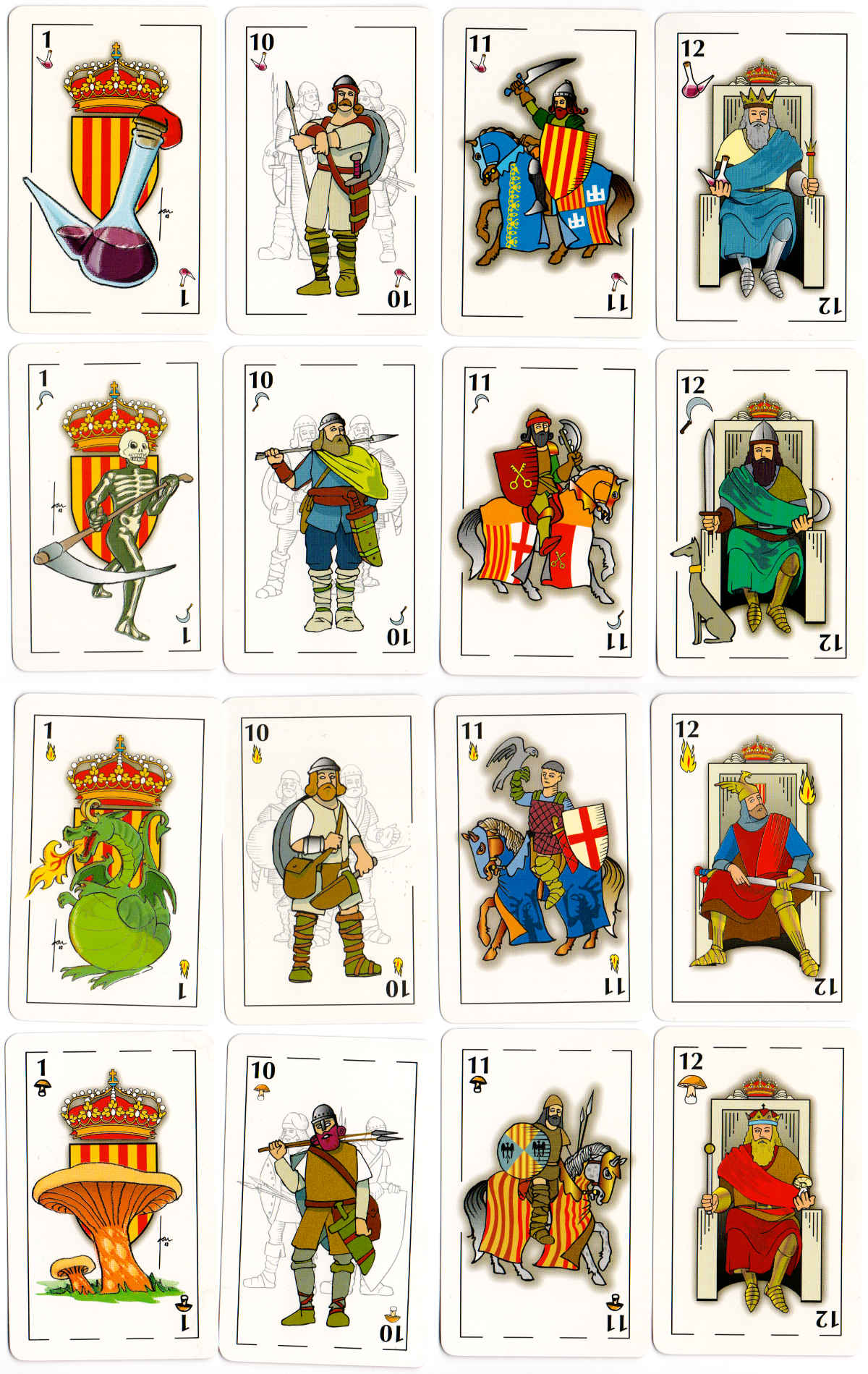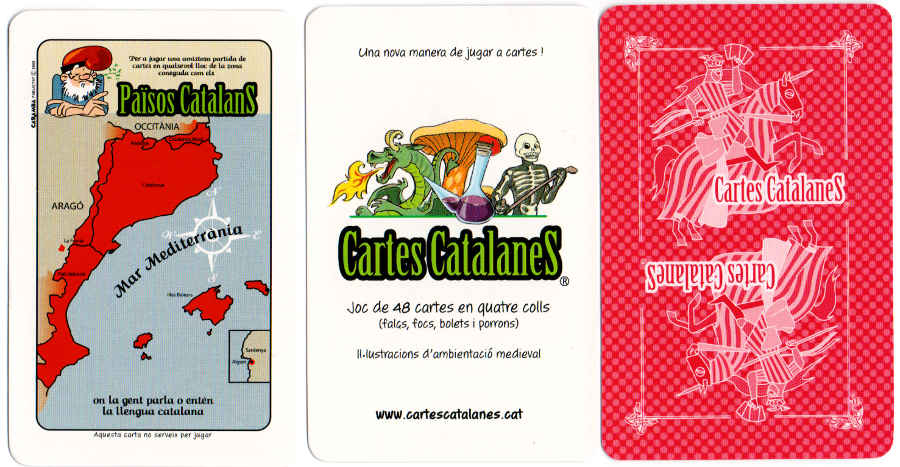 See also: La Baralla Catalana→
Member since February 01, 1996
View Articles
Curator and editor of the World of Playing Cards since 1996. He is a former committee member of the IPCS and was graphics editor of The Playing-Card journal for many years. He has lived at various times in Chile, England and Wales and is currently living in Extremadura, Spain. Simon's first limited edition pack of playing cards was a replica of a seventeenth century traditional English pack, which he produced from woodblocks and stencils.