Published June 02, 2015
Updated March 20, 2022
Wills Scheme page 2
W.D & H.O.Wills Playing Card scheme page 2
W.D & H.O.Wills Playing Card scheme
by Tony Hall
The Gifts
For the really successful, acquisitive collector there was one option for FIVE miniature packs, namely two packs of cards with four scoring blocks (with pencils) in a "High Grade leather case".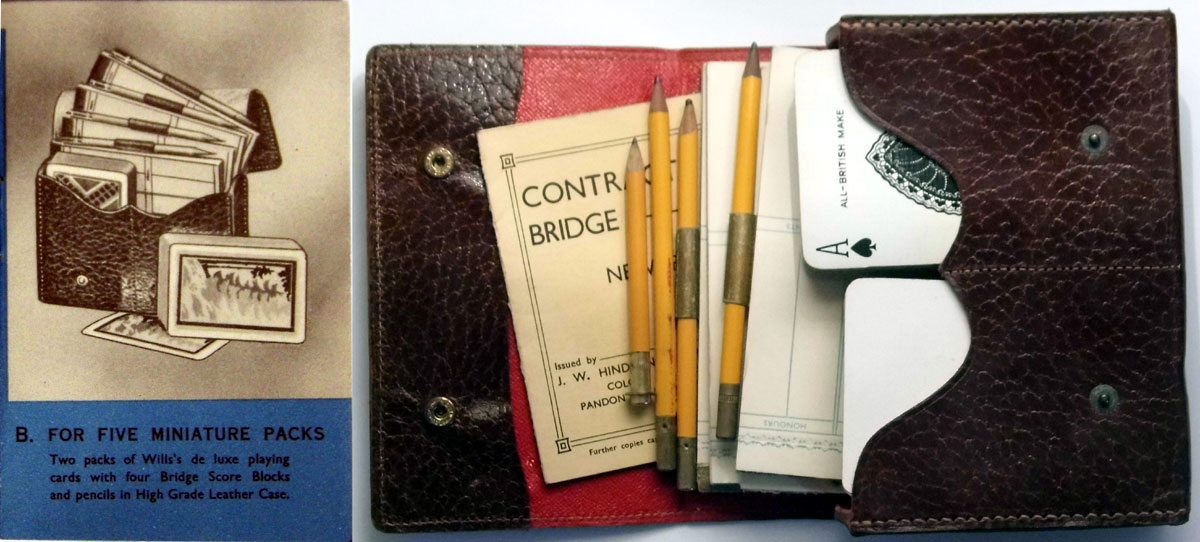 Finally, and for a massive EIGHT miniature packs, smokers could aspire to a cantilever bridge set, comprising two packs, four scoring blocks (with pencils) in an "écrasé leather fitted casket with expanding trays".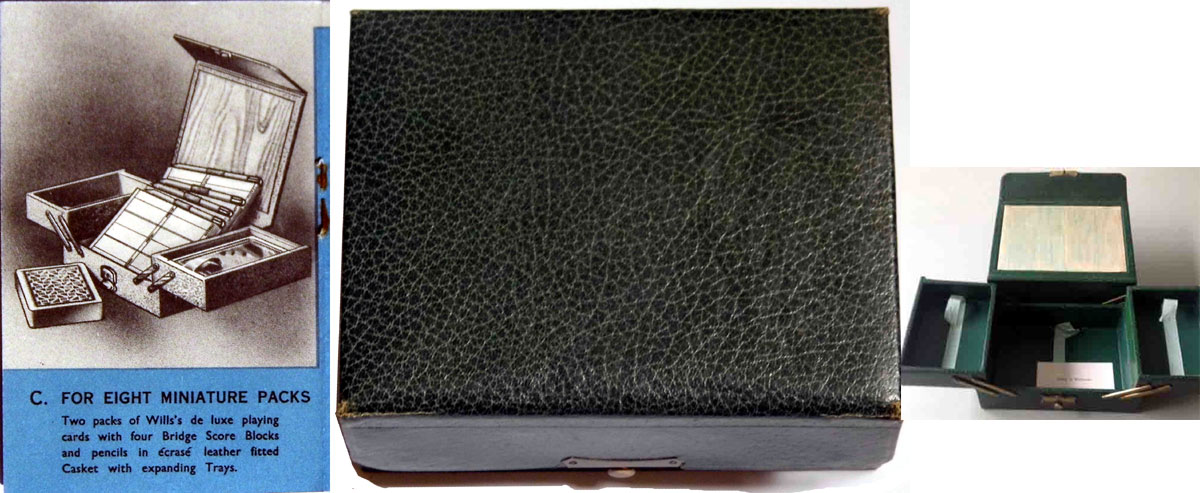 Once the promotion was underway, and seemed to be going well, Wills issued a further series of offers to supplement the original seven.

---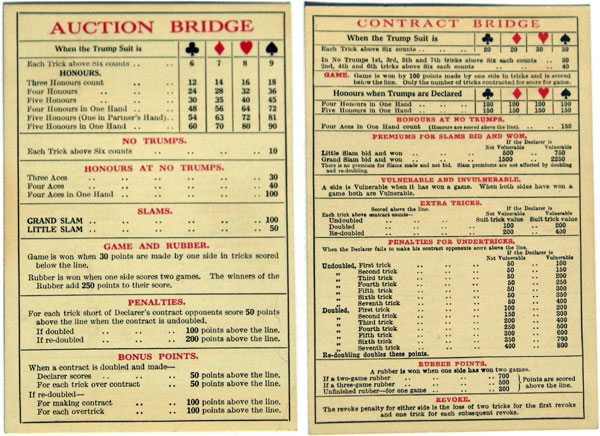 Scoring charts
Two of my offer sets each contain the double-sided scorer chart for Auction Bridge on one side and Contract Bridge on the other, demonstrating how the game was in transition in 1933.
I am still unclear from my researches whether this particular promotion – collecting cigarette cards to be exchanged for "gifts" – was the first of its kind. I can find no evidence of any earlier campaign of this type. Whether or not this was so, the promotion is usually described as highly successful. Judging by the large number of gift items which are readily available still on eBay and the like, it looks as if a great many items were indeed dispatched to enthusiastic collectors. This is certainly the view taken by Victor Watson in his book "A History of Waddingtons" as can be seen from the extract reproduced at the end of this article.
It is a fascinating read. I can well believe that the 1933 promotion was a huge success for the playing card company, which was presumably paid large sums directly by Wills for producing both the miniature card inserts and many of the gift items which appear to have become increasingly more elaborate and expensive as the scheme went on. However, that reinforces my own suspicion that it was not quite so successful for W.D. & H.O. Wills itself. If it only succeeded in switching punters from one Wills brand to another, rather than attracting new smokers and increasing consumption, it would seem to have been a great deal of trouble and expense for very little monetary reward. This would certainly help to explain why a "hugely successful" campaign was ended after a year, was never repeated by Wills and was never copied by anyone else. However, as a non-smoking, card-playing enthusiast, I think it is nice to hear that the 1933 promotion had a major contribution to play in the subsequent success of Waddingtons. They must have thought that all their Christmases had come at once.
All of the above is, of course, mere speculation based on the scant available evidence, But I would be delighted to hear from anyone with further information which throws light on the topic, whether it supports or challenges my thesis.
One final thought. I was somewhat mystified by another observation when putting together this collection. I found no shortage of any of the seven "gift" items offered in the promotion; eBay alone has several of each sort on offer most of the time. What are like hens teeth to find are the miniature collectable cards themselves. I contacted a host of card dealers before tracking down the two single cards I eventually managed to acquire. Given that millions were produced, there must have been a multitude of incomplete collections across the country, or even some full packs that were completed outside the time limit, it surprises me that so few appear to have survived. One can only surmise that these were discarded quickly or subsequently as being of no value, but it still strikes me as odd.
© Tony Hall June 2015
Excerpt from "A History of Waddingtons" by Victor Watson, Northern Heritage Publications (pp.22-24), 2008:

"There have been many milestones in the history of this company but the one which made the greatest impact and built a solid foundation for the future was the Wills' playing card scheme. The idea was to insert miniature playing cards into all packs of cigarettes instead of the customary cigarette cards. The recipients were invited to collect a full pack of fifty-three cards which they could exchange for a super quality, normal sized pack of cards. The scheme was restricted to four cigarette lines - Woodbines, Capstan, Star and Gold Flake. When the scheme really developed the sales of these cigarettes increased tremendously and the sales of all other brands fell off. Waddingtons bought their first cutting and creasing machine for the making of folding cards, yet this machine never made a carton for twelve months because it was working night and day cutting the miniature cards which went into the cigarette packets. These cards were manufactured at the rate of 5,000,000 per week and some were eventually printed and finished by Wills themselves.

"The exciting time came when the general public started to send for the standard packs of playing cards which were well designed, beautifully printed and elegantly boxed. The demand grew at an alarming rate, far beyond the normal output of the playing card factory.

"Wills and Waddingtons had never realised that the collection and exchange of small cards could reach such tremendous proportions. For example, it became general in public houses to see a receptacle placed on the bar counter full of Wills miniature cards. People came in and exchanged their own cards for ones they needed to make up a pack. This system accelerated the completion of packs although it seemed certain that sets were sent in which were not of the correct sequence although the required number. How Wills dealt with this problem is not recorded but it is thought they must have ignored it and sent out the super packs without further query.

"One of Wills' stipulations was that all the playing cards should have gold edges, and very soon this became a bottle-neck because gold edging was a hand operation carried out by skilled craftsmen who, even in those days was a dying race. Soon every known craftsman in the country was working on the gold edging of playing cards. A breaking point had to come. Eventually Wills had to compromise by supplying bridge sets to people who collected six and twelve of these miniature packs. They even supplied bridge tables and other equipment which naturally Waddingtons were not keen about because it was far away from their own manufacture. The other cigarette manufacturers tried to compete by the introduction of coupons but in due time an agreement was made that all types of coupon/card trading should finish. However this had to be phased out gradually and before it was ended Waddingtons had made such profits that they were able to develop in other directions from the sound base this activity had created."