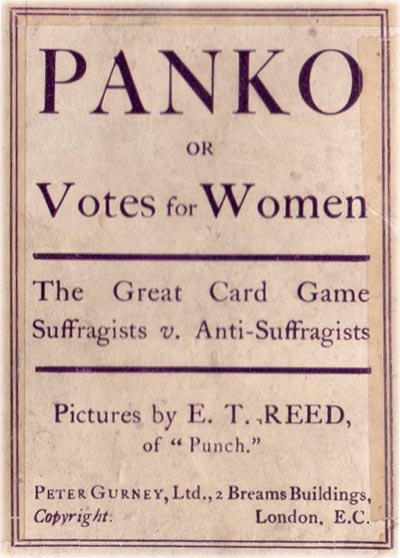 PANKO or Votes for Women, the great card game of Suffragist v. Anti-Suffragist activists with illustrations by Edward Tennyson Reed of "Punch" magazine, published by Peter Gurney Ltd., named after the leader of the British suffrage movement, Emmeline Pankhurst .
There are four Suffragist suits and four Anti-Suffragist suits, each consisting of six identical cards except the "Turn 'Em Out" and "Anti-Suffrage" suits which have 6 different cards. Players exchange cards and try to collect a complete suit. See the Rules►
There were 2 editions of the game, the first having no red or green numbers. This was eventually corrected as it was not easy for the players to distinguish quickly what they had in their hand. This must have slowed it down and defeated the frantic speed needed for it to be fun to play. First published in c.1910.