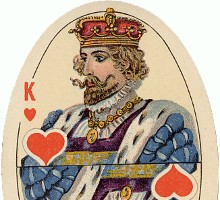 C. L. Wüst Oval Patience
Patience Karten No. 240 was published by Conrad Ludwig Wüst around c.1910-16. The deck is sometimes referred to as "Monte Carlo" playing cards. This version has German indices (A, B, D & K, with "X" for 10's) placed in the outer borders. As can be seen, the fantasy double-ended court cards are beautifully designed with the suit symbols elegantly inlaid into the design. Each end is separated by a straight, horizontal line. The back design is a pink floral pattern with the maker's name inscribed at each end. A green version of this back design was also published, as well as different floral backs for export to USA and Canada.
C. L. Wüst was eventually taken over by the Vereinigte Altenburger Stralsunder Spielkarten Fabriken AG (V.A.S.S.), Altenburg (1931-1945).