Whist No.178 'Stuart Zeit'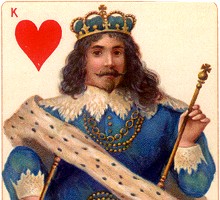 B. Dondorf: 'Stuart Zeit No.178'.
Another of Dondorf's beautiful period costume decks and although the costumes are not necessarily historically accurate this example is subtitled "Stuart period": flamboyant Jacks; luxurious accessories such as necklaces, mirrors or peacock feather fans for the Queens (reading a letter or holding roses) and rich costumes for the Kings who resemble little emperors all create associations with an imaginary period sometime before the French Revolution. It was in production between c.1895-1933. The Jack of Clubs reads "B. Dondorf" and "Frankfort a/m".