B. Dondorf: 'Birma Karte No.194'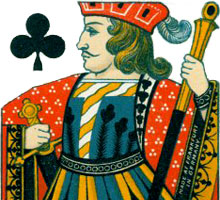 Based upon one of the oldest 'standard' patterns, the Kings and Queens are three-quarter length figures whilst the Jacks are full-length with legs giving the impression that they are walking about! Single-ended (full-length) courts were common in the early 19th century, but were gradually replaced by double-ended courts. All costumes are elaborately decorated. Whilst several manufacturers were experimenting with decorated versions of the standard International pattern*, this is definitely the most remarkable example designed by Dondorf. Examples are known with wrappers printed for Hegt & Co. Trading Company, Rangoon (Burma).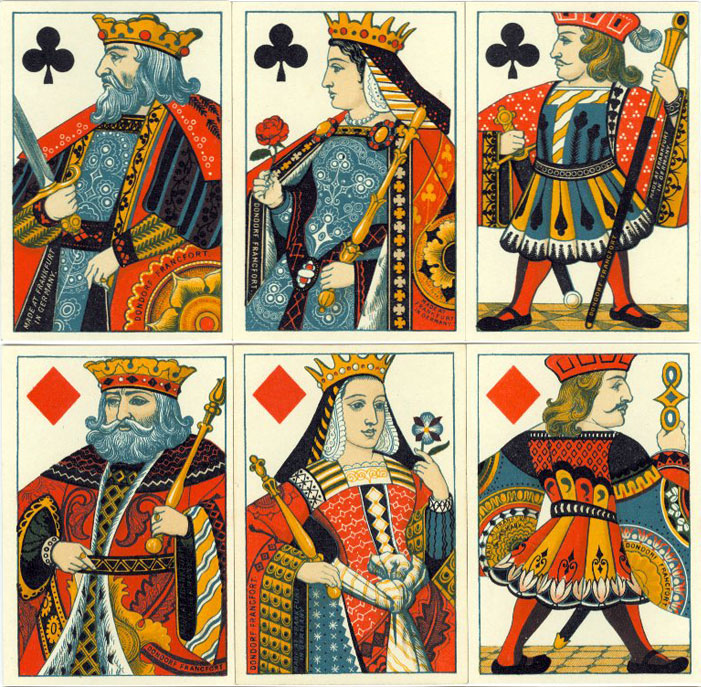 * Note: playing cards from northern France reached England in the 15th century and became the English 'International' pattern. These cards have some similarities but are not really copies of the 'English' pattern, although the Ace of Spades has a lion and unicorn.
In an article published in 'The Playing Card' (Volume 45.2, 2016: pp.82-84) Ken Lodge notes:
I was somewhat surprised, however, to see that Hoffmann & Dietrich (1981: 150-53) describe the pack known as Birma-Karte (B) and a similar double-ended pack made for Portugal (D) as being derived from the standard English pattern (or "internationales Bild"). I have known these packs for some time and never considered them to be serious candidates for the label "English pattern". They are both drawn in the same style, very ornate and stylized, but in a very different way from the standard English stylization, making the figures look much more realistic. The kings and queens of the single-figure court set are drawn three-quarter-length within the frame, whereas the jacks, having legs, are foreshortened, squat and look deformed. True, there are nods in the direction of the English pattern, for example, the strange object held by the English JS is held by the JD in (B) and the JC in (D), the patterns on the hats of some of the jacks resemble those of the English pattern, and the KS of (D) has a sword behind his head (note, not the KH). But if we take a proper look at the details, we'll see that, in fact, the figures are mostly those of the French regional patterns that I dealt with in Lodge (2015 & 2016). I am not claiming that the model for these cards is one particular French regional pattern, but that it is made up of versions of the figures found in various French packs from the late mediaeval period to the late 17th century. To take just one example to start with, the single-figure JS is the Paris 1 JC (J7 in my system of classification), also found in an earlier JH by Valéry F(aucil?).