Málaga Costa del Sol playing cards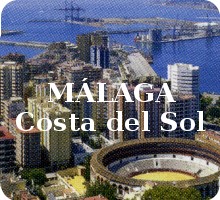 Málaga Costa del Sol souvenir playing cards
Contemporary scenes filled with the energy of Spanish culture... interesting photographs...
...published by Otermin Ediciones, the deck contains 52 cards + 2 jokers in a box, each having a colour photograph of a tourist destination in the province of Málaga, Andalusia, Spain. The Jokers show a statue of Pablo Picasso who was born in Málaga on 25 October 1881. The reverse shows an aerial view of the city of Málaga with the bullring and harbour, which is also shown on the Ace of Spades.
See also: Spain homepage.