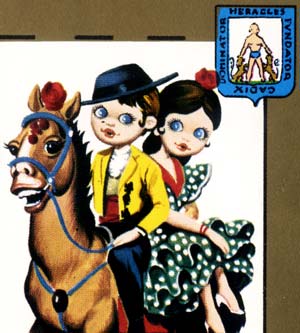 Spanish Regional Costumes
A true tribute to Spanish tradition...
Spanish regional costumes and coats-of-arms playing-cards, with Spanish suit symbols and cute illustrations on each card, with very accomplished and attractive artwork. The borders are gold; the reverse shows a red snow-flake pattern. 1986. Spain issued a series of stamps between 1967 and 1971 featuring the typical regional costumes, which is a favorite for collectors
See also: Zoo Comics.