Published July 03, 1996
•
Updated March 16, 2022
History of Danish Playing Cards
The earliest mention of playing-cards in Denmark dates from 1487 when King Hans, who reigned from 1481-1513 and was notorious for his gambling, again and again drew money from the treasury to pay for his losses.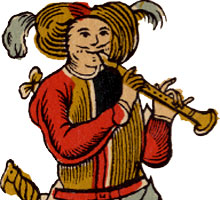 Playing Cards in Denmark
Spillekort i Danmark
The earliest mention of playing-cards in Denmark dates from 1487 when King Hans, who reigned from 1481-1513 and was notorious for his gambling, again and again drew money from the treasury to pay for his losses. Cards were mostly imported from France and Belgium, but the earliest Danish playing card production-monopoly was given in 1673 to Fridrich Jacobsen, therefore probably showing that local production commenced sometime around that time. However, a secondary source reports that Fridrich Jacobsen's cards were so bad that shopkeepers would not sell them! No examples have survived.
An early existing pack of cards known to be printed in Denmark is an Animal Tarok pack which follows Belgian designs, made by the printer Jean Friedrich Mayer, who had been granted a royal licence to print playing-cards from 1752-1783. Mayer also published standard 'Paris' type decks, in the traditional French style, with named court cards.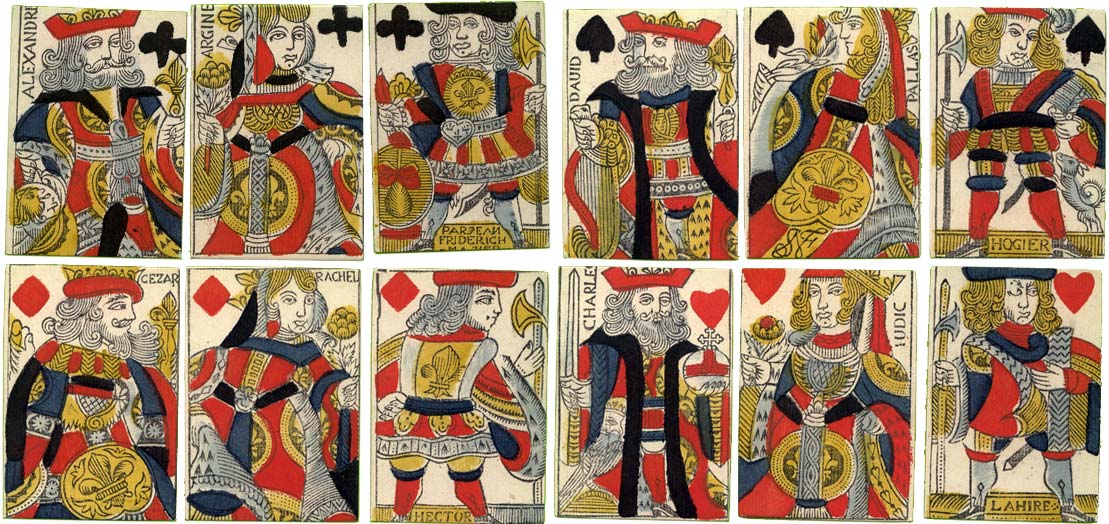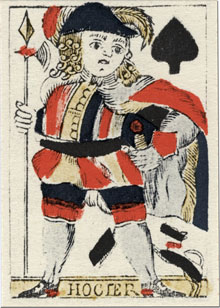 Mayer's licence was taken over in 1783 by Christoffer Ernst Süsz, who was joined in 1790 by Kunze, and who also produced Animal Tarok packs, as well as Paris-type packs with single-ended and named courts. Similar packs were produced by Pierre Steinmann (active 1798-1820)→
• See also: C.L.Keiblinger, Copenhagen 1852-85.
The Holmblad Dynasty
The most celebrated Danish cardmakers belonged to the Holmblad family. Jacob Holmblad came from Sweden in about 1766. The production of playing-cards by the Holmblad family started with the granting of a royal licence in 1820 to Jacob Holmblad (1791-1837). To begin with he carried on the European influence already established by his predecessors and published continental-style decks and Animal Tarok decks following Belgian designs. But then he dropped the French names from the court cards and began introducing changes into the designs so that over time original and new patterns emerged with a distinctive Danish flavour.
After his death in 1837, playing-card production was continued by his son Lauritz Peter Holmblad (1815-1890) who rejuvenated some of his father's patterns and commissioned new designs incorporating ideas of his own. It was he who was the real founder and developer of the Holmblad patterns. The royal licence was formally transferred to him in 1841, and Holmblad became a household name which appears on Danish packs even today. In his diary in 1865 he wrote: "Various improvements were introduced into my production this year... such as a new printing machine, a stereotype press and a polishing machine..."
In around 1850 L. P. Holmblad parted from the tradition of Animal Tarock packs and published newly-designed packs depicting prominent buildings from in and around Copenhagen (click on images).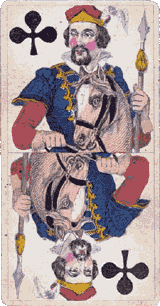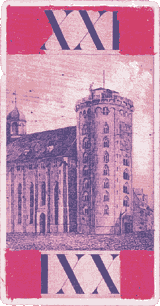 After L.P. Holmblad's death in 1892 the Copenhagen factory was closed. Holmblad's successor S. Salomon acquired the rights to use these playing-card designs and continued producing packs under the Holmblad name. Hereafter the Holmblad house patterns were printed as brand names by foreign makers such as Wüst of Germany, Piatnik of Austria, as well as Belgian manufacturers and even Waddingtons of England see more →
Adolph Wulff of Copenhagen published L'Hombre No.60, Luxuskarte No.75 and Whist No.80 manufactured in Germany in the late 1920s and early 1930s. Aktieselskabet Emil Jensen of København published several decks in the 1930s & 40s including packs made in England: "Luxus Bridgekort" specially designed by Barbara MacDonald and special packs to commemorate King Christian X of Denmark in 1935 and 1937. The principal cardmaker in Denmark today is Handa.
Conjuring cards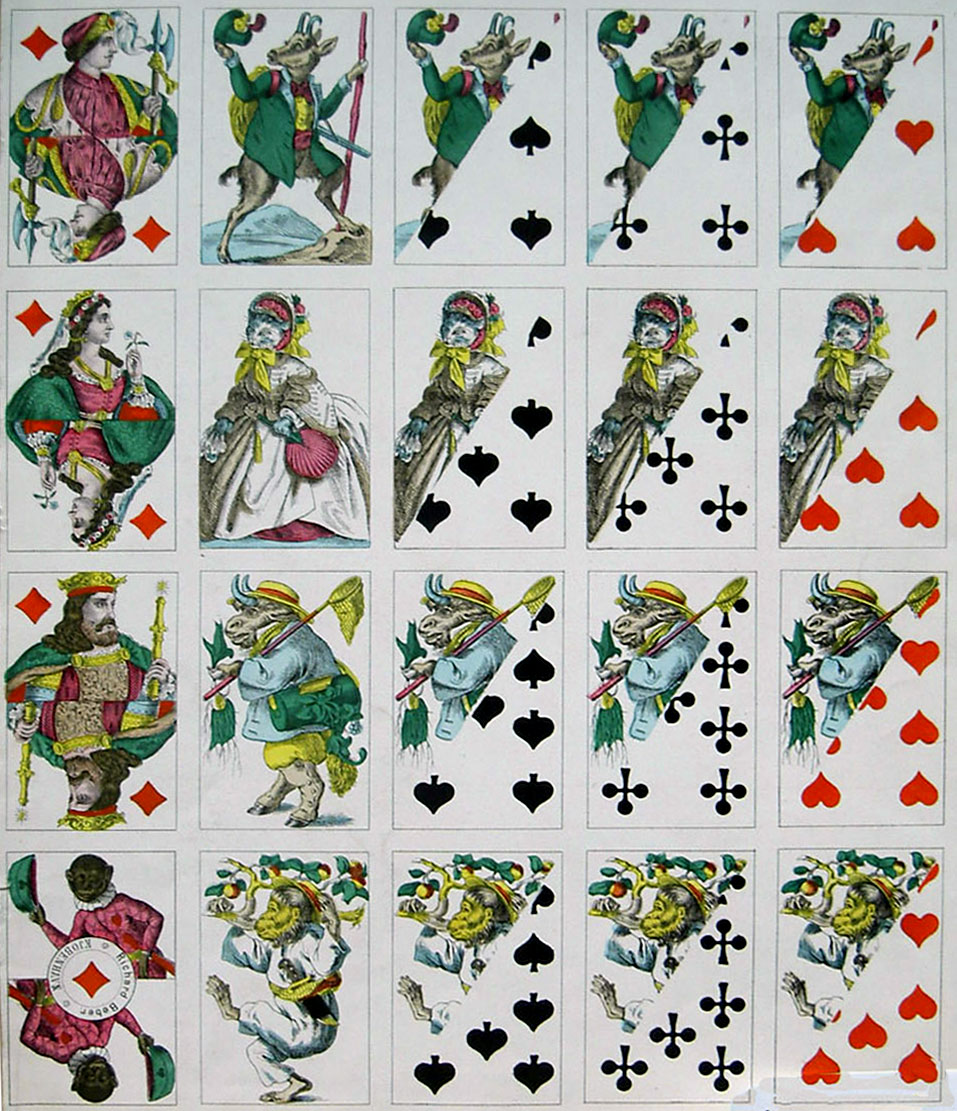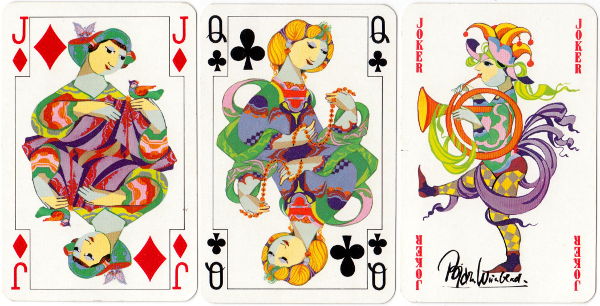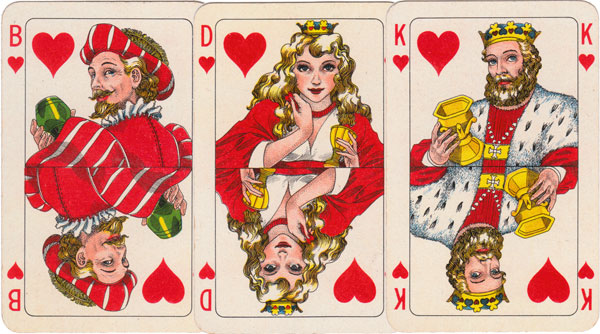 ---
Member since February 01, 1996
View Articles
Curator and editor of the World of Playing Cards since 1996. He is a former committee member of the IPCS and was graphics editor of The Playing-Card journal for many years. He has lived at various times in Chile, England and Wales and is currently living in Extremadura, Spain. Simon's first limited edition pack of playing cards was a replica of a seventeenth century traditional English pack, which he produced from woodblocks and stencils.