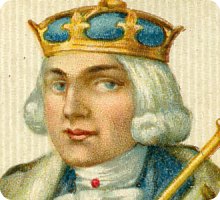 Dondorf GmBH: Whist No.80, c.1928
An elegant costume deck with a touch of Imperialism and the Kings wearing wigs, manufactured by Dondorf for the Danish firm Adolph Wulff (1879-1948) of Copenhagen. It is not known whether the designs were actually produced by Wulff or by Dondorf, but the cards appear in Dondorf's sample books and also in Adolf Wulff's pattern books and price lists from 1928-35. The inscription "Eneret" on the court cards implies that Adolph Wulff had exlusive rights for this design. The background is filled with feint vertical lines, and the figures are trimmed closely at the top and bottom. Stylistically, the deck fits easily into the Dondorf "luxury card" group.
See also: L'Hombre No.60 • Luxuskarte No.75.