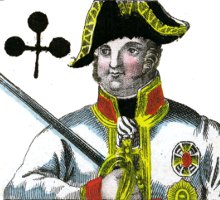 Deck from the liberation War against Napoleon, c.1815.
Deck from the liberation war against Napoleon, c.1815. Lithography, stencil coloured, there are no manufacturer's details or initials on any card. Probably made in Germany.
See also: Victory Deck
Nine of Hearts: Called "Nap" after the game of that name. Coincidentally there was in a Dresden Museum a Nine of Hearts on which some English words had been written by the Emperor Napoleon.