Fortune Telling Deck, c.1818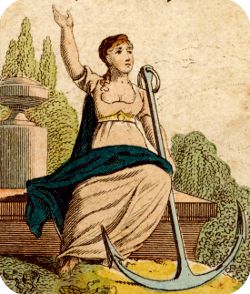 German-suited Fortune Telling deck by Industrie Comptoir, Leipzig (Germany) c.1818, 36 cards. Inscriptions in German and Polish.
These are an interesting alternative to the more common 'Madame Lenormand' or 'Book of Fate' cartomancy cards, with a different repertoire of images. They differ from the typical French ones, of course, in that there are no miniature playing cards inside the design, but instead the German suit symbols.