Published September 30, 2010
Updated March 20, 2022
Pedro Bosio
Cards of the Spanish National Pattern 'Money Bag' type manufactured by Pedro Bosio, Genova (Italy) probably during the 18th century and for export to Spain or South America.

Pedro Bosio, Genova
Spanish National Pattern / "Money Bag" Type
Italian cardmakers enjoyed lucrative trade manufacturing Spanish-suited cards for the Spanish-speaking world including South America. The variant of the Spanish National pattern shown here, known as the Money Bag pattern, is so-named bacause the Sota of Coins carries a money bag in his right hand. Whilst retaining most of the characteristics of earlier designs, it has several idiosyncrasies which differentiate it. The Ace of Coins has a central disc enclosing an eagle with the arms of Spain, with baroque cartouches above and below which read "Pedro Bosio Estanquero In Ghenova". As in earlier models, the Five of Coins features the facing profiles of Ferdinand and Isabella, and the Four of Coins has a six-pointed star which contains the initials P.B. This derivative of the Spanish National pattern seems to have had a history outside of Spain itself and this example, originally produced in Italy, has come to light in a Chilean collection.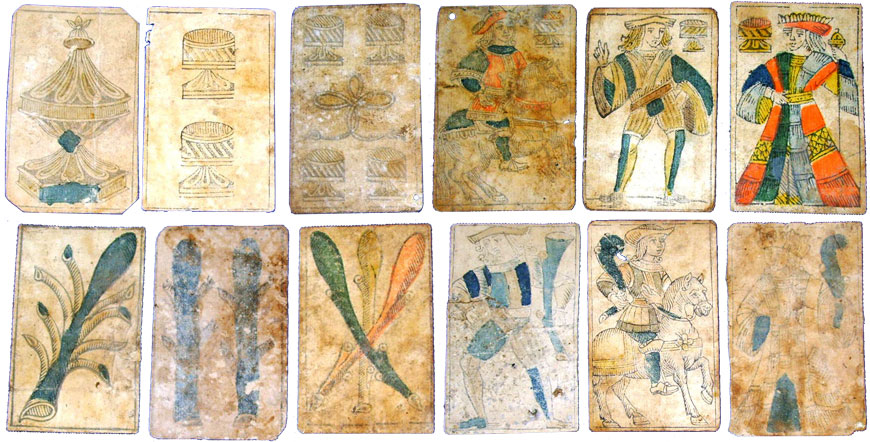 Member since February 01, 1996
View Articles
Curator and editor of the World of Playing Cards since 1996. He is a former committee member of the IPCS and was graphics editor of The Playing-Card journal for many years. He has lived at various times in Chile, England and Wales and is currently living in Extremadura, Spain. Simon's first limited edition pack of playing cards was a replica of a seventeenth century traditional English pack, which he produced from woodblocks and stencils.