Published July 03, 1996
Updated April 25, 2022
Latvian Playing Cards
The best Latvian playing cards were produced just after independence, during the period 1921-1942.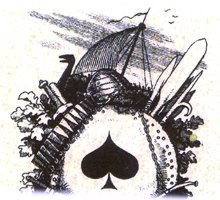 Playing Cards from Latvia
Latvijas Spēļu Kārtis
Livonians were amongst "the godless hosts of heathen swarming o'er the northern sea" along with Viking, Scandinavian and Icelandic pirates. Latvia was Christianised during the 13th century, and has been ruled successively by Poland, Sweden and Russia. Playing cards in Latvian are called Spēlu Kārtis. Latvians were apparently introduced to playing cards by the Swedes, because the word for court cards "Kungs" comes from the Swedish "Kung" (which means "King"). The meaning of "Kungs" in Latvian is "Gentleman" or "Sir".
A 36-card Madame Lenormand type cartomancy deck was published in Latvia in 1876 by J. Schablowsky of Jelgava, titled "Game of Happiness". The illustrations were in black and white and a Gothic typeface was used for the divinatory meanings printed on each card. The cards were decorated with astrological and zodiac symbols in the margins and featured a miniature playing card in the top left-hand section of each card.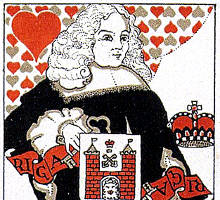 Ordinary playing cards with Latvian costumes were published for the first time in Riga in March 1918 supported by the government of Kaiser's Germany with the intention of involving the Baltic area in Germany's political agenda see more →. In November 1918 the Republic of Latvia was proclaimed an independent democratic state. Just two days later – November 20, 1918 - eminent Latvian doctors, lawyers, engineers and public officials signed a protocol founding the first Latvian Red Cross Society (see further below). The best self-affirming Latvian 'National' playing card designs were produced just after independence, during the period 1921-1942. The first 'national' Latvian pack was designed by graphic artist Prof. Rihards Zarinš in 1921 see more →.
Latvia's First 'National' Pack

From 1919-1921 there were no tax stamps on Latvian playing cards. Regulations passed by the Cabinet of Ministers in 1922 decreed that only the Latvian Red Cross had legal rights in Latvia to import, produce or sell playing cards. Packs were to be wrapped inside special wrappers with the Latvian Red Cross insignia and/or a tax stamp on the Ace of Hearts. This regulation was in force until the German occupation in 1941.
In 1923 a competition was announced for a new Latvian pack. The winner of this competition was the silversmith Stefans Bercs and this pack became the most popular in Latvia see more →.
Latvia's Second 'National' Pack

Possibly the most valuable Latvian pack is the one designed by Alfreds Scwedrevitz in 1936, the "Fifth National Latvian" pack... see more →

Over the years around 20 different original packs have been produced in Latvia by different graphic artists. In addition a number of Russian type packs have been published with Latvian company's advertisements on the reverse.
See also: Rihards Zarinš • Stefans Bercs • Reinholds Kasparsons • Karlis Krauze • Alfreds Scwedrevitz • Black Peter • Karlis Padegs • Orija Nr.20 • Zole Vodka • Lāčplēsis - Latvia Art • Privātā
Member since February 01, 1996
View Articles
Curator and editor of the World of Playing Cards since 1996. He is a former committee member of the IPCS and was graphics editor of The Playing-Card journal for many years. He has lived at various times in Chile, England and Wales and is currently living in Extremadura, Spain. Simon's first limited edition pack of playing cards was a replica of a seventeenth century traditional English pack, which he produced from woodblocks and stencils.
Recommended
A pack of 53 temporary tattoo designs published by Wink, Riga, Latvia, c.2017.
"Four Races" playing cards designed by Latvian artist Vilnis Rasa in 1989.
Playing cards designed by artist Larisa Kovalass-Kovalevska on the theme of the Latvian folk epic "Lāčplēsis".
Alfreds Scwedrevitz playing card designs used to advertise Zole Vodka but which were never published.
Reprint of "Lettische Trachten" deck first published in Latvia in 1918.
The editors of "Privātā Dzīve" magazine conceived the idea for this new pack, which was designed by artist Lidmila Bulikina and printed by LGL Stils, Ltd in June 2001.
Latvian Patience Cards designed by Karlis Krauze, mid 1930s
Black Peter card deck for children printed in Riga during World War II, believed to have been designed by a Latvian artist.
This pack was issued during wartime, in 1936, under the name "Latvian Red Cross Cards No.7".
The best Latvian playing cards were produced just after independence, during the period 1921-1942.
Karlis Padegs (1911-1940) was a Latvian artist who designed 17 playing cards in 1936 - joker, aces, kings, queens and jacks.
Playing cards designed by Rihards Zarinš, 1921. Latvian indices and with heraldic and hunting motifs reminiscent of the countries' ancient history and folklore.
In 1923 a competition was announced for a new Latvian pack. The winner of this competition was Stefans Bercs.
Reinholds Kasparsons, a popular Latvian illustrator of the day, designed this pack which was published as The Best Quality Playing cards No.1 in 1932.