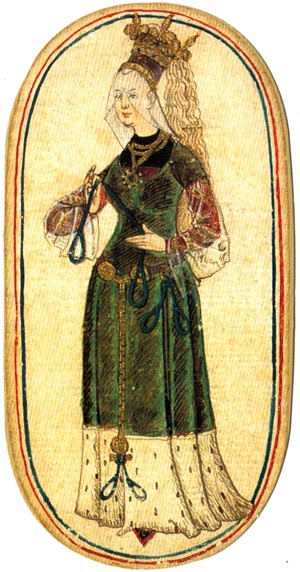 Flemish Hunting Deck, c.1475-80
South Netherlandish (Burgundian Territories). Pasteboard with pen and ink, tempera, applied gold and silver.
Fifteenth century playing cards display little conformity amongst themselves in terms of the number of cards, their shape, suit symbols or court card hierarchy. This unique set of medieval playing cards has 52 cards with King, Queen, Knave and numeral cards from one to ten in each of the four suits of dog collars, tethers (for the hounds), gaming nooses (for birds or small game), and hunting horns. The collars and horns are red and the tethers and nooses are blue. These suits refer to the pursuit of hunting, as practised by the nobility.
The cards are made from four sheets of paper glued together to form a stiff pasteboard. The oval outline of each card was traced onto the card and the unpainted cards were then cut out. The border around each card was then scored so that the blue and red lines could be painted in afterwards. Stencils were probably used to ensure the uniformity of the suit symbols, whilst the court cards were produced entirely freehand. Representation of court figures was not yet bound by any convention, so these figures uniformly stand in three-quarter profile with one foot leading forwards, holding objects in their hand. The artist's style suggests an origin in the Burgundian Lowlands (former French province and modern-day French région). The backs of the cards are plain paper, unpainted.