Published July 30, 2020
•
Updated June 21, 2022
Naval and Military Families
Naval and Military Families produced by Prince and Princess Louis of Battenberg, printed by Ernst Nister of Nuremberg, c.1905-10.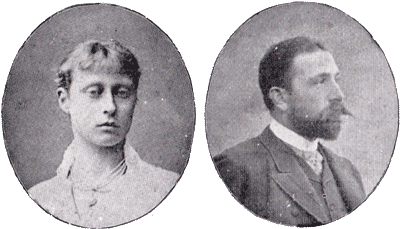 Naval and Military Families is a quartet game produced by Prince and Princess Louis of Battenberg to raise money for the Soldiers' and Sailors' Families' Association, printed by Ernst Nister of Nuremberg, one of the very best German litho printers of the day, in c.1905-10. See the Box►
The box says that the cards were designed by Prince and Princess Louis of Battenberg but he was a busy naval officer until he resigned immediately before the Great War because of his German connections. In 1917 he denounced Battenberg as a surname and became Mountbatten. This leads me to believe that the cards were almost certainly painted by his wife Victoria. She was a really talented person with a curiosity and interest in everything. The people on these cards could be caricatures of real people; maybe they were. I would love to see pictures of her friends and staff to try to find out for sure.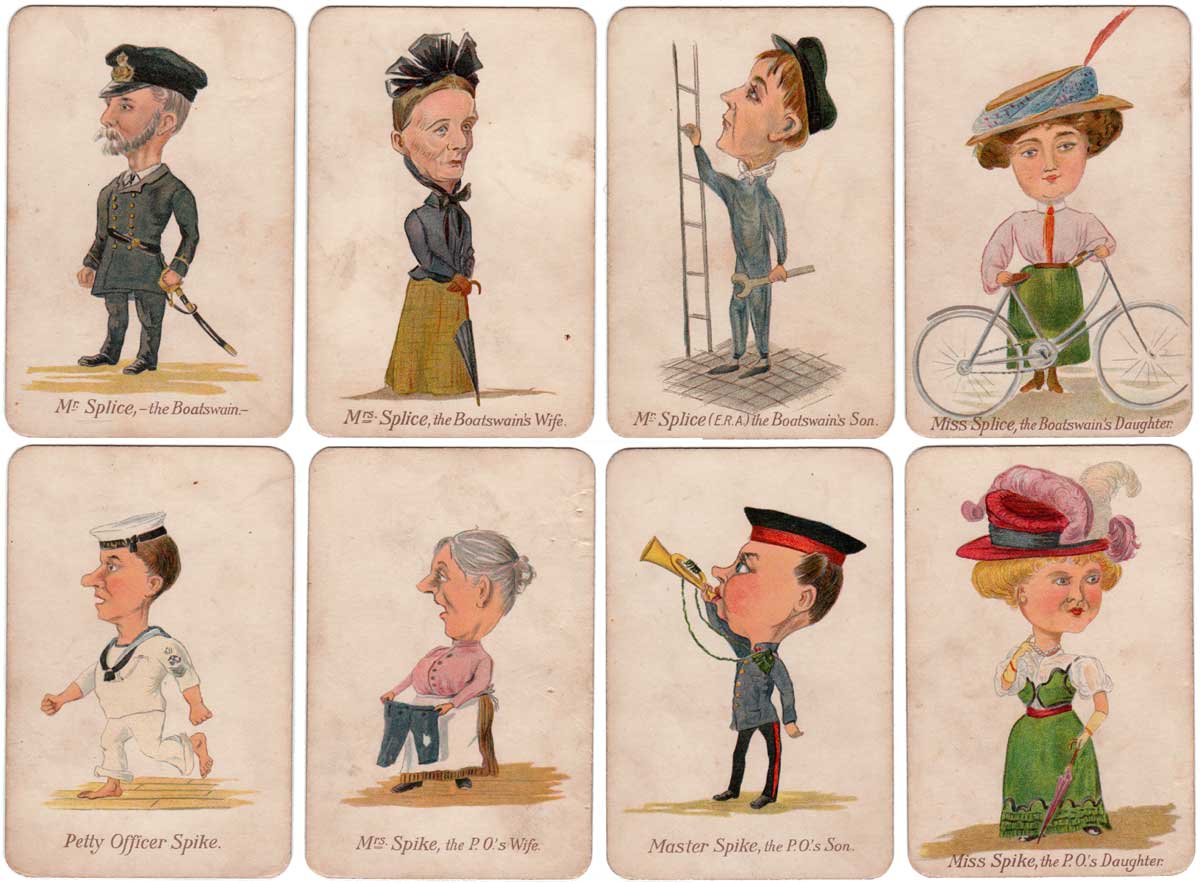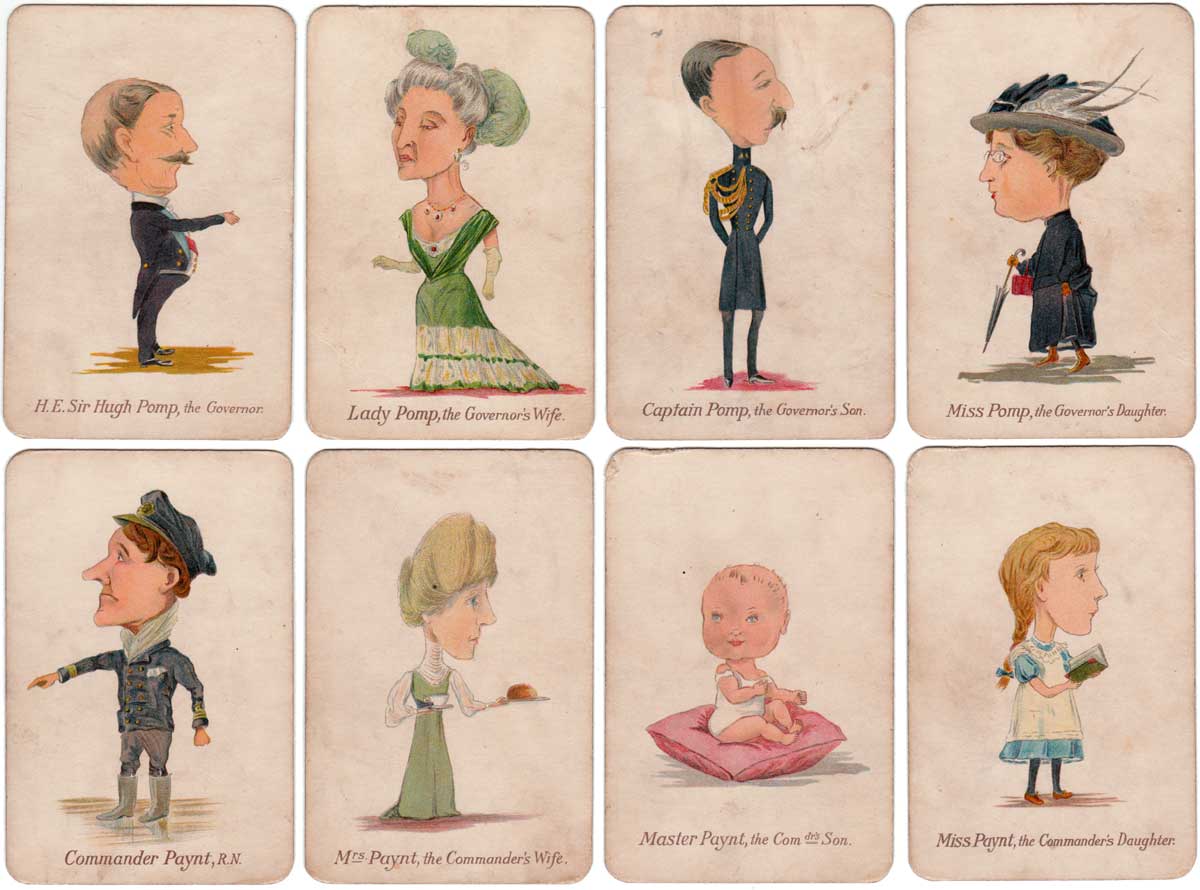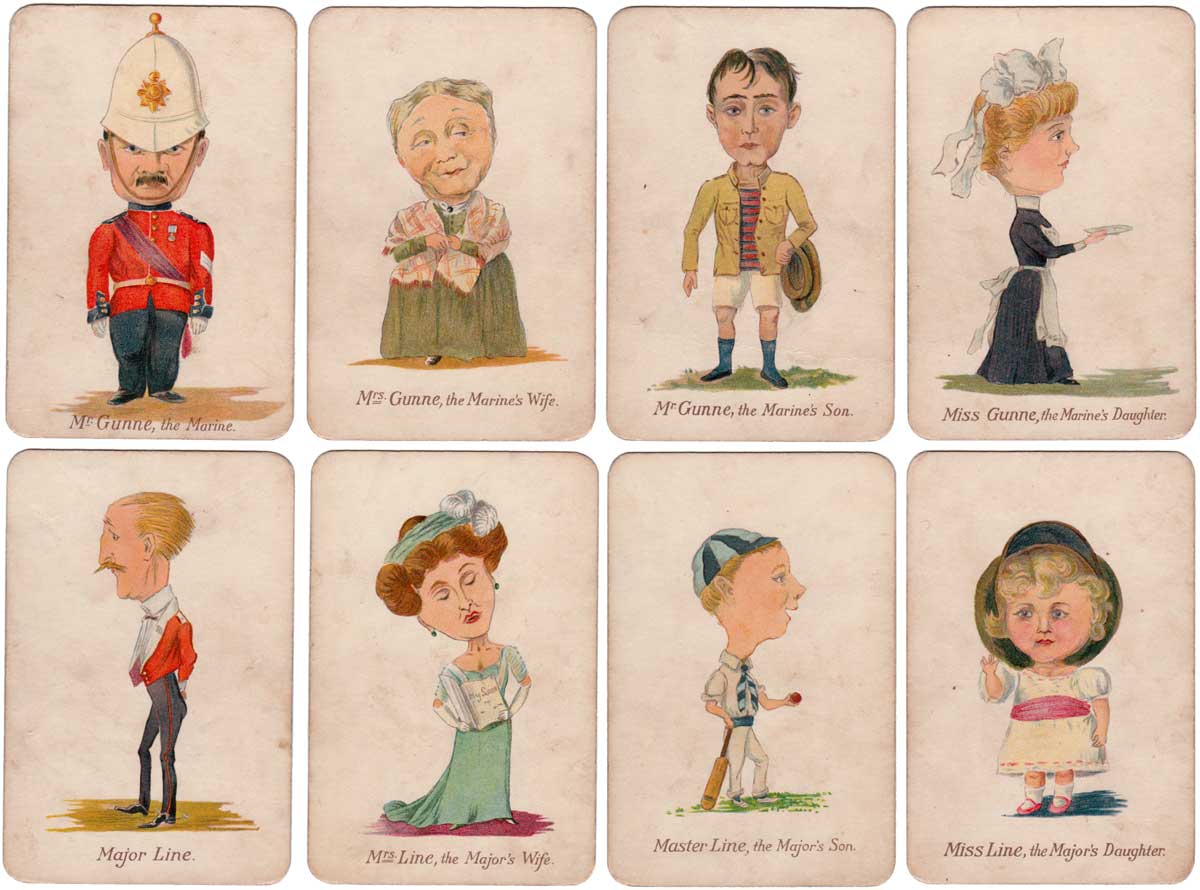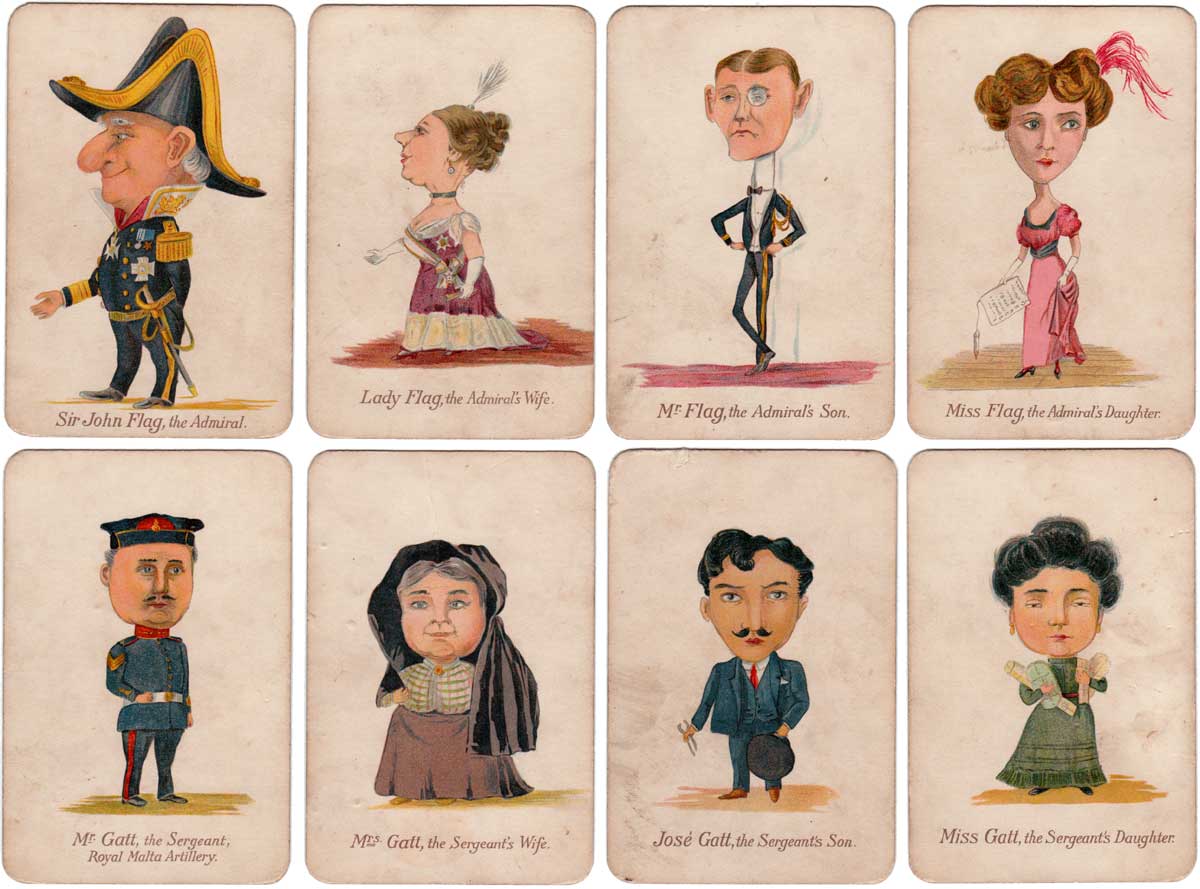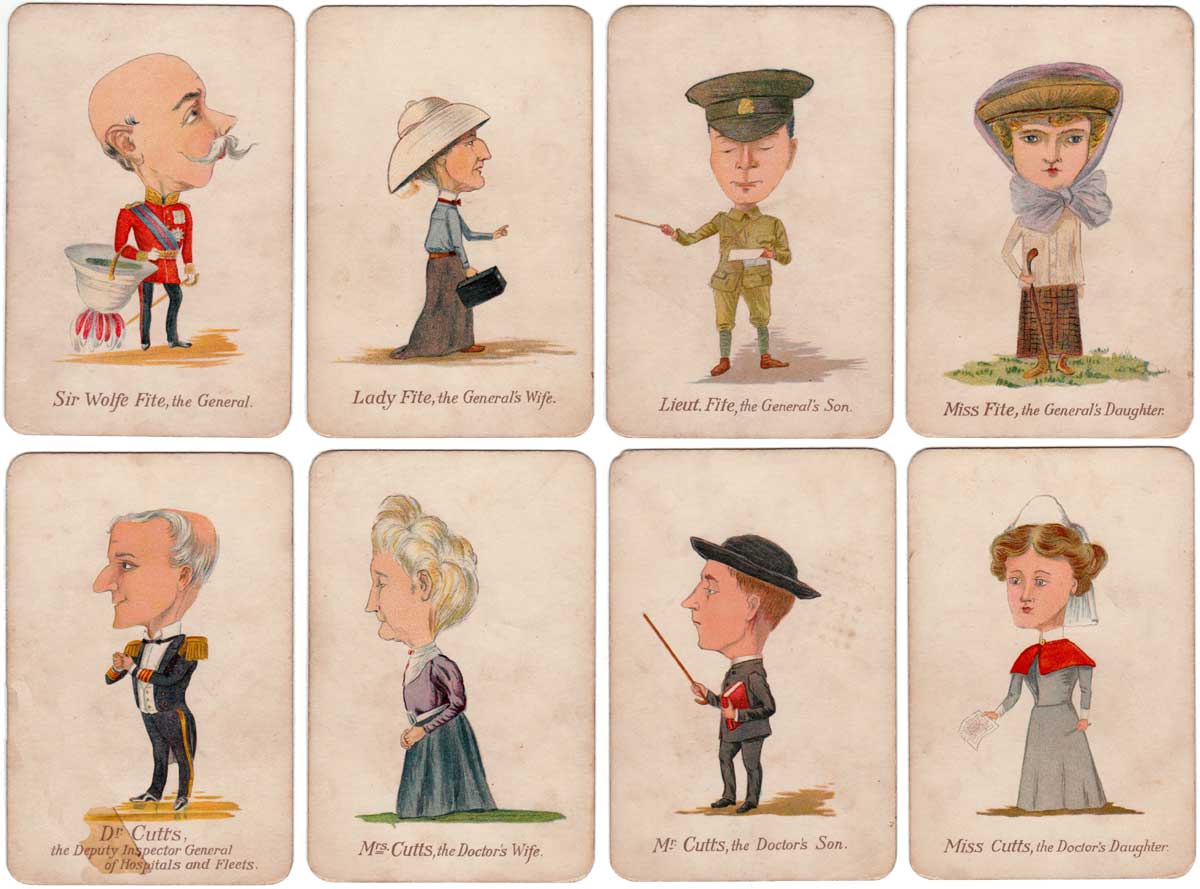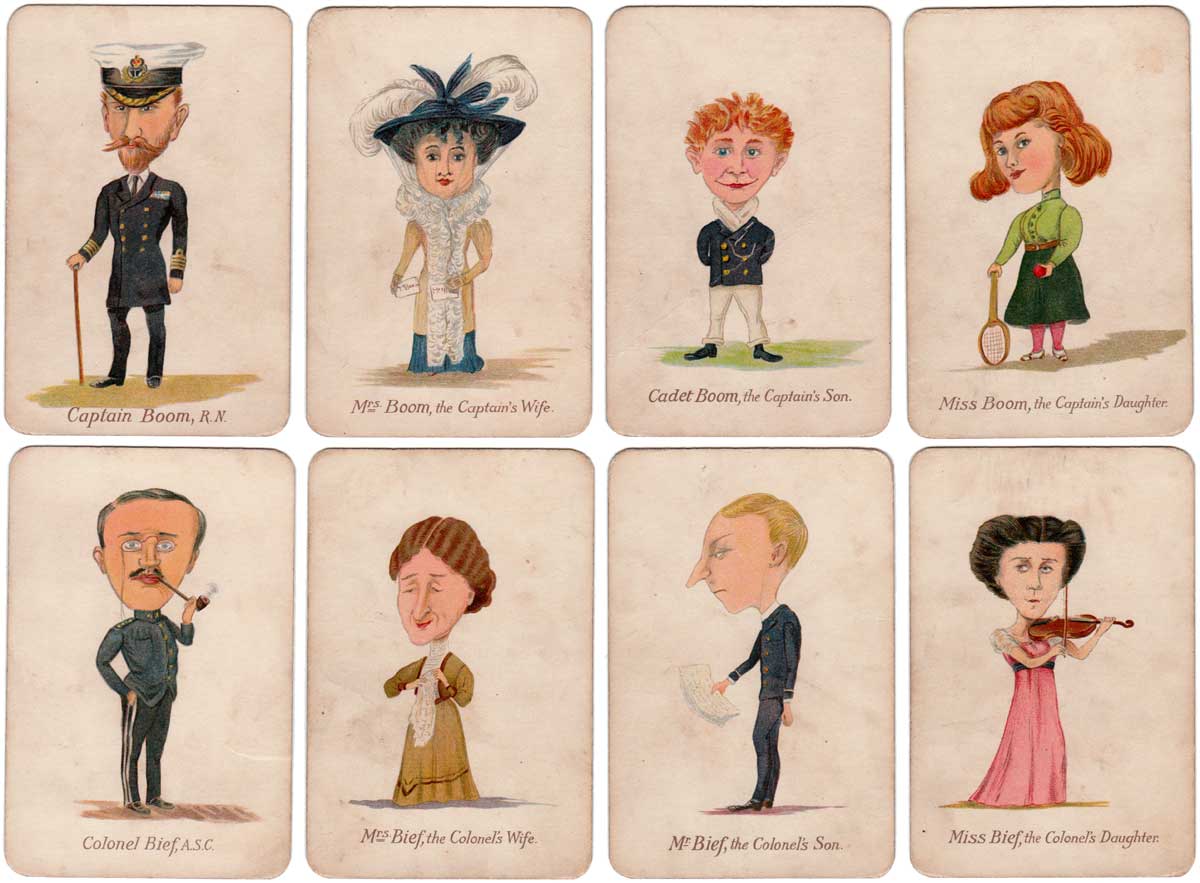 PRINCESS VICTORIA OF BATTENBERG 1863 – 1950
Princess Victoria was the daughter of Louis IV Grand Duke of Hesse (1837-1892) and Princess Alice of UK (1843-1878) who was a daughter of Queen Victoria. Her mother Alice died when Victoria's younger brothers were still quite young so Victoria had to take on the responsibility for their upbringing.
She was born in Windsor Castle with Queen Victoria in attendance. Her early life was spent in Darmstadt with her brother and sisters. She attended a high standard private school and was an avid reader having an interest in almost anything. In 1968 her son Louis described her as a walking encyclopaedia.
During the Franco Prussian War in 1870 she helped military hospitals situated in the Darmstadt Palace grounds but unfortunately she was badly burned on an arm in the soup kitchen. In 1872 her brother Frederick was diagnosed with haemophilia (a legacy of their Russian ancestry). Unfortunately he accidentally fell from a window in the palace and bled to death. In 1878 Victoria and her mother, Princess Alice, contracted diphtheria. Victoria survived but her mother died.
She had met her future husband Prince Louis of Battenberg at family meetings but her father disapproved of the match because he was his cousin. Victoria knew what she was doing and ignored him and married anyway in 1884. By a strange coincidence on the very same day her father married his mistress. Victoria had four children – Alice, Louise, George and Louis.
When she was with her husband, a naval officer, in Malta she contracted Typhoid but during recovery she insisted that she must come to the UK for Queen Victoria's Golden Jubilee. While in Malta she prepared a geological map of archaeological work in progress and she participated in digs both there and in Germany. She educated her own children with particular emphasis on modern science and inventions.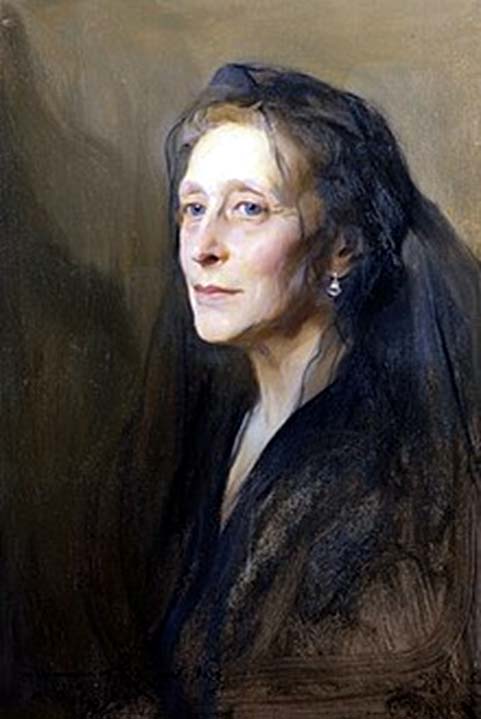 In 1906 she took a flight in a Zeppelin and then a flight in a biplane which had no passenger seat so she had to sit on a stool behind the pilot balanced on the fuselage and clinging to the pilot's back.
Her two sisters Elizabeth (married to Grand Duke Sergei Alexandrovich) and Alix (married to Tsar Nicholas II of Russia) were both killed in July at Ekaterinburg in 1918 by Russian revolutionaries. Her husband Louis resigned from the navy in 1914 because his name was not liked for sounding too German. Later the name was changed to Mountbatten. Louis died in 1921 at the Naval and Military Club in Piccadilly. A doctor was called and prescribed a medication. Victoria rushed out to go to a chemist but when she returned Louis was already dead. In 1930 her eldest daughter, Alice, had a nervous breakdown and she was diagnosed as Schizophrenic. In his younger years Victoria was responsible for the education of her grandson Philip with his mother out of the picture in an institution. He was to become Philip Duke of Edinburgh and always spoke fondly of Victoria saying "I liked my grandmother very much".
In 1937 her brother Ernest Louis died and soon after her sister-in-law, nephew, granddaughter and two grandchildren were all killed in a plane crash. Her son George also died in 1940 of bone cancer. On top of all these losses she was also bombed out of Kensington Palace during the War.
She died at the age of 87 in 1950. She was the granddaughter of Queen Victoria and was grandmother to Prince Philip Duke of Edinburgh.
I wish I could have met her.
Facsimile Edition
There is also a modern repro pack in the normal standard size, with the box mentioning Soldiers', Sailors' and Airmen's Families Association (SSAFA).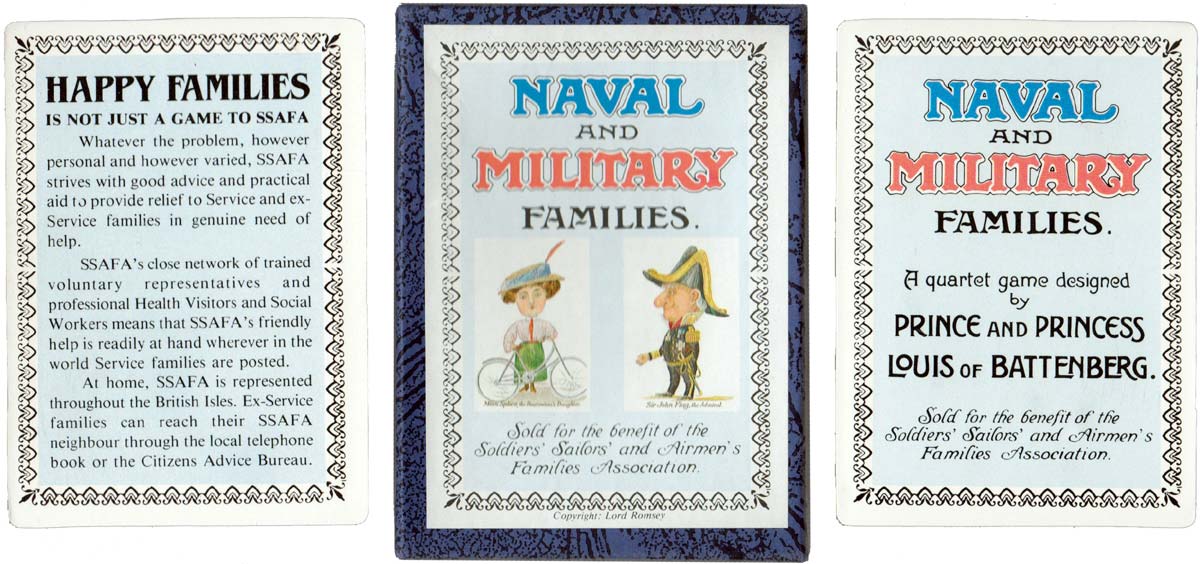 Member since January 30, 2009
Rex's main interest was in card games, because, he said, they were cheap and easy to get hold of in his early days of collecting. He is well known for his extensive knowledge of Pepys games and his book is on the bookshelves of many.
His other interest was non-standard playing cards. He also had collections of sheet music, music CDs, models of London buses, London Transport timetables and maps and other objects that intrigued him.
Rex had a chequered career at school. He was expelled twice, on one occasion for smoking! Despite this he trained as a radio engineer and worked for the BBC in the World Service.
Later he moved into sales and worked for a firm that made all kinds of packaging, a job he enjoyed until his retirement. He became an expert on boxes and would always investigate those that held his cards. He could always recognize a box made for Pepys, which were the same as those of Alf Cooke's Universal Playing Card Company, who printed the card games. This interest changed into an ability to make and mend boxes, which he did with great dexterity. He loved this kind of handicraft work.
His dexterity of hand and eye soon led to his making card games of his own design. He spent hours and hours carefully cutting them out and colouring them by hand.