Published July 03, 1996
Updated April 30, 2022
Playing cards in Wales - Welsh playing cards
Whereas the distinctiveness of Wales is an important resource contributing to the rich texture of variety which characterises the island of Britain, to date no Welsh playing cards cards have been found which were actually manufactured in Wales.

HERE doesn't appear to be a very prolific history of playing cards in Wales, possibly on account of religious views and the fact that the Licensing Act made printing illegal outside London, Oxford and Cambridge until 1695. Added to this was the difficulty of distribution to remote areas. The following entry in 1463 PARLIAMENT ROLLS states: In the third year of Edward IV a statute was issued prohibiting, as from the following Michaelmas day (Sept 29, 1464) the importation into England and Wales of various "chaffares, wares, ou choses desoubs escriptes." These included fire-tongs, dripping pans, dice, tennis balls, pins, pattins, pack-needles, painted wares, daggers, woodknives, bodkins, tailor's shears, razors and "Cardes a jouer." Playing cards may have been imported into Wales as early as the fifteenth century either directly through sea ports such as Holyhead, Conwy or Cardiff, or else via England. Listings in Port Books and customs duties paid may shed some light on official imports, but not the illegal ones. In any case there is no evidence of a Welsh playing card tradition.
Certain early sets of map cards, such as Robert Morden's "The Counties of England and Wales" (1676), possibly the first pocket atlas, depict maps of Wales. The "Geography of England and Wales" was produced in 1799, believed to be by John Wallis, 16 Ludgate Street, London. These cards contain information regarding Boundaries, Extent, Principle Towns and Rivers.
There is of course a succession of packs commemorating the various stages in the careers of the Prince or Princess of Wales, e.g. investiture, marriage, etc. produced by English manufacturers, commencing in the Victorian era. These usually feature coats-of-arms or photographs on the reverse, with standard English courts on the faces. The Prince of Wales is also often depicted in Monarchy card games which have proven very popular on account of their educational value as well as providing a means of amusement.
The eighteenth century playing card manufacturer John Llewellyn, registered in Piccadilly, London, may have been a Welshman, or a descendent of a Welsh family, who had moved away. Owen Jones, the Welsh architect and interior designer who worked for De La Rue in the nineteenth century, created 173 different playing card designs.
During WWII the "Bevin Boy" coal workers enjoyed playing cards in their time off. However, a group that seemed to sit around all day playing cards was taken to court. When asked by the judge "How do you manage to exist?", the defendant replied "By my wits sir". The judge said "Then you'd better do six months by your wits" - a great source of amusement around the hostel when heard.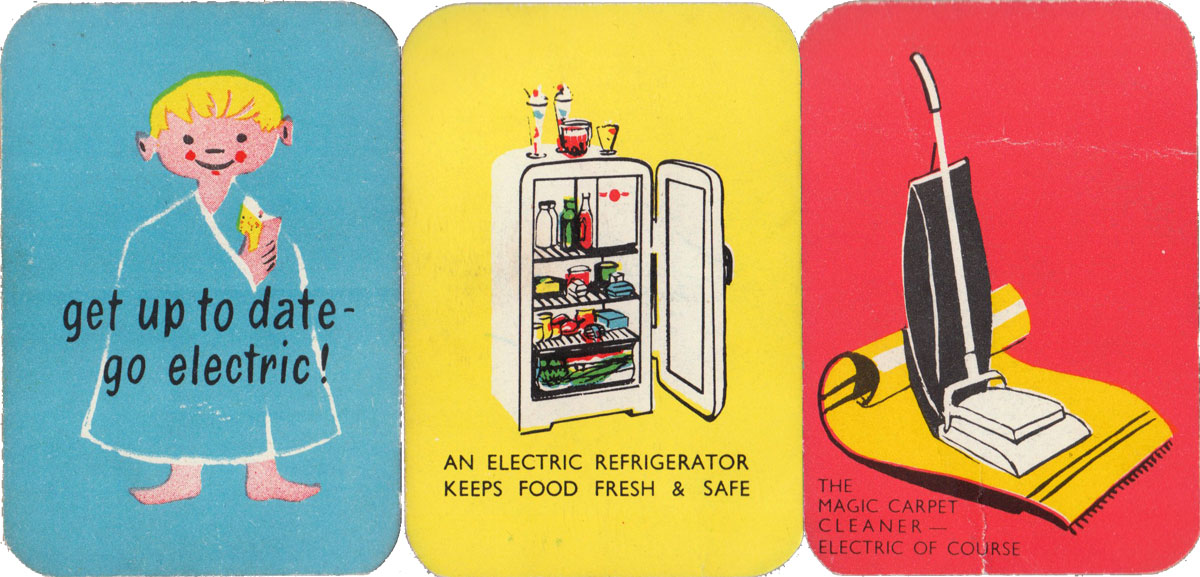 In 1974 the leek was added to the design of Waddington's Ace of Spades. More recently a number of Souvenir of Wales playing cards packs have been published, by John Hinde and others, usually manufactured in the Far East. These either have a Welsh-themed design on the back with standard courts, or photographic scenes of popular tourist locations on each card. There has also been a 'Welsh Tarot' pack based upon Welsh mythology and paganism. From time to time Welsh costumes or traditions appear depicted in a stereotyped manner in card games from around the world.
The distinctiveness of Wales is an important part of the texture and variety which characterises the island of Britain, but only a few Welsh playing cards have been found which were actually manufactured in Wales. The Welsh Political Figures playing cards were published in Cardiff but actually manufactured in London!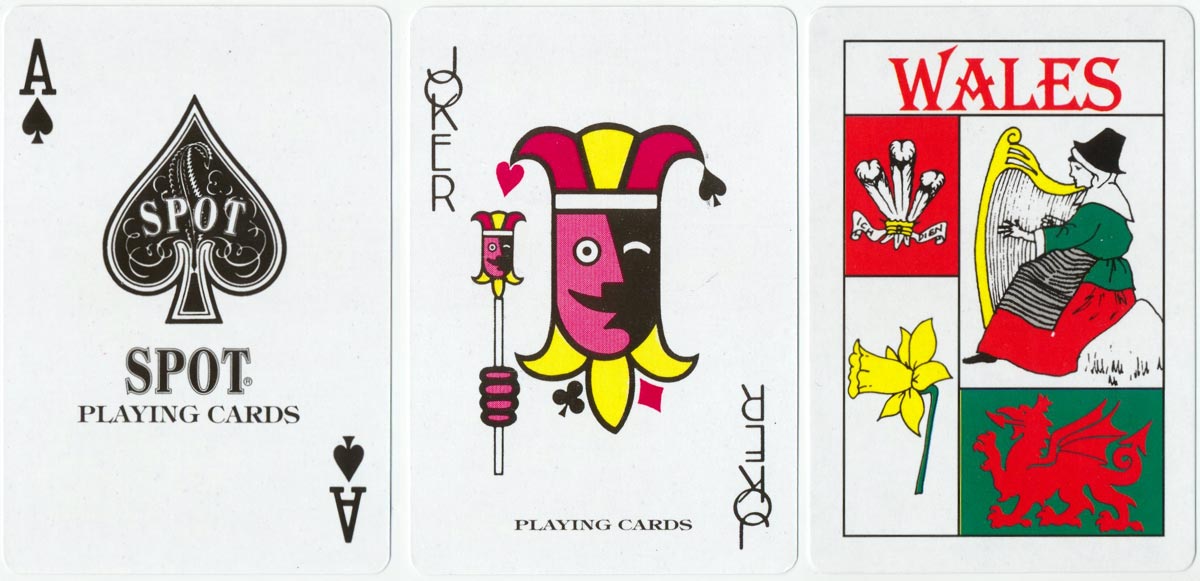 ---
Satan playing cards on Rhyd-y-Cae bridge, Pentrevoelas
Robert Llwyd Hari was a servant in Gilar farm, and the champion card player of his day. When going home from Rhydlydan, after a game of cards in Aunty Ann's house, called the Green, he was met at the end of the cross-lane by a gentleman, who entered into conversation with him. The gentleman asked him to have a game of cards, "I have no cards," answered Bob, "Yes you have, you have two packs in your pocket," answered the gentleman. They settled to play on the bridge of Rhyd-y-Cae, as it was a beautiful moonlight night. The gentleman was very pressing that they should go to Plas Iolyn, because they would find there, he said, plenty of light, although no one was then living at the place. But Bob positively refused to go there. They commenced the game in downright good earnest on the bridge, Robert Llwyd winning every game. But a card fell over the bridge into the water, and Bob looked over, and saw that the gentleman had hoofs like a horse. He swore by the Great Being that he would not play any longer, and on this his partner turned himself into a wheel of fire, and departed bowling towards Plas Iolyn, and Bob went home to Gilar.
Member since February 01, 1996
View Articles
Curator and editor of the World of Playing Cards since 1996. He is a former committee member of the IPCS and was graphics editor of The Playing-Card journal for many years. He has lived at various times in Chile, England and Wales and is currently living in Extremadura, Spain. Simon's first limited edition pack of playing cards was a replica of a seventeenth century traditional English pack, which he produced from woodblocks and stencils.