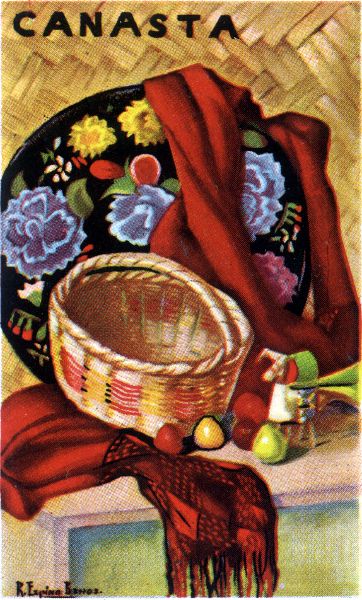 Mexican Canasta set with painting by Ramón Espino Barros
The backs of this double boxed set for Canasta feature a still life painting by the distinguished Mexican artist Ramón Espino Barros (1918-2000). The cards were printed by Clemente Jacques y Cia., S.A., Mexico in c.1950.
As a young boy Espino Barros loved festivities and dreamed of becoming a bullfighter, but he settled for the safer option of painting. He studied with Carlos Ruano Llopis, a Spanish bull-fight artist who had emigrated to Mexico during the Spanish Civil War. He greatly admired Velázquez, Goya and El Greco and defined his own artistic work as 'realistic impressionism'. During an interview he explained: "pintar, para mí, es una necesidad de tipo biológico ya que si no lo hago, si no pinto, me siento intensamente frustrado, desgraciado e inútil. Así, cuando pinto, por el contrario, siento que existo en armonía conmigo mismo y con el resto de la creación. Si dejo de pintar me asfixio como pez sacado del agua."