Published November 10, 2011
Updated May 20, 2022
Camacho
Productos Camacho, c.2003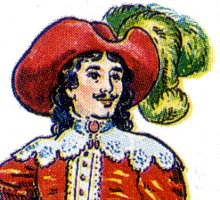 Productos Camacho
Naipes Camacho, made in Mexico, c.2003
Mexico has a large number of businesses whose main product is not playing cards, but who produce one or two packs as a novelty or promotional item, often made by their packaging or printing departments. There are no manufacturer's details printed on these cards apart from 'Productos Camacho' and 'Hecho en Mexico' and we are not sure who the actual manufacturer is. The designs are based loosely on the Spanish 'Castilian' style, with Mexican-style cavaliers and female pages. The artist's name is not known.
Member since February 01, 1996
View Articles
Curator and editor of the World of Playing Cards since 1996.