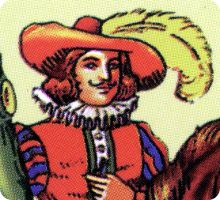 Grupo Editorial RAF S.A.
Grupo Editorial RAF S.A. de C.V. (founded 1962) has branches throughout Mexico and specialises in didactic and commercial printing. The didactic department produces maps, wall charts and posters, calendars, office stationery, school text books and colouring books, dictionaries, collector cards, stickers, post cards, board games and playing cards. Visit their website here.
These Mexican-style playing cards are based on the Spanish Castilian designs first published by Naipes Heraclio Fournier (Vitoria, Spain) in the 1880s and which have become the basis of a large majority of Spanish-suited Mexican playing cards. The Ace of Coins has a Mexican flag.