Published March 24, 2014
•
Updated June 05, 2022
Nederlandsche Oliefabriek
This beautiful quartet game from Holland illustrates the strange life cycle of the peanut.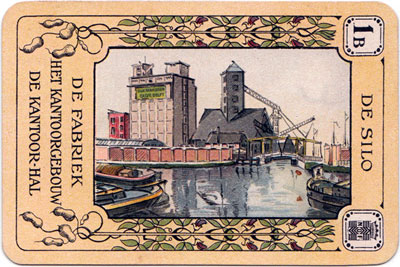 Nederlandsche Oliefabriek Calvé quartet game, c.1920
The Nederlandsche Oliefabriek Calvé of Delft (Dutch Oil Factory) was formed when Nederlandsche Oliefabriek and the French company Calvé merged in 1897. NOF had been founded in 1883 and had become renowned for its acclaimed poster art. They employed Jan Toorop (1858-1928) to design their posters and advertising material including the labels for their products. Toorop was born in Java of mixed Indonesian/Dutch and English parentage. When he was 11 years old his English mother brought him to England and he eventually married an English wife. He studied art in Brussels and travelled around Europe, living in Belgium, England and Holland. NOP were processors of peanuts from the Dutch East Indies where they had long been introduced from South America. They produced not only peanut butter but also large quantities of peanut oil, known to the Dutch as salad oil. The style of Jan Toorop's work was, at the time, Art Noveau or Jugendstil as it was known on the continent. Such was the quality of Toorop's work that the Dutch often referred to Art Nouveau as "Slaolie Stijl" or Salad Oil Style.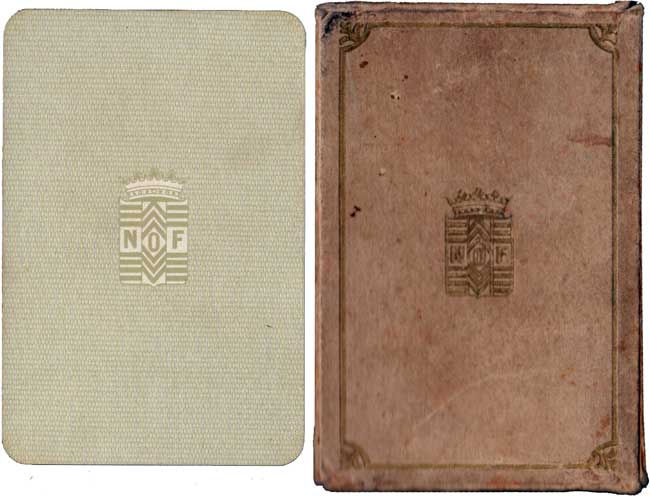 Member since January 30, 2009
Rex's main interest was in card games, because, he said, they were cheap and easy to get hold of in his early days of collecting. He is well known for his extensive knowledge of Pepys games and his book is on the bookshelves of many.
His other interest was non-standard playing cards. He also had collections of sheet music, music CDs, models of London buses, London Transport timetables and maps and other objects that intrigued him.
Rex had a chequered career at school. He was expelled twice, on one occasion for smoking! Despite this he trained as a radio engineer and worked for the BBC in the World Service.
Later he moved into sales and worked for a firm that made all kinds of packaging, a job he enjoyed until his retirement. He became an expert on boxes and would always investigate those that held his cards. He could always recognize a box made for Pepys, which were the same as those of Alf Cooke's Universal Playing Card Company, who printed the card games. This interest changed into an ability to make and mend boxes, which he did with great dexterity. He loved this kind of handicraft work.
His dexterity of hand and eye soon led to his making card games of his own design. He spent hours and hours carefully cutting them out and colouring them by hand.