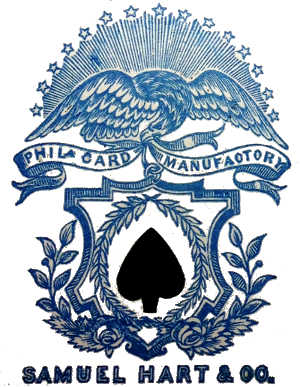 Samuel Hart was a prolific manufacturer of playing cards who commenced business sometime around 1846 in Philadelphia. He had previously worked for L.I. Cohen. Hart purchased the Thomas Crehore playing card plates and some of their machinery after Crehore closed down in 1846. He is considered as an early innovator in the business. They also made the "Thomas Crehor" decks (no 'e') which had similar aces of spades and the typical Hart one-way courts and possibly were attempting to continue the Crehore name. Hart also appears to have traded as Charles Bartlet. From 1849 Hart also had offices in New York City.
In 1871 Samuel Hart & Co became part of the New York Consolidated Card Co. During their 22 year life as an independent playing card manufacturer they were extremely active and produced a large variety of decks, including many different aces of spades and "Imperial Bower" jokers. The name "Squeezers" had been used from around 1870 to denote the indices in the corners of the cards, but after 1873 all indexed cards made by NYCC were called Squeezers. more...
---
Corner Indices
A patent was issued on February 9, 1864 to Cyrus W. Saladee of Paducah, Kentucky, under patent number 41,587. It is believed to be the first American deck with corner indices. This idea revolutionized American card manufacture by enabling card players to fan the cards to view only a small portion of each card, sufficient to see the indices. This was soon followed by Andrew Dougherty's patent for "Triplicates" and other novel systems of index types which were adopted by several competing manufacturers until, over time, they became the new norm.

---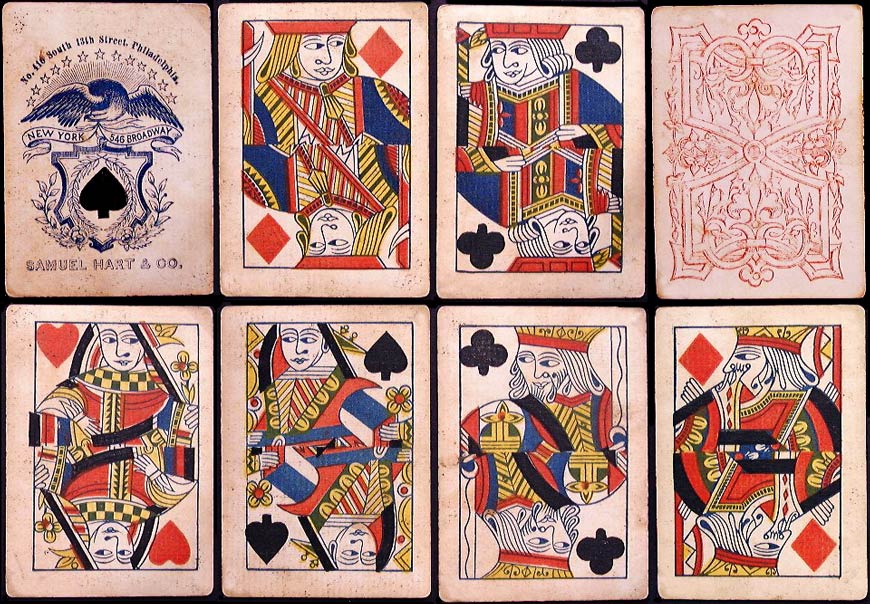 Probably the most popular and long-lived of all Hart issues were the George & Martha Washington Aces of Spades, all published under the Samuel Hart & Co. name. At least five different versions are known, from between 1868 until after 1900.