Published June 27, 2011
Updated June 06, 2022
Amos Whitney Inventory
Amos Whitney Factory Inventory. What it was like inside an 18th century playing card factory...
Amos Whitney Factory Inventory
What did an 18th Century Playing Card Factory look like?
Amos Whitney (1766-1804) was a playing card manufacturer from Boston, USA. An advertisement dated October 1799 offered Superfine Columbian, Harry the Eighth and Merry Andrew Playing Cards for sale. The following list of the items sold at auction following the death of Amos Whitney give us an insight into the equipment which was used inside a playing card manufacturing workshop: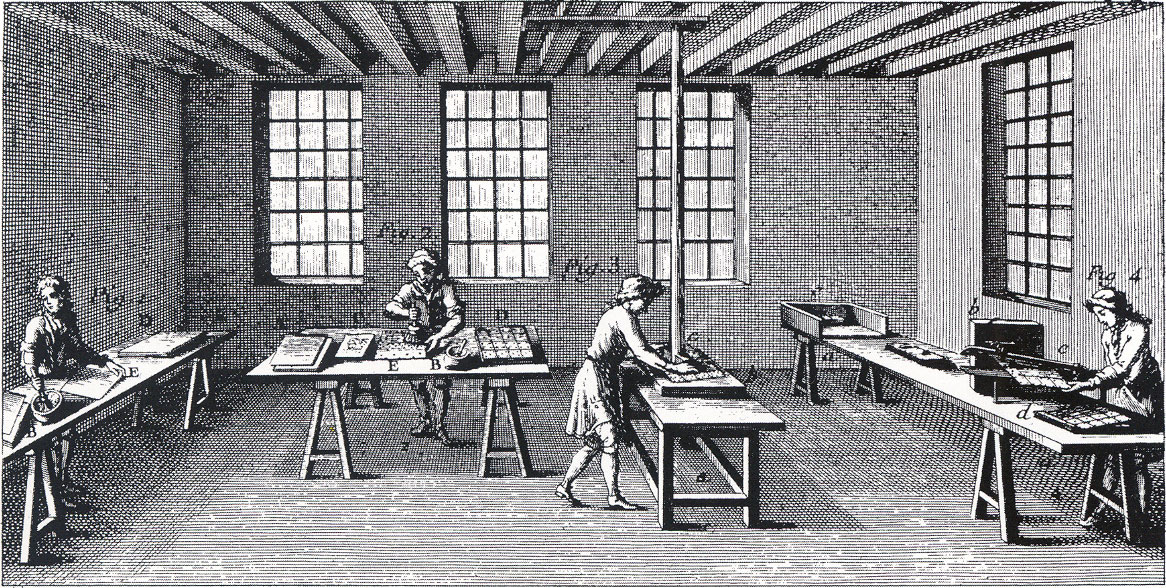 From the above list of equipment we learn that several types of blocks were used for printing English or American, Spanish and French-type cards, and that some blocks were made of brass. The others may have been woodblocks. There were pasting brushes and painting brushes. Also, cutting machines were used, probably similar to the big scissors apparatus which can be seen in the illustration. From the above it is possible to reconstruct the processes that went into the making of cards of that time, including the pigments for the colours. It is also interesting to compare this with the earlier descriptions of the Rotxotxo Workshop Inventories, Barcelona and Thomas de la Rue's "Innovations in Playing Card Printing" →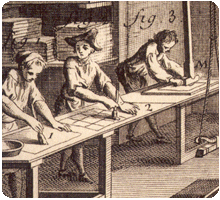 Until the latter end of the 18th century playing card backs were left plain white. The problem with this was that card backs became easily marked during play, and would thereby become recognisable by an opponent. It was expensive to buy another new pack, so spoilt cards would be returned to the workshop for cleaning. Some playing card manufacturers began to print repeating geometric patterns of stars or dots on the reverse of the cards to minimise this problem, and we can see that Amos Whitney used types for printing the backs of cards. Marbled or mottled backs were also produced. During the 19th century more elaborate designs appeared, and ultimately... advertising.
Member since February 01, 1996
View Articles
Curator and editor of the World of Playing Cards since 1996. He is a former committee member of the IPCS and was graphics editor of The Playing-Card journal for many years. He has lived at various times in Chile, England and Wales and is currently living in Extremadura, Spain. Simon's first limited edition pack of playing cards was a replica of a seventeenth century traditional English pack, which he produced from woodblocks and stencils.