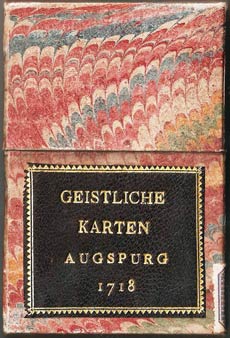 Geistliche Karten, Augsburg, 1718
Religious cards... a motto for the day.
It is, of course, possible to learn about almost anything with the aid of playing cards, and Biblical morality appears to be the subject of this rather rare deck from Germany. At times the Church has been at odd with playing-cards and gambling, but nevertheless this pack would have provided a stimulus for pious thought. The subject-matter is no doubt very interesting, however, there are no pictures or illustrations on the cards to lighten their visual appearance. Instead, we find each card carries a text in a Gothic typeface surrounded by a plain square border, giving advice regarding what to do and think each day. Not quite oracle or divination cards, they are more like 'a motto for the day' collection for Catholics. The method of using the cards is not known. However, illustrated fortune-telling cards were not far away...