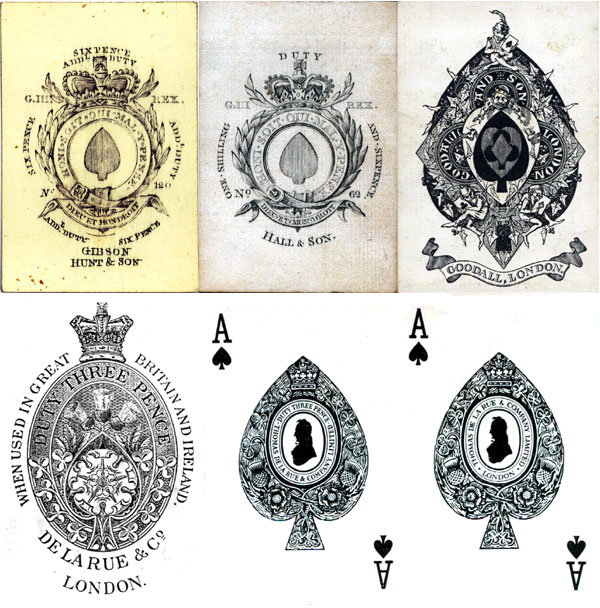 On English packs the design and wording on the ace of spades will tell you the maker's name and, until 1860, the amount of tax paid. Taxation on playing cards was a form of protectionism and a means of raising revenues for the Exchequer, but ultimately the amount received from playing card duty was less than the cost of administering the tax. In his budget speech on 4th April 1960 the Chancellor of the Exchequer announced the decision to abolish the excise duty on playing cards in the UK. After this time the ace of spades remained a maker's identification device with a more elaborate design than the other three aces, but no longer represented any tax or duty paid to the treasury.

American manufacturers have also tended to follow the English tradition of an elaborate ace of spades as a trade mark or manufacturer's badge.

However, some makers produce custom packs for third parties, either as promotional items (eg: Haig whisky, Simpsons etc) or on behalf of other companies (Wills Cigarettes, Dubreq etc) and the ace of spades may or may not be informative. Some generic designs are copied and used by various makers, hence duplicate images assigned to different makers. Some makers have been taken over or otherwise ceased trading only for their designs to be adopted by other companies.

Consequently a large number of modern aces of spades are anonymous so that, in the absence of any other information, the collector has difficulty deciding who made it. In addition, Chinese card factories were all formerly owned by the state, and as such packs did not carry a maker's name, simply 'China'.
---