Published August 16, 2012
Updated June 21, 2022
Deutche Karten
Karl Gerich's 'Deutche Karten' playing cards No.9, printed from copperplate etchings.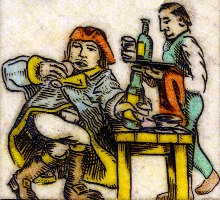 Karl Gerich No.9: 'Deutche Karten'

Deutche Karten is inspired by a variety of sources, mainly traditional German suited cards. The printing plate was first started in 1978, the first pack made in 1982 and the project was shelved in 1984 as too difficult to produce in 4 colours. It was then republished in 1990 by Victoria P.C.C. as shown in the cards illustrated here. The imagery in the cards includes single-ended standing, sitting or mounted figures, grotesque and fantastic creatures, and some charming vignettes at the bottoms of the numeral cards showing scenes from domestic life, folklore or mythology.

References:
Copyright: