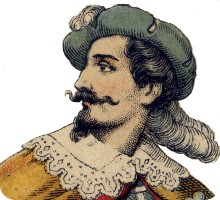 Dondorf: "Rhineland Pattern"
...a Dondorf House pattern.
This pack was probably the culmination of a mixture of designs from 19th century Germany which emerged as one of Dondorf's more popular house patterns by around 1900. The four Kings each have white wavy hair and beards, giving rise to the nickname "Jewish Pattern". Its popularity was increased by its being widely used and copied by Austrian, Belgian, Dutch, Polish, Portuguese and other manufacturers, some of whom created new variants. Some versions have scenic Aces (historical or geographical) which vary from pack to pack; others have plain Aces. The pattern continued to be produced after the takeover by V.A.S.S. in 1933.