Published May 16, 2014
Updated March 05, 2021
Pierre l'Ebouriffé
Heinrich Hoffmann (1809-1894) wrote the Struwwelpeter stories in 1847 for his son Carl. The stories quickly became famous and were translated into many languages...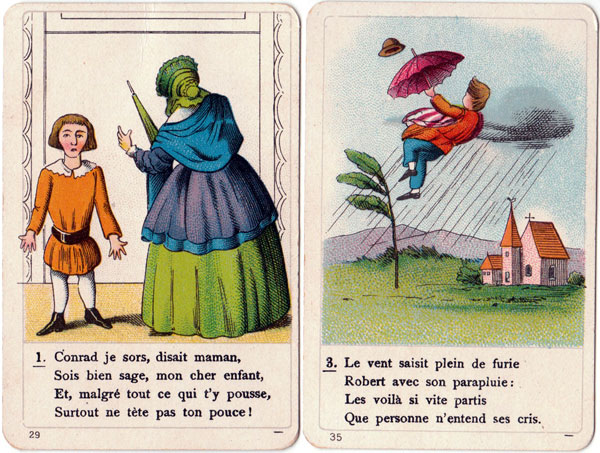 Dondorf No.314 Pierre l'Ebouriffé - Jeu de Cartes
Alongside their magnificent range of luxury playing cards, Dondorf also produced a varied range of games for children. This example based on the "Der Struwwelpeter" stories first published in 1847 was evidently made for export to Holland, Belgium and France as it is accompanied by bi-lingual instructions. It was published in UK by A.N. Myers in c.1890. The game contains 9 sets of four cards numbered consecutively. Each set is like a comic strip with a moral lesson, telling a story about a naughty child who gets into trouble for such things as disobeying their parents, bad table manners, harming animals or making fun of foreigners.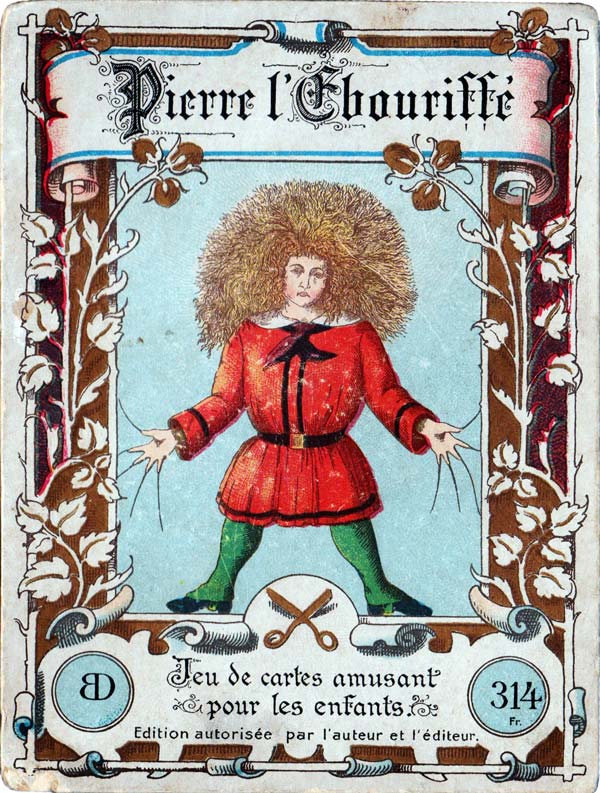 Dondorf Card Games
Dondorf began producing card games (rather than playing cards) in around 1870 with a then fashionable "Question and Answer" game which was obviously aimed at children because all the illustrations were of children. Around the same time there were children's quartet games with sets such as Ass, Moon, Sheep etc and a musical game. By 1900 the "Struwwelpeter" game and "Wappen Quartet" were on the market. A "Black Peter" game appeared by 1905 but not so much with pairs of characters but pairs such as Trees, House and Cyclists. It seems that all the games cards were catalogued with a number beginning with a "3" and many are numbered between 314 and 352. This would suggest that at least 37 games were published up to the time when Dondorf were taken over. At this point Spears purchased the rights to the card games and continued to publish the educational ones featuring flowers and animals etc.
Member since January 30, 2009
View Articles
Rex's main interest was in card games, because, he said, they were cheap and easy to get hold of in his early days of collecting. He is well known for his extensive knowledge of Pepys games and his book is on the bookshelves of many.
His other interest was non-standard playing cards. He also had collections of sheet music, music CDs, models of London buses, London Transport timetables and maps and other objects that intrigued him.
Rex had a chequered career at school. He was expelled twice, on one occasion for smoking! Despite this he trained as a radio engineer and worked for the BBC in the World Service.
Later he moved into sales and worked for a firm that made all kinds of packaging, a job he enjoyed until his retirement. He became an expert on boxes and would always investigate those that held his cards. He could always recognize a box made for Pepys, which were the same as those of Alf Cooke's Universal Playing Card Company, who printed the card games. This interest changed into an ability to make and mend boxes, which he did with great dexterity. He loved this kind of handicraft work.
His dexterity of hand and eye soon led to his making card games of his own design. He spent hours and hours carefully cutting them out and colouring them by hand.